Optimise Workflows with a Resource Planning Program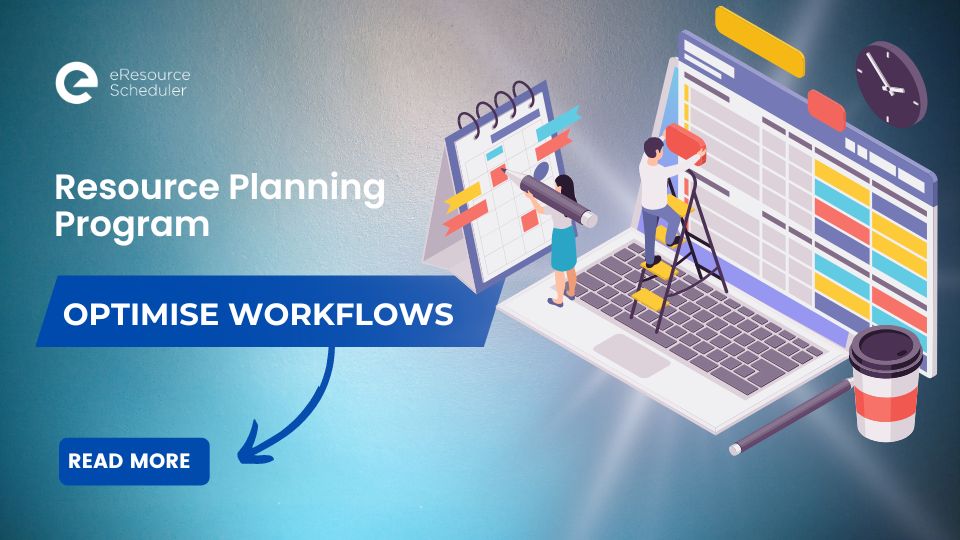 For companies with multiple projects It's common for employees to feel overbooked with too many assignments. There is a constant struggle to manage time and workload due to lack of visibility into assignments.
Managers often work without a system to help them schedule resources, prioritize, and assign tasks. There is no way to track who is doing what in the team. It's not deliberate mismanagement, but rather a lack of adequate tools and resources.
That's where a resource calendar comes in handy. It keeps the teams organized; ensuring nothing falls through the cracks. A resource planner is an essential tool that shows the availability of resources to team leaders, project managers, and likewise.
So, do you have a resource planner or calendar? If not then don't worry! This write-up will talk about all the critical aspects of a resource planning program, how it impacts an organization, and the role of scheduling software like the eResource Scheduler. Follow it to start scheduling your resources efficiently for a seamless workflow. But first, let's understand the role of a resource calendar in detail.
What do you mean by a resource calendar?
Before you initiate a , it's important to get a full-scale idea of what a resource calendar does for you. A resource scheduler or calendar helps the team leaders and project managers understand and optimize the team's schedules.
They can track who is having what assignments if anyone is overbooked with tasks or does not have any assignments. Additionally, they can also track the load of assignments on an employee in a day, week, or month. Long story short, it is a tool that allows organizations to maximize resource utilization.
A resource planner centralizes all your resources in one place, allowing you to monitor and track them seamlessly. It usually has information such as:
Availability of an employee
Planned work for employees
Leave of absence
National holidays
Timesheets (for different assignments)
Skills, roles, and designations of employees
Career goals of employees
Here's what a resource planner usually looks like.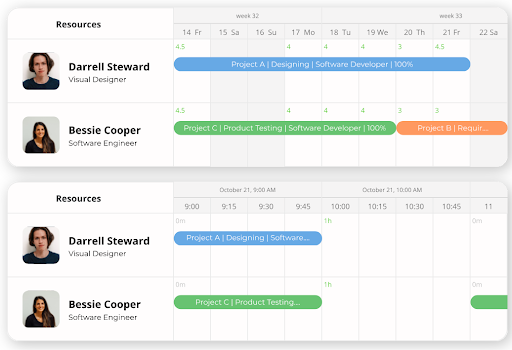 Are resource calendars similar to project calendars?
It's common for people to confuse resource calendars with project calendars. However, they are not the same. Let's understand the difference between both.
While it is true that both project and resource calendars are created to plan and execute the project until completion, they differ in the ways that organizations use them. While resource planners and schedulers are efficient at managing employee availability, project calendars are used to manage project progress.
RESOURCE CALENDAR
PROJECT CALENDAR

Created and managed by a resource manager or one who is working with a project manager.
Used to track employee availability and schedule accordingly.
Enables seamless reviewing of employee availability, like who is available to take assignments, what are their job roles, and skills, etc.

Created and managed by the project manager to track task progress.


Used to schedule and track the tasks and milestones of a project.
Tracks the tasks and deadlines assigned to employees to ensure that the project is completed within the predicted timeline.
Resource schedulers and project calendars might be different, but at the end of the day, they play similar roles. Also, they share the same goal of ensuring that the projects are finished on time by efficient utilization of available resources. The goal is to see to it that the tasks move smoothly without burning out the employees.
Why should you have a resource calendar?
By now we are clear on what a resource calendar is and how it is different from project calendars. But for your resource planning program to succeed it's essential to understand the significance or rather the advantages of using a resource calendar. Let's take a look:
Assess the Availability of Resources
One of the most critical factors impacting project management is the availability of good human resources. Here's where a resource planning program comes in handy, helping you as the manager or team leader. You can plan, schedule, and distribute the teamwork more efficiently. Since a scheduler puts everything in front of you on a single platform, you can fix the schedule, by checking:
Employee vacation days
National holidays
Overall availability for task assignment
Organizations have one employee working on multiple projects. So, it is very much possible the resource you are seeking for a task might be engaged in another project. A resource scheduler will show you when the resource will be available for your work. Accordingly, you can adjust the project timeline and work out ways to share resources, without hampering workflow.
Since the resource scheduler also keeps records of employee skills and job roles; you can assign tasks depending on:
Qualifications
Experience
Abilities
Timeliness
Remuneration
That way, you have just the right person for the job; not an underqualified or overqualified person.
Visualize and Forecast Resource Demand
Project managers and team leaders often hit a stonewall visualizing the placement of resources in different roles in an ongoing project. Resource scheduler fixes that by offering a platform to plan the timeline of the project, mark the milestones, and place resources in designated places. It becomes easier to visualize who would be perfect for which role, and by checking their availability you can place them in the right tasks and assign them accordingly.
When creating a resource planning program, make sure that the resource calendar you create has a placeholder. What are these? This particular feature allows you to assess which resource is best suited for the task. You can add abilities and skills to the placeholders as a benchmark of what you need. When there is availability of resources, the placeholders aid in appropriate appointments.
Streamlined Resource Planning
It's daunting to plan resources for complex assignments. You need proper collaboration between teams to meet the deemed project timeline. Leveraging a resource planning program helps managers and team leaders streamline the task of scheduling shifts and assigning tasks as per the working hours of the employees. Overall, it keeps the workflow smooth, balanced, and free from disruptions.
Plan Shared Resources
As previously mentioned, resource calendars help in the effective scheduling of shared resources. Surely, your organization has employees working on multiple projects. So, how do you ensure their work doesn't overlap or interfere with the timeline of other projects? You use a resource calendar to coordinate the involvement of shared resources across multiple projects.
Start by creating a comprehensive resource pool. It gives you a complete view of the available resources and one's that are engaged in projects. Once you know who is available to take on another task, you can coordinate with respective team leaders and share resources efficiently.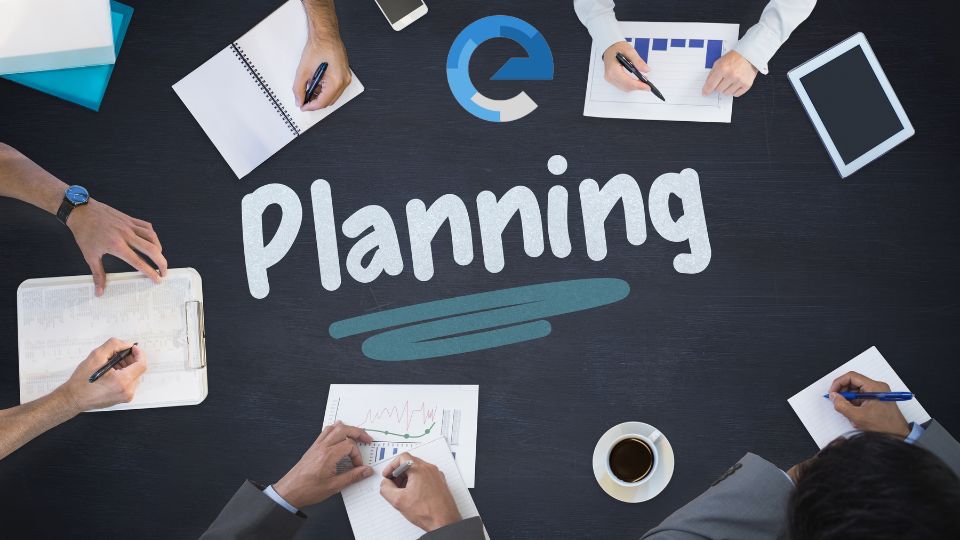 Overview Project Pipeline
How many projects are ongoing? What is in the pipeline? What is the timeline for each project? Besides efficient resource planning and scheduling, a resource planning program gives you an overview of the project scenario of your organization. That way, you can accordingly plan and keep all employees engaged in project work.
As easy as this may sound, using traditional Excel sheets is time-consuming and exhausting. With the streamlined approach of resource planners, you can monitor the workflow step-wise. You can even arrange it, showing resources their tasks and priorities in order.
Since resource schedulers give you a complete view of a project pipeline, planning resources becomes easier. You will not encounter a resource crisis in a project and even if you do there will be contingency plans in place. The projects keep moving ahead seamlessly without any disruptions.
Also, it helps you assess and predict the present and upcoming demand for resources. For any lack of skills and resources, you can urge new recruitments and encourage present employees to upskill so they can match the future demand.
Equalize Employee Workload
The last thing you want in an organization is for the employees to feel overworked. It brings down the overall morale of the team and the productivity levels hit the snooze button. Thanks to your resource planning program, that can be prevented. Resource calendars allow efficient tracking of timesheets. So you know who is working on what and for how many hours. It will alert you if any employee is doing extra work or more than they are supposed to. Immediately you can lower the workload by redistributing the duties. Isn't that great!
What kind of projects need resource calendars?
There is no definite rule book about the projects that need or do not need resource calendars. Nevertheless, projects that require multiple hands on deck can benefit from a resource planning program. Organizations like, digital agencies, consultancy firms, design agencies, and the ones involved in software and app development will benefit from resource planners.
Also, the best time to initiate resource planning is at the beginning of the project. You start by creating the blueprint for the project timeline, checking resource availability, and assigning tasks. The same planner will help you track the resource utilization and project milestones.
Overall, the process ensures that you meet the deemed timeline of the project without any glitches. Furthermore, resource planners are not specific to a single project. You can use it across the board, assess the resource availability, and take on new work.
How to start resource scheduling with eRS Scheduler?
Initiating a resource planning program is essential for organizations. What's even more essential is having the right tools to maintain its efficacy. eResource Scheduler brings you its patented resource scheduling software designed to make scheduling easy and fun. Here's what you can do with it:
Visualize Schedules – Easy to understand and use Gantt charts for quick viewing of existing schedules and resource availability.
Identify Qualified Resources – Extensive range of custom filters, like job roles, qualifications, certifications, skills, experience, etc., to identify the resources best for a project.
Check Real-time Availability – The schedule charts update resource availability in real time. It streamlines resource identification depending on project requirements.
Drag-n-Drop to Schedule – The seamless drag-n-drop feature makes scheduling easy and fun.
Resource Overload Indicator – If a resource is overworked and over-burned with excess work, the system will flag and highlight it for you to mend the situation.
Schedule and View by Day/Month/Hour - Enjoy the flexibility of resource scheduling in hour view for intra-day scheduling, day-view for assignments that would take days, and month-view for longer assignments.
Miscellaneous – Other than these, there are small features like split bookings, scheduling from diverse perspectives, cut-copy-paste scheduling, and a glance at information simplifying resource planning and scheduling.
So, what are you waiting for? Maximize resource utilization with your very own resource planning program with eResource Scheduler. Start your free trial today or request a demo. You can reach out to our experts for a consultation before coming on board.