7 Best Workforce Management Software for 2023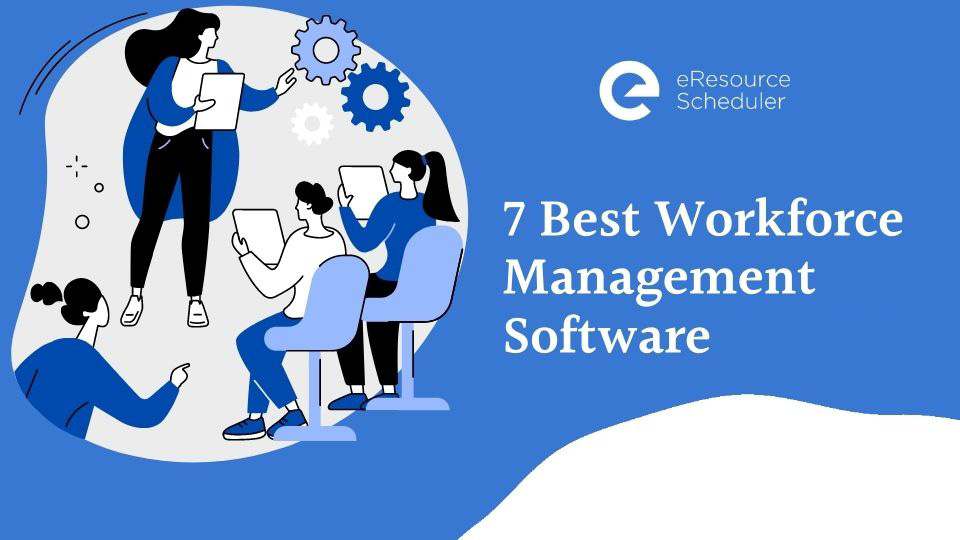 Integrating the best workforce management software can make managing your workforce much easier, regardless of the size or type of business you run. With features such as shift scheduling, time-off management, absence tracking, and automated payroll processing, it can help reduce errors and confusion. Additionally, with advanced reporting and analytics, you can optimize your workforce for maximum productivity and efficiency.
The right best workforce management software allows you to leave these frantic and time-consuming processes at the door and streamline every aspect of workforce management with one single tool. To amend operational efficiencies and employee satisfaction, organizations need to invest in efficient workforce management software that offers automated solutions to everyday tasks. Workforce Management (WFM) is all about managing your workforce efficiently, also ensuring the right person is assigned to the right project. This resource management software includes features such as Leave Management, Employee Onboarding, payroll, time tracking, attendance tracking, and employee scheduling.
What is Workforce Management Software?
Workforce Management software (WMS) is a smart digitally designed tool to reinforce the regular operations of the workforce. It helps managers to plan, track, and manage every aspect of everyday operations and handle common HR management tasks such as Payroll Management, Leave Management, Employee Scheduling, Forecasting, Performance Management, Task Management, Time Tracking, and Report generating.
There are only a few countable Resource Management tools that can be named Jack Of All Trades, which means there are very few WMS that have all the above modules.
Key Features of Workforce Management Software
Workforce Management Software is a tool designed to help businesses in managing their workforce. This includes a variety of tasks such as Timesheets, Employee Scheduling, Performance Management, Reporting on employee efficiency, and many more.
When you are hunting for the best employee scheduling software for your business, you will discover that there is no definite answer to this question. You will have a hard time choosing the best WMS due to the many options available in the market. To make this most tedious process easy, make sure of the below-listed key features for whatever tool you choose:
Cost effective: Be assured that you cannot behave mindlessly while investing in workforce management software. While choosing software make sure it fulfills organizational requirements and is a perfect fit for your budget.

Automated process: WMS must provide relief to you by automating all the operations. With automation, you can shake off most of the burden and can save your time and effort as well.

Customization: Customization features are absolutely necessary because they help you to add a personal touch to the overall vibe of the tool.

Third-party integration: Make sure that any tool you choose must have the ability to integrate with other tools so that you get everything at one platform and work without any distraction.

Data Security: if you are trusting your tool by saving the company's confidential data, it is necessary that the tool offers foolproof security. It should guarantee no breach of data and it must remain confidential.

Mobile App: Although you prefer working on a PC or laptop, it will be an add-on to have a mobile app that will keep you updated on the go. Having an app means you can instantly check the status and can always stay informed.

Easy to use: Always remember that your team and employees will always have frequent access to the software, so ensure that the workforce management software you choose is user-friendly so that everyone can find their way through the software.

Forecasting and budgeting: One of the essential factors of the workforce management system is that it allows the company to forecast the manpower requirement on a particular project and can also forecast the budget accordingly.

Performance management: Tracking the performance of every individual at levels can be simplified with workforce management software.

Time and attendance tracking: In addition to performance management, Resource management software should help you to track the resource availability and time consumed by each employee on the assigned project.

Real-time scheduling: WMS should update in real-time so that there can be no lag in finding the resource availability and employees can be assigned to tasks with more flexibility.

Remote management: Companies moved to hybrid and remote working, and location tracking has become more demanding, with efficient workforce management software time theft loopholes have increasingly gone down.
Benefits of Workforce Management Software
Here are the benefits you will receive from Workforce Management Software:
Improve Work Efficiency: WMS saves time by making the work schedule smoother so that more time can be spent on enhancing the efficiency of staff.
Enhance employee experience: Best workforce management software enables employees to handle daily tasks easily like editing schedules, managing planned leaves, check-in and check-out time, confirming shifts, calculating payroll, and many more to make them more responsible towards their work creating a better work experience. It also boosts employee engagement by increasing transparency.
Reducing Human Errors: As we all are aware that doing tasks manually creates the chances of human errors which leads to time lost and increased discrepancies. Workforce Management Software reduces the possibilities of human error and ensures an easy approach to addressing specific needs.
Increased and improved analytics: Managers require the tool to make profitable decisions for the organization. Workforce Management Software enables them to look into real-time data, compare budgets from the performances, and get insights into work engagement of the workers, productivity, attendance, and availability which allows managers to work on employee training, coaching, and other ways to increase productivity.
7 Best Workforce Management Software of 2023
1) eResource Scheduler
eResource Scheduler regions on the top of the list as one of the best Workforce Management Software. It has a friendly user interface that allows the user to navigate through the tool easily. Moreover, the tool provides a wide variety of management solutions rife with competent features. You can use eRS for any size and, for simple or complex projects, and can manage everything from the start till the end.
Key Features of eResource Scheduler:
A resource management tool that maintains comprehensive resource profiles and provides visibility of scheduled resources, availability, and utilization. eRS is best for effective and effortless coordination of resources across all teams and departments.
Capture Up to 125 custom fields of different types of resources and project meta-data such as role, qualifications, skills, certificates, etc. This facilitates resource identification and project allocation smoothly.
Features like resource identification, drag-and-drop scheduling, recurring bookings, and day/hour/month view make scheduling efficient and accurate with a few clicks.
Resource scheduling interactive features like drag-and-drop, Copy, cut & paste, extended and shortened bookings, and split booking made scheduling interactive and breezy.
Configurable resource utilization report shows resource utilization across all levels of the organization. The color-coded heat maps are helpful in highlighting the under-utilized and over-utilized resources.
Faster scheduling decisions with insight into real-time resource capacity visible at different levels considering current allocation and resource strength.
Timesheet is in-built in eRS resource management software. With the timesheet module, you can calculate the actual time spent on project completion, and approvals of projects and highlight the gap between scheduling v/s actual time.
With Financial modules, you can easily calculate the costing and billing rates at different levels and can have actionable insight into key metrics of scheduling like costs, revenue, and profits.
Multiple customized working calendars including various working patterns, for all the resources. Customized calendars are ideal for organizations with resources across multiple countries. This also helps with the accurate calculation of resource capacity, utilization, and availability.
Data security with flexible access rights based on the role. Data confidentiality is never compromised even in a complex organization.
Integration with third-party apps like calendars and emails for quick notifications and alerts on mobile devices makes the software more productive as you can access the updates on a real-time basis.
A unified experience with open REST API allows bi-directional data sync with existing applications.

Version available: On-premise and cloud-based
Pricing: Starting from$4 per resource per month. Free trial available
Suitable for All types and sizes of business
2) Connecteam
Connecteam is yet another Workforce Management software solution that can easily manage your employees' daily operations and communication. Connect team's features include time tracking, checklist and flow, task management, and employee scheduling. Internal communication features allow you to stay connected with the entire workforce, along with directory, easy-to-manage employee documentation.
Key Features of Connecteam:
Easy time tracking
Easy time scheduling
Mobile app
Tast management
Employee communication
Easy and customizable training courses.
Ideal for remote employees, SMBs, and all sizes of organizations.
Pricing: $29 per month for up to 2000 users.
3) Bamboo HR
This Workforce Management Software is easier to approve requests, employees can edit their personal information and new hires can be onboarded easily. Bamboo HR gives you the time and insight to focus on your organization's most valuable asset: its people. Bamboo HR makes it easy to manage paid and unpaid leaves, in order to streamline payroll and compliance. Reporting is much easier in Bamboo HR which provides strategic insight on workforce planning and employee turnover.
Features of Bamboo HR:
Applicant tracking system
Time Tracking
Payroll processing
Enhance Employee engagement
Workforce data analysis
Pricing: Share on the basis of a query.
4) Saviom Software
Saviom is yet another workforce management software available in the market. Saviom helps in forecasting staff utilization and can be accessed to see the skills, experiences, and qualifications of the individual to match the particular project. One of the main features of this resource management software is that you can get a clear view of staff allocation which helps to see the overutilized and underutilized staff.
Key Features
Staff forecasting
Can see the underutilized and over-utilized staff
Time Tracking
Payroll processing
Forecasting capacity v/s demand
Pricing: Varies as per the requirements of modules.
5) Paylocity
Cloud-based resource scheduling software that offers payroll management and human resource management as its core. Their workforce system can automate scheduling, managing, and tracking the working hours of each and every employee, and reduce manual errors. This information is compiled in the payroll system for salary calculation based on employees' actual productive hours.
Key features of Paylocity:
Clock in via mobile, kiosk, or web mobile
Automated time tracking
Authorize employees to take control of their schedules
Data Insight
Talent Management.
6) nTasks
This project management tool has recently been enhanced for workforce management. The user-friendly interface allows the user easy navigation through the tool. Moreover, there are many solutions that proved to be add-on features. The visual management tool offers an easy view of team performances and the progress of their assigned projects.
Key Features of nTasks
Resource allocation
Tasks Management
Time tracking and timesheet
Third party integration
Financial summary
Performance Management
Pricing: The Basic plan is free. Premium starts from $3 per user per month and business plan starts from $8 per user per month.
7) Bitrix24
This workforce management software allows collaborative task management for any size of the team, you can easily track employees' time, reporting, and many more. With Bitrix 24 you can track the start and end dates, perform automatic time tracking, manage your calendar, plan tasks through planners, and can manually enter the time. Easy third-party integration through an open REST API.
Key Features of Bitrix 24
Task Management
Project Management
Reports
Time tracking
Internal communication
Pricing: Starts from $49, for 5 users, $99 for 50 users, and $199 for unlimited users.
Conclusion
The right workforce management software will allow managers to outstand the time-consuming paperwork and processes and smoothen day-to-day activities. With this, workforce management becomes streamlined and more efficient. We believe the best workforce management software gives the best bang for work along with friendly costs. It allows you to remain competitive, embark on new initiatives with fewer resources, cut down on waste, and have the ability to meet industry demands. Just choose the right workforce management software for your business and it will make you understand better workforce management with ease.