Employee Scheduling Software: Things You Didn't Know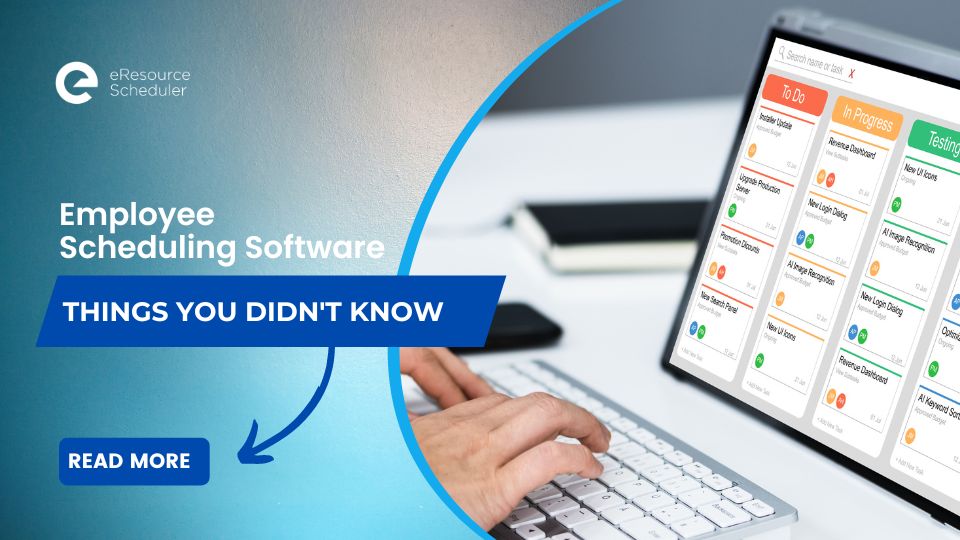 Creating a project workflow, finding the right resource, understanding their availability, and then scheduling them is a mammoth undertaking. Even the most experienced project manager can struggle with this. It is also a task that can eat up significant time. And you still might end up in a situation where you are overstaffed or short of resources (yikes!).
Is there anything that can free up some of your time and also minimise scheduling inefficiencies?
That's precisely where an employee scheduling software can help. In this blog, we tell you all you need to know about efficient resource scheduling. And, this is applicable whether you're a startup business or an enterprise with over 500 members.
What is Employee Scheduling?
Here is how we define employee scheduling. First, it is the process of understanding project and labour needs. Next, employee scheduling is also about organising, optimising, and tracking these resources in a manner that ensures company goals are met.
Why Should You Schedule as Effectively as Possible?
Why is employee scheduling crucial? The bottom line is that efficient employee scheduling has a direct impact on project success, business revenue, and employee happiness.
A recent report showed that stable scheduling resulted in a 7% increase in profitability! How did that happen? An employee scheduling software provides real-time data on resources, capacity, billings and much more. Company leaders and managers can make accurate, data-backed decisions on demand, expenses, and overall employee strategy through these metrics.
Effective employee scheduling can also help you maintain a happy and productive workforce. Employees feel valued and are motivated to work at their highest capacity when they're assigned tasks that are in line with their skillset, preferences, and career goals. Job satisfaction will suffer if they are consistently pulled to work extra or are sitting idle. They might start looking for other career options. This will spiral into high employee turnover.
Why You Need an Employee Scheduling Software
There's a lot that an employee scheduling software can do. For one, it will offload a lot of the manual tasks for any project manager or company leader, resulting in massive time savings. But, the benefits aren't just limited to automation. Here is what else a scheduling software can do:
Maintain Balance Between Customer & Employee Needs

It is common for companies to prioritise customer needs over employee needs. This can backfire and lead to high turnover rates. The cost of turnover for employees earning under $30,000/per year is $4800, for those earning above $150,000/per year, turnover costs amount to $15,000!

An organisation will be able to better manage both sets of needs and avoid costs that result from loss of productivity, training, and new hires with scheduling software. How? Employees can easily highlight their availability, and work scope preferences, and request leaves/time off through the system. This will help them maintain the work-life balance they desire. Managers can take these preferences into consideration when they build a schedule.

Identify Right Talent

With manual scheduling, often the resources closest to you are utilised the most. It's similar to the "out of sight, out of mind" syndrome. An employee scheduling software captures data of ALL resources, whether they are sitting in the next office or several seas away. You can enter your requirements and the software will help you identify who is the best fit in terms of skill set, availability, and cost.

Prevent Scheduling Conflicts

There is a high margin of error when one schedules and tracks resources manually. An employee scheduling software will send an alert if you have double booked a resource, overscheduled one, or have multiple resources sitting on the bench.

Maintain compliance

Each country has their own labour laws that govern work hours, overtime, and even official working days. This is something you need to be mindful of if you're operating projects across multiple locations. An employee scheduling software captures all of these details for each resource, regardless of their location. It will help you stay on the right side of the law.

Implement a Proactive Staffing Strategy

Over time, an employee scheduling software can help you identify periods of downtime where you can opt to upskill your employees for future projects. Through the forecast feature, you can also identify which resources will be needed in the next 3 to 6 months.

The software can also capture points related to attendance, productivity, skills, and employee performance. This data will again help you make informed decisions to further drive your business.

Foster Communication and Collaboration

Paper printouts, email changes and long conference calls aren't the best way to share project and employee schedule updates. People might forget what was said on the call or the leave notice can be buried under incoming mails.

A scheduling software makes it simpler and quicker to communicate changes. For example, if a project is put on the back burner, a simple click of the mouse will inform all involved stakeholders of the change. They can now proceed to the next prioritised task.

Also, because the software captures changes in real time, employees are constantly abreast of what needs to be done and therefore aren't surprised. Employees can see who is working on different portions of a project. They can also reach out to them if they need any assistance.
How To Select an Employee Scheduling Software
Now that you understand how an employee scheduling software can help your business, we can move forward. Let's discuss what features you need to look into while exploring software options.
Our guiding questions that can help you make an informed decision.
Does it suit your business requirements and nature?

Each business is different and what may work for one might not be suitable for another. You need to ask yourself some tough questions while you're reviewing resource scheduling softwares. Ask, "Does this program help me achieve my employee scheduling goals?"

Reach out to the software developer and understand what the software can do.

How easy is it to use?

No one wants software that has a steep-learning curve. We want it to be as simple as ordering on Amazon, don't we? Luckily, a lot of employee scheduling softwares offer a free trial that will allow you to get a feel of ease of use. You can read other customer reviews to understand what others are saying.

What are the security and data protection measures?

Cybercrime is at an all-time high and it's only expected to increase in today's world. All your data regarding each employee is critical. Ask the software developer about the safety measures they have in place.

How much does it cost?

The software might be the best one there, but does it fit into your business budget? You might have to ask:

"Is it worth the investment?"
"Will it provide me with the returns to overcome the cost hurdle?"

You don't want a software that impacts your profitability in a severely adverse manner. We also recommend you thoroughly research what features are available at different price points. For example, the capacity planning feature might cost you an additional $4 a month. Or, the timesheet tracking is only available in a premium package.

Scheduling Matters — Do it Right with eRS

Employee scheduling matters. In a small business, a single, unexpected leave can cause upheaval. Employee scheduling and organising is even more complicated in a larger organisation. If scheduling is not done correctly, it can spiral into issues like increased employee attrition, inferior customer service, poor profitability, and just a generally stressful work environment.

But when it's done right, employee scheduling can motivate your employees to put their best foot forward and drive your business. eRS can help you to reap the benefits of efficient team scheduling.

eRS's resource management software combines scheduling features like timesheet tracking and capacity reports with financial data like billings and expected cost vs actual costs to provide you with an end-to-end scheduling solution. Ready to experience it for yourself, start your free trial today.