Resource Management and Scheduling Software – Top 10 Reasons Why an Organization Needs it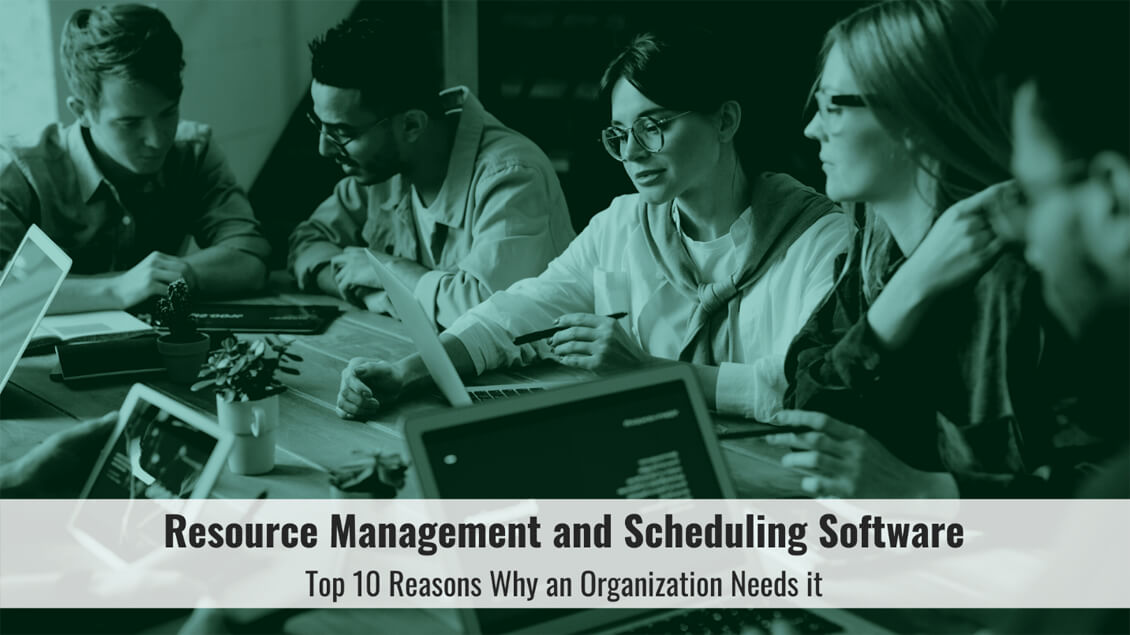 Be it a large organization or a small business, the project managers constantly need to juggle multiple projects, tasks, plans, and resources. Unfortunately, no one formula can act as a solution to keep everything organized while you plan and manage projects. Moreover, it's not easy to do so accurately and predictably, which is also profitable. To cut to the chase, handling resource scheduling, planning, and management without resource management software can be a nightmare.
The Importance of a Resource Management Software
While managing existing projects and newer ones coming in, resource management and scheduling can be quite demanding. By resources, we mean technology, people, equipment, facilities, IT assets, etc. However, if you use the right resource management software, you can streamline your resource scheduling, allocation, and also plan your project in a structured way. Instead of struggling with managing resources and projects, you can easily sail through various project stages with resource management and scheduling tool. A Cloud-based resource scheduling tool like can tie various processes on a single online platform for you. Be it resource scheduling, allocation, project planning, team collaboration, time tracking, reporting, and even finance and billing. You can manage your projects easily right from the start till the delivery phase.
Read on to find the top 10 reasons why using resource management software is completely worth it.
1. Simplifies the Planning Process
A resource management and scheduling tool help you easily allocate resources to a task. It enables project managers to monitor the performance of all the resources if they have a large team. They can also track the time required to complete the project. The main benefit of resource management software is that it automates your project planning and scheduling processes. Tools like eResource Scheduler not only help design a detailed plan for their projects but also scope out various milestones, important roles, key deliverables before the execution begins. Then, it also updates the plans and all data in real-time and enables tracking the progress as per the standards established.
2. One Common Information Repository
Most global organizations have distributed teams and function across various cities and geographies. Imagine the challenges that would bring in. Firstly, it is difficult to get a bigger picture of the overall resources. Then, it is tough to find the most suitable person for a particular project. But a resource management software resolves all this. It's like a centralized directory of all total resources and a list of projects in an organization. If you want to find a person with a certain skill, expertise, or qualification, you can do that in a few clicks. You can also check if that person is available on your project timelines. But when talking about project management, everything doesn't go as planned. The capacity and demands are quite dynamic. With resource management software like eResource Scheduler, you can assign the right resources to your projects by the easy drag and drop functionality in just a few clicks.
3. Chart out responsibilities of Each Resource
A resource management and scheduling tool help to distinguish everyone's responsibilities. The managers can track their team's performance and track if a team member has completed a task. Streamlined resource scheduling and allocation help in making the best use of each person's skills. However, it's important to consider every person's competencies to ensure that they don't lack interest in the project they are assigned. The team should also have enough clarity about who is supposed to accomplish what. With resource management software, you can assign tasks to the right people at the right time. Because of this, employees feel valued and can perform optimally.
4. Pipeline Forecasting
Project managers need to handle multiple projects at one go. This is because organizations become more competitive and profitable when they take onadditional and newerinitiatives. However, that also brings in lack of visibility into how various projects are progressing and how your resources are allocated. The right resource management software provides an overview of your completed, ongoing, and planned projects. This helps youaverting any challenges or bottlenecks that could crop up in the near future.
5. Save all the extra costs
Isn't it tough to manage various kinds of costs with multiple projects? Using resource management and scheduling software can work to your organization's advantage. A tool like eResource Scheduler helps in saving extra costs from rehiring or changing your team's structure. Besides, when the distribution of tasks to various team members is balanced, it helps in reducing re-work and leads to employee satisfaction. Effective resource scheduling allows organizations to use lesser resources – be it equipment, time, or people – in generating the desired outcome.
6. Quick Data Analysis
How can you ensure profitability for your company while allocating people to various projects? You should assess the total resources allocated against the project duration to get a higher return on investment (ROI). The right resource management software managesthe required data analysis for you in no time. With a tool likeeResource Scheduler, you can pull out automated reports on projects, availability, workloads, utilization, and timesheets in just a few clicks.
7. Real-Time Project and Budget Management
What do you need to control the most during project management? One of the most important items to control is the project budget. How a business will progress depends on whether the projects are delivered within the established budgets or not. Resource management software enables to control of the budget from the statement of work stage to the final project delivery. For instance, eResource Scheduler provides you a financial snapshot of each project showing all key financial metrics. This way, you can monitor the planned vs. actual spend and see where you have been earning and where there has been a loss.
8. Easily adapt to change of plans and predict the future
Imagine making a detailed resource and project plan and then last-minute changes act as a spoiler. With resource management software, activity planning becomes a hassle-free task for you. Even when the plan changes and you need some resources urgently, you can quickly deal with it. With a "What if" analysis that these tools provide, organizations can visualize what will be the predicted outcome on resources and costs. Project managers can try various options and test different scenarios to see what can be the outcomes of their decisions. This way, before they make any strategic decisions, they know the impact of it.
9. Smooth internal and external communication
Resource management and scheduling tool streamline all the internal and external communication regarding projects and resources. With this software, your team can share data, reports, and files easily among themselves or externally with your clients. This way, everyone involved in the project gets comprehensive information which enables transparency. All the stakeholders can log in themselves into the resource management software and view the relevant project data, reports, or dashboards. Hence, no time and effort are wasted in sending different data to multiple stakeholders. The clients can provide feedback directly, review the status of projects, and even make edits using a single online platform.
10. Planning and Managing Capacity
Need data on capacity or utilization to plan projects? A resource management software pulls out the resourcing data required by using its inbuilt capacity inventory. When you plan and manage capacity efficiently, you can resolve any resource shortages with the requisite skills. This enables the organization to attract both new and repeat business. Capacity planning also helps a company with any market uncertainties. For example, changing purchase patterns, technological adaptations, or changing consumer behavior. You can also identify any previous hiring mismatches and do resource scheduling accordingly. Moreover, monitoring the progress of projects is imperative. A software like eResource Scheduler monitors all milestones of the projects and flags if things are going off-track. This happens through the daily timesheet updation that feeds into the reporting mechanism. Thus, resource management software helps you in making well-informed decisions and enhancing productivity and profitability.
e-Resource Scheduler - The Best Tool for Resource Management and Scheduling
Now, imagine finding a tool that can automate your processes and also provide a robust foundation to your business. Yes,eResource Scheduler acts like a game-changer when it comes to resource planning, allocation, project management, and a lot more. You can make the right decisions by using the scientific resource management process. An award-winning product from Enbraun, eResource Scheduler is a leading resource management and scheduling tool available in the market. Gain the benefit from its brilliant features like unlimited users, user access rights, gap reporting, unlimited projects and bookings, resource requests, timesheet module, and a lot more. The tool's robust architecture and easy adaptability make it an ideal choice to streamline business operations and improve organizational efficiencies. So, unlock optimal resource utilization and make flawless plans with eResource Scheduler. Book a free trial today to check out the benefits yourself.