30 Best Resource Management Software & Tools of 2023
In today's hyper-competitive business arena, companies are under constant pressure - to deliver more in less time and that too with fewer resources. Unfortunately, not many companies have mastered the art of project resource management and have faced set-backs like decreased productivity, increased discontent among employees, and delays in project delivery.
How does one strike the right balance between managing the resources and delivering solutions as per the client needs? A professional resource management software can help you overcome the challenges of handling and allocating resources, helping you simplify and add efficiency to the process.
In this guide, we list out 2023 top resource management softwares you can consider for your enterprise. The tools will help you manage your resources smartly and get your projects on track.
What is resource management? Why is it important?
Resource management is the practice to plan, track, and optimally utilizing all the available resources for a project. The resources may include staff, finances, equipment, and space.
Deploying the resources to drive a project towards completion is a challenging task and that defines success for you. During the process of resource management, you also need to keep into account the deadlines of the project while managing resource conflicts or dependencies as expected project delivery is also a part of resource management.
What does a Resource Management Software do?
A Resource management software is a tool that aids companies to plan the capital and human resources in favor of smooth project management and completion. The software resource allocation tool helps to:
Assign humans to a project.
Allocate budgets to a project.
Schedule and decide the timelines of the project.
Monitor the performance of the resources and the stages of the project.
If you are seeking on-time project completion,
You look for on-time project completion.
You want profits to increase substantially.
You want to fetch new projects in competition.
30 Best Resource Management Software & Tools Overview 2023
1. eResource Scheduler:
Hands down, the best enterprise resource management software for 2023 is eResource Scheduler or eRS. eRS is a resource planning and management tool that is configurable to the core and comes with powerful features like customisable scheduling charts, fields and forms, working calendars and flexible user access rights. The software tracks resource utilization time spent on task and capacity metrics.
This versatile resource allocation software is designed to be inline with the everyday resource management requirements of organizations. It'll help you overcome all resource management pain points with a single package. It's available as both a cloud-based and an on-premise solution. Since it was launched in 2011, it has been adopted by businesses of all types and sizes.
The informative dashboard offers all the important information via a single screen. The Gantt chart view offers convenient and productive functionality like comprehensive filters to identify qualified resources, drag-and-drop scheduling, extend & shorten, cut/copy/paste and split. These features make resource planning and scheduling a breeze and also help in balancing workload.
The highly configurable resource management reports (with graphs & charts) like resource utilization report, availability report and financial report will provide you with accurate data at all levels of the organization. Configurable email notifications and calendar integration ensure that users are up-to-date even if they aren't signed in to the app.
Highlights
Easy to use drag-and-drop scheduling for quick resource allocation
Configurable scheduling chart with multiple views
A powerful dashboard that pulls up all resource allocation information with a few clicks
Leave / vacation handling
Create custom fields & forms to make the tool highly tailored to the needs of your business
Powerful reports that help in making resource allocation smarter
Configurable Email notifications
Calendar Integration with third-party apps
Flexible access rights on 'need to know' basis
Timesheets for tracking resource working times
Pros:
A powerful and user-friendly resource planning tool with an easy user interface
An affordable resource planning software with the availability of a free version
Click and drag easily to use tools
Scalable
Simplifies resource allocation
Cons:
Versions Available: On-premise version and cloud version
Pricing: Starts at $5 per resource per month. Free trial available.
Ideal for: Businesses of all sizes, looking to optimize resource allocation and scheduling
2. nTask Manager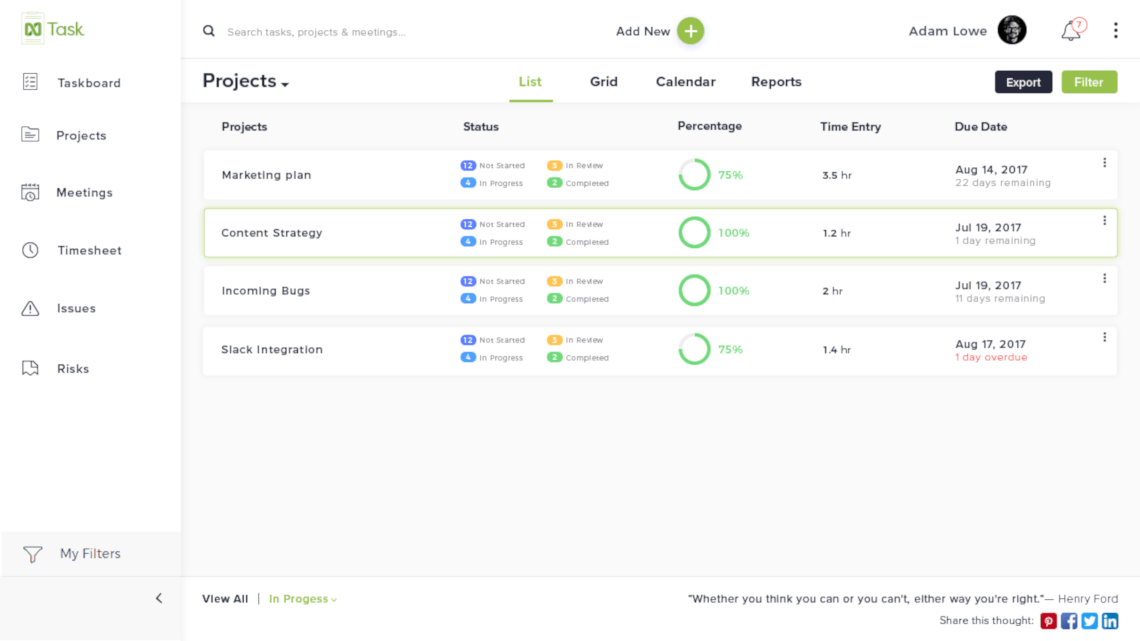 nTask is a free project management tool that also includes basic resource allocation features. If you're a small organization and require just the basic resource and project management features, then this tool works for you. It allows you to track the time clocked by resources and helps you calculate the financials easily.
While it doesn't have an extensive resource management module, it has adequate project management features that help you allocate resources efficiently, staying on track of your project goals.
Highlights
Easy to get started.
Individual hourly rate for resources based on their skill sets, projects/tasks they are working on, etc.
Get an overview of the schedule of resources via Gantt charts
Set billable or non-billable tasks
Timesheets that help you track daily, weekly or monthly time spent on projects
Pros
Convenient team management facility.
Affordable tool @2.99$/month with free trial offer.
Quick track on all the activities and resources.
Value for money and easy to use software.
Excellent features.
Cons:
Not installed on Mac/Windows.
In-person training not available. Only online, webinars, and documentation facilities.
Versions Available: Available as a web app and also for mobiles (both Android and iOS).
Pricing: Available in Basic (Free Version), Premium, Business, and Enterprise versions.
Ideal for: The basic free version is ideal for freelancers and small enterprises.
3. Resource Guru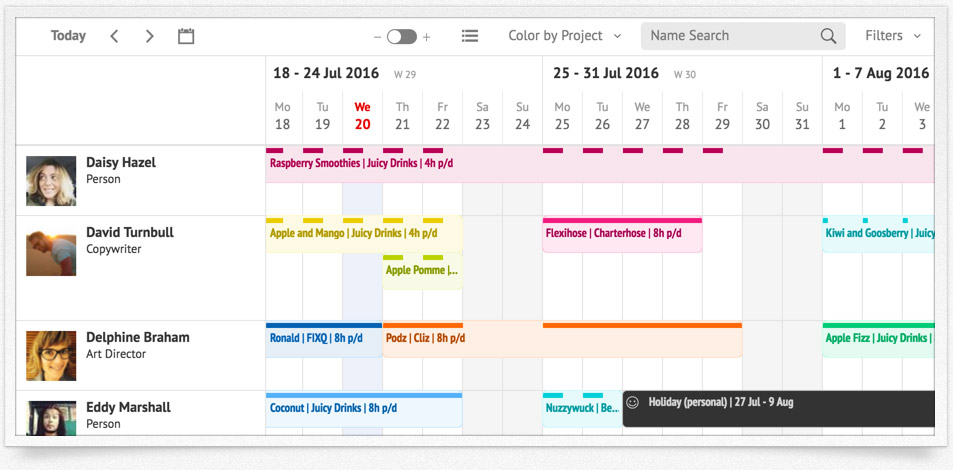 It's one of the most popular resource management software and has been around for quite some time. It helps you add tasks/bookings based on the availability of resources. It comes with a smart calendar that allows project managers to set the status of a particular task as billable or non-billable.
A highlight of Resource Guru is that it makes handling leave management a breeze. Project managers can quickly view which resources are available and when thereby making it easy to allocate and plan projects accordingly.
Highlights
Personal dashboards for all team members, to see tasks allocated to them and to track individual work
Drag and drop functionality for resource allocation
Downloadable resource utilization reports
Custom fields and customized permissions
Pros:
User-friendly, informative, and detailed platform to organize work.
Quick and easy software.
Cons:
It is difficult to track who booked the slot on schedule.
Lack detailed categories like products/clients that could make filters easy.
Less color options in the reports or data inputs.
Versions Available: Grasshopper (all features except reports); Blackbelt (all features including reports); Master (all features plus phone support and data import)
Pricing: Grasshopper - $2.50 per person per month. Blackbelt - $4.16 per person per month. Master - $6.15 per person per month.
Ideal for: Larger organizations that include both human and non-human resources.
4. Mavenlink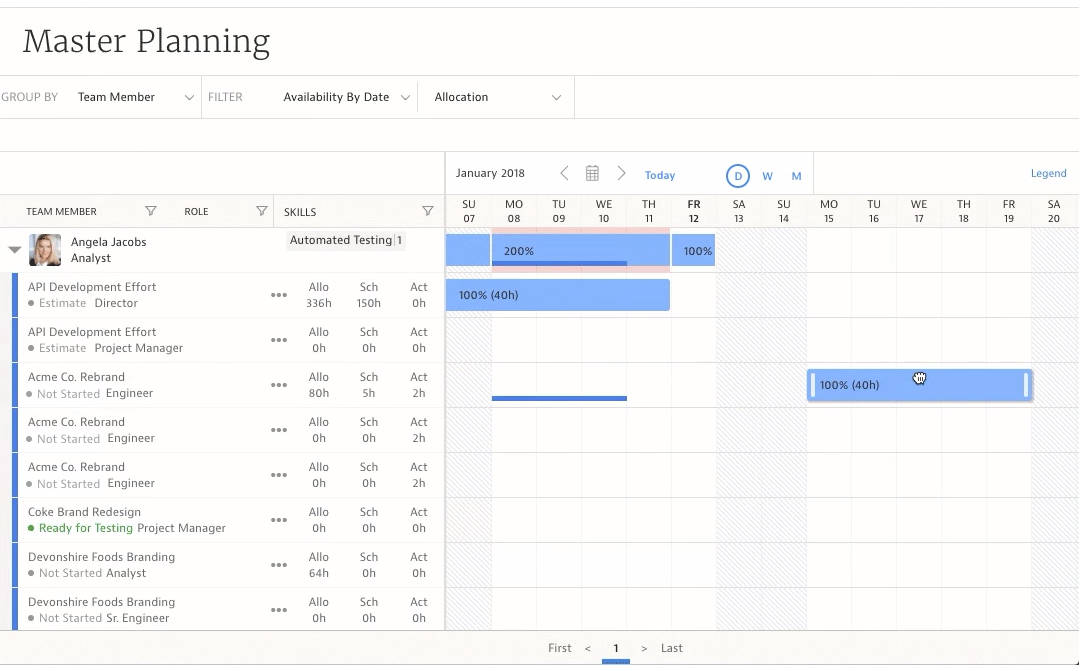 It comes with powerful project resource planning features and resource management tools that help you manage your teams efficiently. It comes loaded with pre-built templates that make it easy to get started with resource scheduling and planning. It also helps your forecast resource needs based on current resource availability and project demands, helping you stay ahead.
Highlights
Pre-built templates
Resource requirement forecast
Find resources based on skill sets
Pros:
Easy time entry.
Fast integration with Google Drive.
One central location for all the projects.
Real tracking of budgets and burn rate.
Cons:
Still needs to make a checklist before marking a task complete.
Better visuals needed in the environment.
Lacks customization options on projects and tasks.
Closer integration needed between bottom-up scheduling and top down capacity planning.
Versions Available: Teams, Professional, Premier and Enterprise
Pricing: $19 per month for five users, Professional costs $39 per month per user. For the pricing of Premier and Enterprise, get in touch with the sales team.
Ideal for: Service-oriented enterprises.
5. Float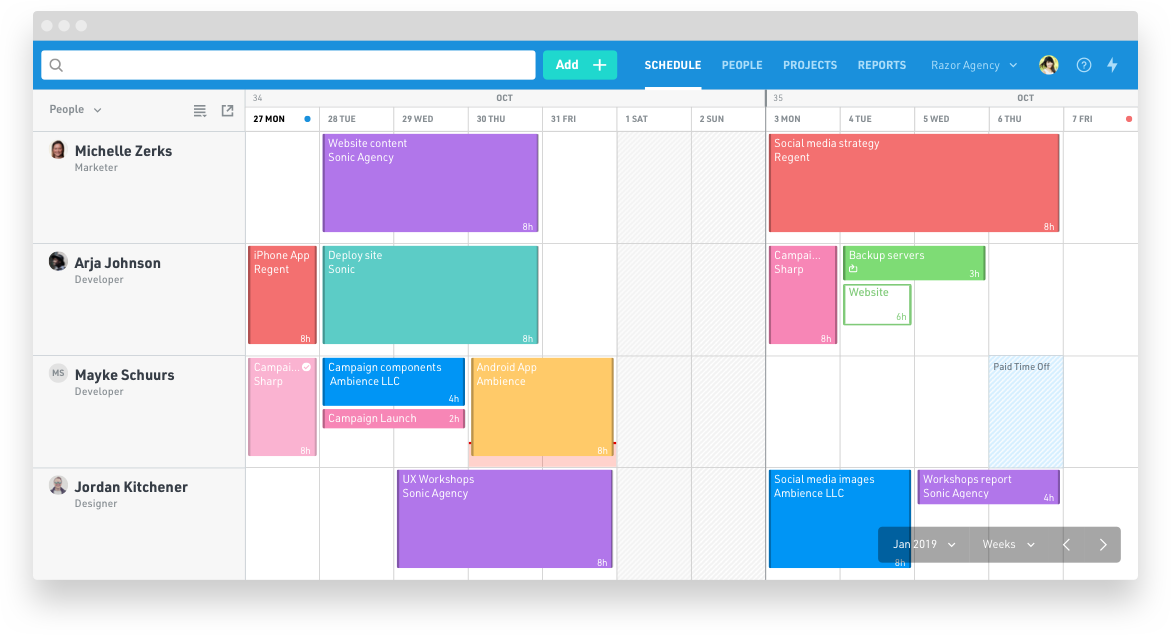 It helps you visualize your team's availability, thereby making it easy to schedule tasks. One of the most significant benefits of Float is that changes to your team's schedule are updated in real-time, notifying all team members of the schedule changes immediately. You can also visualize your team's schedule day-by-day by zooming in or zoom out for a broader view.
Highlights
Live schedule change updates
Visualization of team availability and workload
Easy to assign tasks with drag-and-drop tools
Pros:
Easy to use and good layout.
Excellent visual presentation of the project status.
Allows better resource management.
Cons:
Missing integration.
Lack of central control over the lists such as task names. It is a problem if more than one person is using the system.
Reports seem complicated.
Versions Available: Single plan with all features included.
Pricing: It costs $5 per month for each resource.
Ideal for: Project managers who work better with visual inputs.
6. Hub Planner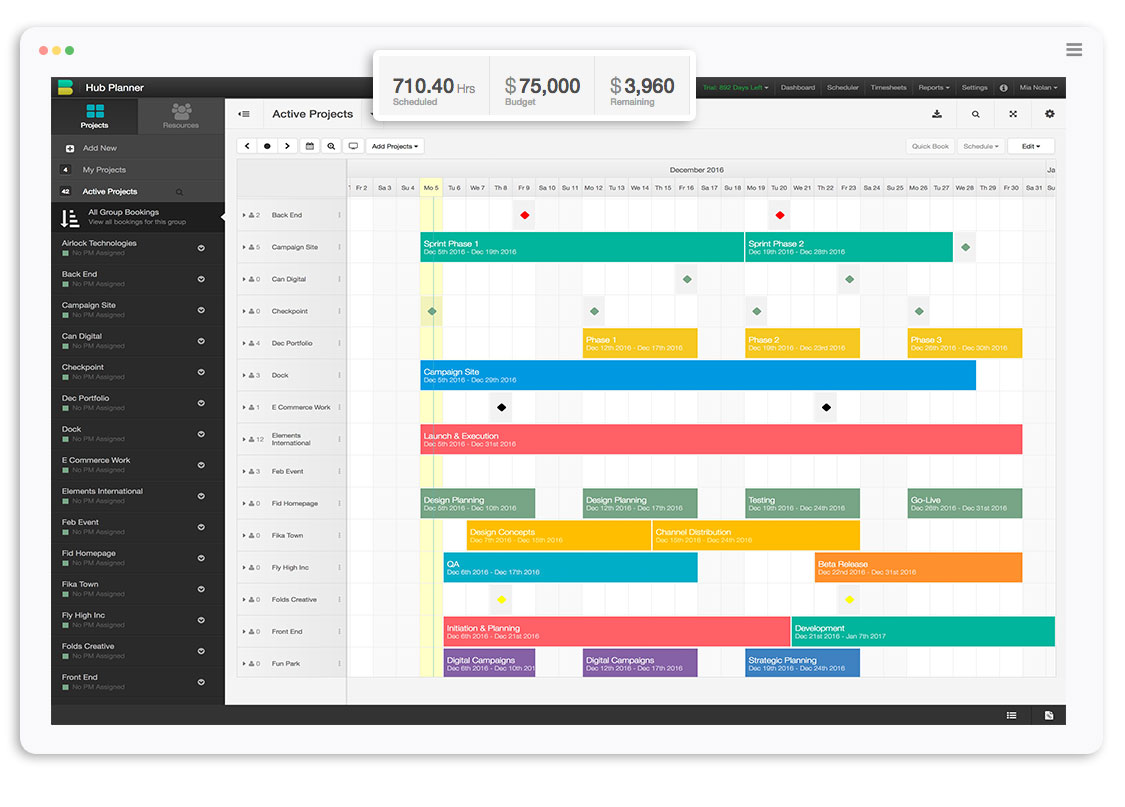 It's an enterprise resource management software that comes loaded with a wide array of features. The biggest highlight of Hub Planner is its extensive reporting module. You can make use of heat maps and other sophisticated tools to generate powerful reports that highlight problems with resource utilization and gaps in resource availability. Project managers can share, print, or export these reports to share it with management and HR.
Highlights
Drag and drop resource scheduler
Timesheets to compare the planned vs. actual time spent on projects
A comprehensive dashboard
Powerful reports that help in forecasting resource requirements
60-days free trial
Pros:
Ease of use and navigation.
Drag and drop feature for convenience.
Free trial available and affordable tool.
Cons:
Unable to adjust dates in the dashboard.
Convenient project status tracker should be used in the software.
Versions Available: Plug and Play, Premium and Enterprise
Pricing: The Plug and Play version costs $7 per resource per month.
Ideal for: Large enterprises that require powerful reports
7. Zoho Projects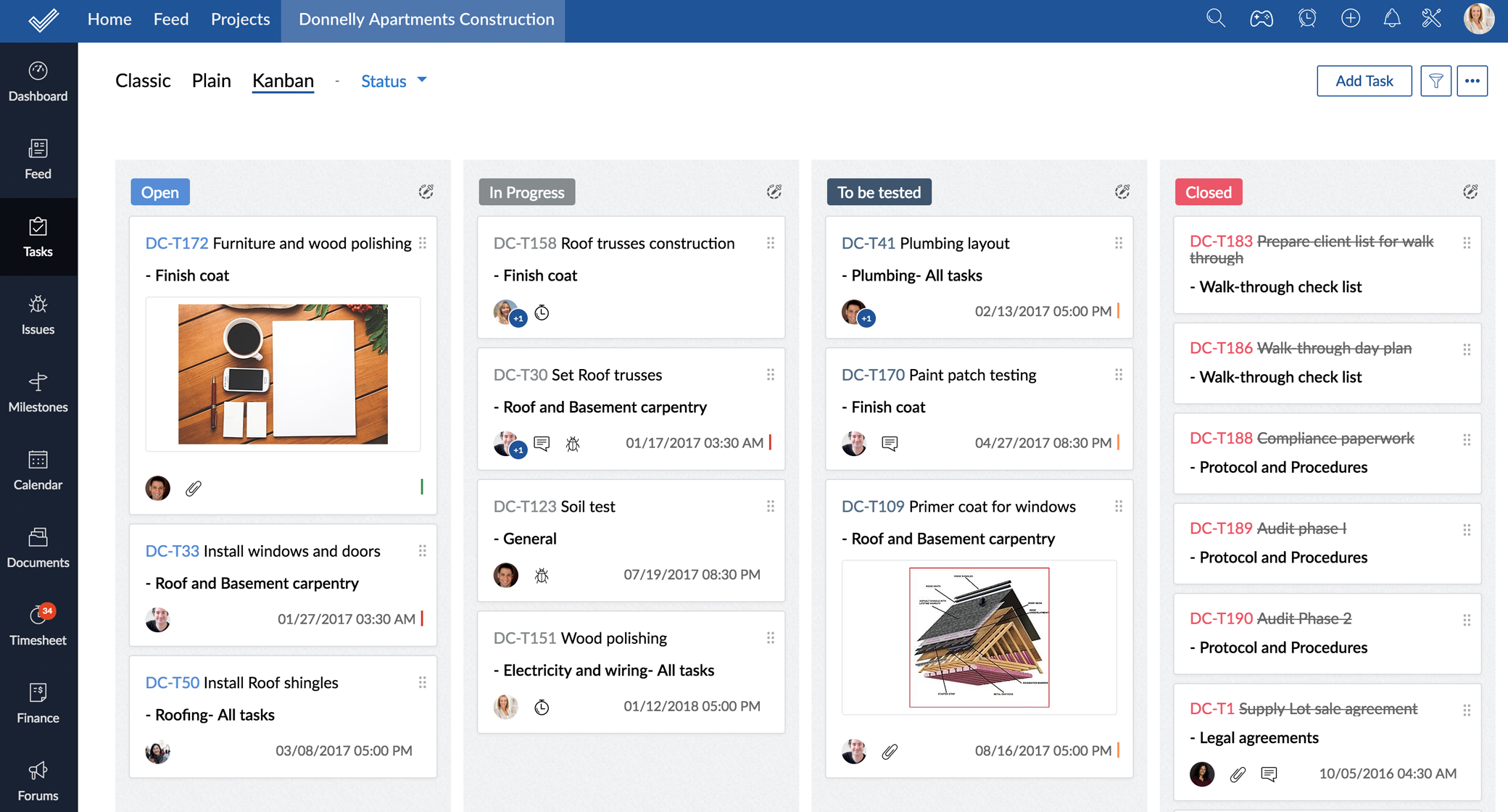 Though primarily a project management software, it has plenty of management resource features that support resource planning and scheduling. It has an in-built resource utilization chart that helps you check the availability of resources at a glance.
It has an innovative see-saw design. One end of the see-saw shows resource allocation, while the other end shows resource availability. A balanced see-saw indicates that the resource is utilized efficiently. It also has colour codes that make it easy to spot available resources quickly. One major drawback is that all these features are only available with the Premium and Enterprise plans.
Highlights
Check resource availability visually
Resource utilization chart
Drag and drop interface for resource allocation
Pros:
Automates document processes.
Easy search and retrieval.
Cons:
Poor dashboard functionality.
Zoho has multiple features but users cannot make sure that they are using all the features.
Lack of bug tracking.
Task search ability needs improvement.
Versions Available: Standard, Express, Premium, and Enterprise
Pricing: The Standard plan is the lowest priced plan and costs $20 per month for up to 10 team members.
Ideal for: Due to steep pricing, it's primarily ideal for large enterprises.
8. LiquidPlanner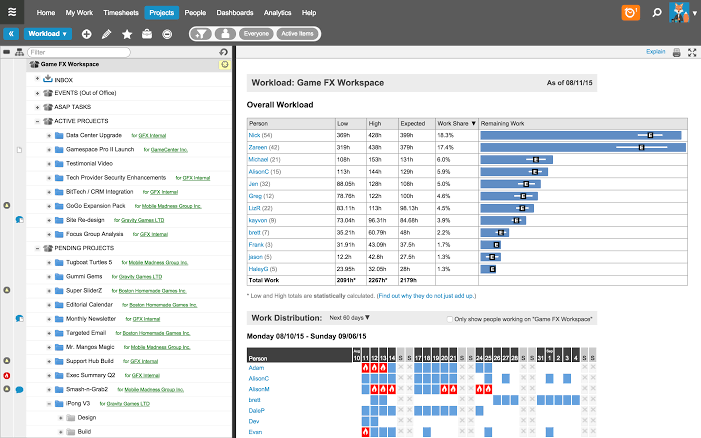 It's a smart project management software that contains all the essential features for resource management. It gives you intelligent resource workload distribution reports, helping you to balance workloads among all team members. It comes with a resource-levelling functionality that prevents over/underutilization of resources.
Highlights
Real-time resource workload report
Task prioritization and automated project scheduling
Fair distribution of workload
Pros:
Email integration is fast.
Convenient dashboard for quick views.
Fast estimation and quick time tracking of the work.
Cons:
The interface of the software tool is messy. Spotting things is difficult.
Automatic filter updates if you switch between your existing page and someone else's task.
Security permissions need to be flexible.
Scheduling concepts are unfamiliar with Gantt Charts and MS Projects.
Versions Available: Professional and Enterprise
Pricing: The Professional plan costs $45 per month per user and comes with an annual contract and a minimum requirement of 5 users.
Ideal for: Large enterprises that require automated resource allocation capabilities.
9. Saviom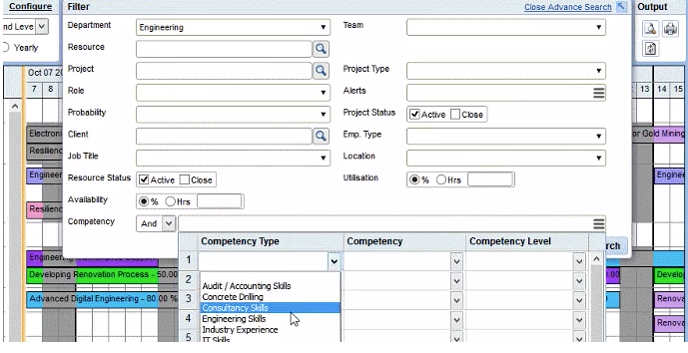 It's a complete project management software that has a dedicated resource management module. Additionally, the tool also provides you with various handy features like reporting and project analytics. It has a custom report generation framework that makes it easy to build custom enterprise timesheet management reports. Reports generated in the tool can be exported as PDF or Excel worksheets.
Highlights
Allows for third-party tools integration
Automatic notifications to project managers in case of resource conflicts
Single dashboard for tracking all resources
Customizable reports
Pros:
Excellent filters and comprehensive detailed reports.
Assured Vendor support.
Cons:
The system access fee is high. It is charged every time a new user tries to enter the software.
Versions Available: Power License and Lite License
Pricing: The pricing is not available online. Get in touch with Saviom to get customized price quotes.
Ideal for: Enterprises that are looking for resource management as part of their project management tool.
10. Teamdeck:
If you're looking for a simple resource management tool without advanced features, then Teamdeck perfectly fits the bill. The simple user interface is quite easy to get started with and doesn't require extensive onboarding. It's dedicated time management software that handles resource scheduling, leaves management and time tracking.
Highlights
Warnings are issued if resource allocations overlap
Leave management to track employee availability
Assign tasks based on the expertise of resources
Sync Teamdeck with other project management apps using Zapier
Pros:
Excellent UI/UX interface.
Convenient project-based time tracking.
Provides good analytics to project managers.
Cons:
Lacks user idle function to store the time the user is away from the desktop.
Doesn't show the real time situation and every time the system has to be refreshed.
Versions Available: Startup Plan and Business Plan
Pricing: The Startup Plan is free but limited to a maximum of 2 team members. The Business Plan costs $3.99 per team member per month.
Ideal for: Teams that are looking for a no-frill resource management tool.
11. Harvest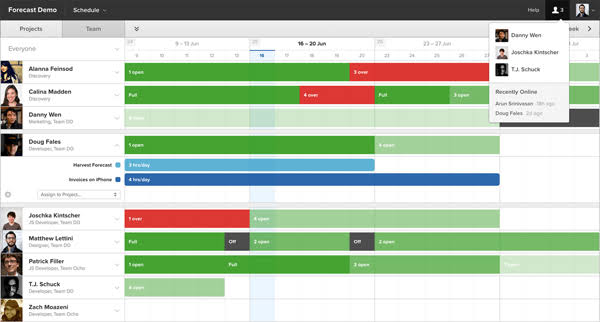 Overview
It's a simple time tracking software that helps businesses calculate accurately the time duration for projects. While most employees agree that time tracking plays a crucial role in project management, remembering to track actual working hours, every time they start a task is a huge challenge. Harvest overcomes this challenge by making it super easy for businesses to track time and expenses.
What does it do?
It's a cloud-based time tracking tool that works for businesses as well as freelancers. It offers one-click time entry and users can track their work times using various devices: desktop, mobile, tablets and more.
Highlights
Flexible time tracking - Track time as you work or enter the time once you've completed a task.
Overview of the entire team - With a glance, project managers can see who's worked for how long, who's overworked and who can handle more.
Intuitive Reports - Harvest converts timesheet data into intuitive visual reports that give valuable information about projects.
Automatic invoice generation - Convert timesheet data into billable hours.
Forecast - A special feature of Harvest that creates schedules for upcoming projects, based on timesheet insights, helping you make smarter resource decisions.
Pros:
Simple and flexible resource management app
Mobile apps are also better to use.
Affordable software tool.
Great tracking for billable time.
Cons:
Discrepancy between the website and desktop app.
Fails to batch-assign time to employees.
Lack of features to send notification.
Poor customer support.
Free Trial Available? Free 30-day trial with all features. No credit card is required.
Pricing: The Pro version of Harvest costs $12 per person per project per month. You are eligible for 10% discount when you take an annual plan.
12. Forecast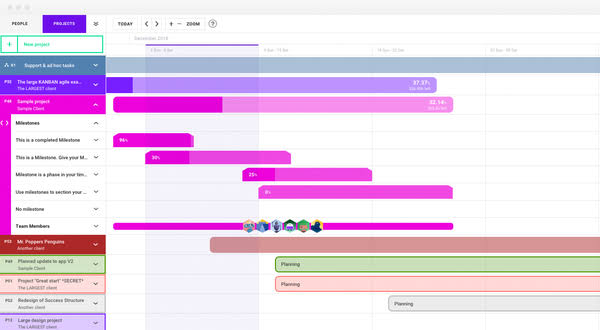 Overview
It is a cloud-based project management software that helps businesses of all sizes plan and execute projects on time.
What does it do?
It helps businesses keep track of project requirements, allocate the right resources and predict requirements ahead of time. Resource scheduling, time-tracking, multiple user collaboration, alert and notifications - it's an all-in-one project management software.
Highlights
Forecast integrates with several-other third-party business management tools like Github, Harvest, Google docs, Google Calendar and plenty more.
It has Kanban boards, budget tracking tools and rate cards offering end-to-end project management.
The data-driven engine and machine learning algorithms help project managers estimate project costs and resources accurately.
Pros:
Perfect tool for traffic management.
Zooming in and out the granular data.
Easy assigning of the workload depending on the upcoming project.
Cons:
Lacks integration.
Project visualization becomes a task.
The interface of the software is not intuitive. It is difficult to see what a team member is doing.
Free Trial Available? 14-day full access with no credit card required for the free trial.
Pricing: It follows a pricing model based on the plan type and the number of users. Standard plans start from $24 per month, while premium plans start from $39 per month.
13. Meister Plan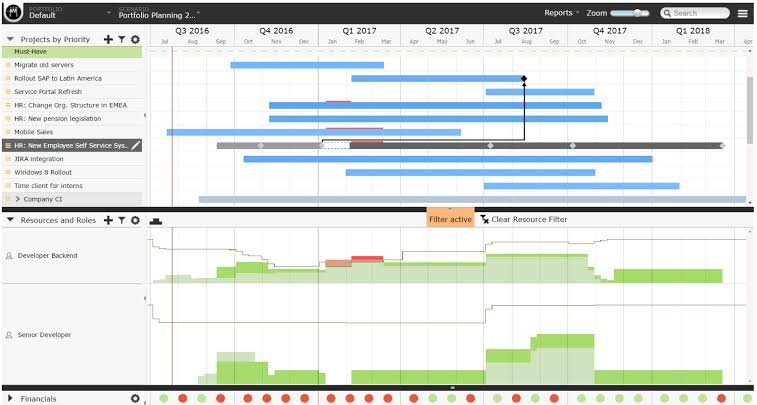 Overview
It offers Lean Project Portfolio Management and Resource Management in a single software that is hosted on the cloud.
What does it do?
It helps you easily manage project pipelines and track progress right from project start to completion. Additionally, it helps you assess realistically whether a project fits your portfolio before you take it on. One interesting feature of Meister Plan is that when project scenarios change, it helps you see the impacts not just on the project timeline, but also how it affects employee schedules, financials and more. You can then take the right steps to ensure the project is completed on time, despite the schedule changes.
Highlights
Create a master project portfolio and sub-portfolios
Track project delivery and milestones
Scenario planning
See the available resources and their skill sets, so that you can assign the right people to the right task
Pros:
Great solution with fast alignment with projects.
Easy monitoring of each project and task.
Streamlines complete resource management tool.
Cons:
Quite an expensive software tool.
Difficult to establish which project is aligned to overall business goals.
Challenge to trace when you are dealing with multiple team members.
Free Trial Available? 30-days free trial with access to all resources. No credit cards or bank details required for the free trial.
Pricing: The pricing depends on the number of resources who will be using the software. Monthly plans start from €199 per month for a team of up to 20 resources.
14. Workfront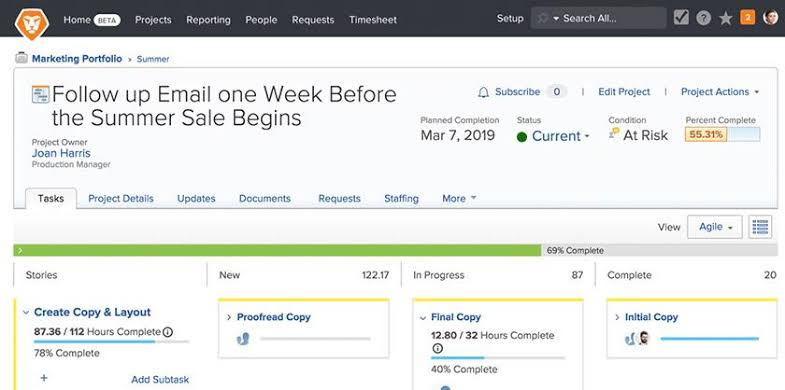 Overview
Workfront helps you make the best use of your team's time and talent by removing communication barriers and easing workflows - all from within a single, easy-to-use platform. It combines project management, team collaboration and intelligent work automation so that your team members can deliver their best work on time.
What does it do?
Workfront offers three major products:
Workfront - A modern project management solution for geographically distributed teams.
Workfront Fusion - Connects the Workfront project management solution to other critical.
Workfront Library - Helps you create, manage, review, edit and store all digital content of your business in a single place.
Highlights
One place for managing all your work-related tasks
Highly configurable to suit the size and needs of your team
Integration with other critical business applications
Pros:
All changes are reflected in real time basis.
Easy to configure and implement.
Easy task management with improved communication convenience.
Cons:
Expensive resource management software tool.
Complicated Gantt Chart to handle.
Free Trial Available? No. But, you can request a free demo.
Pricing: The pricing model depends on the size of your team. You can send your requirements to receive a custom quote. Choose from four different plans - Team, Pro, Business, and Enterprise.
15. Timewax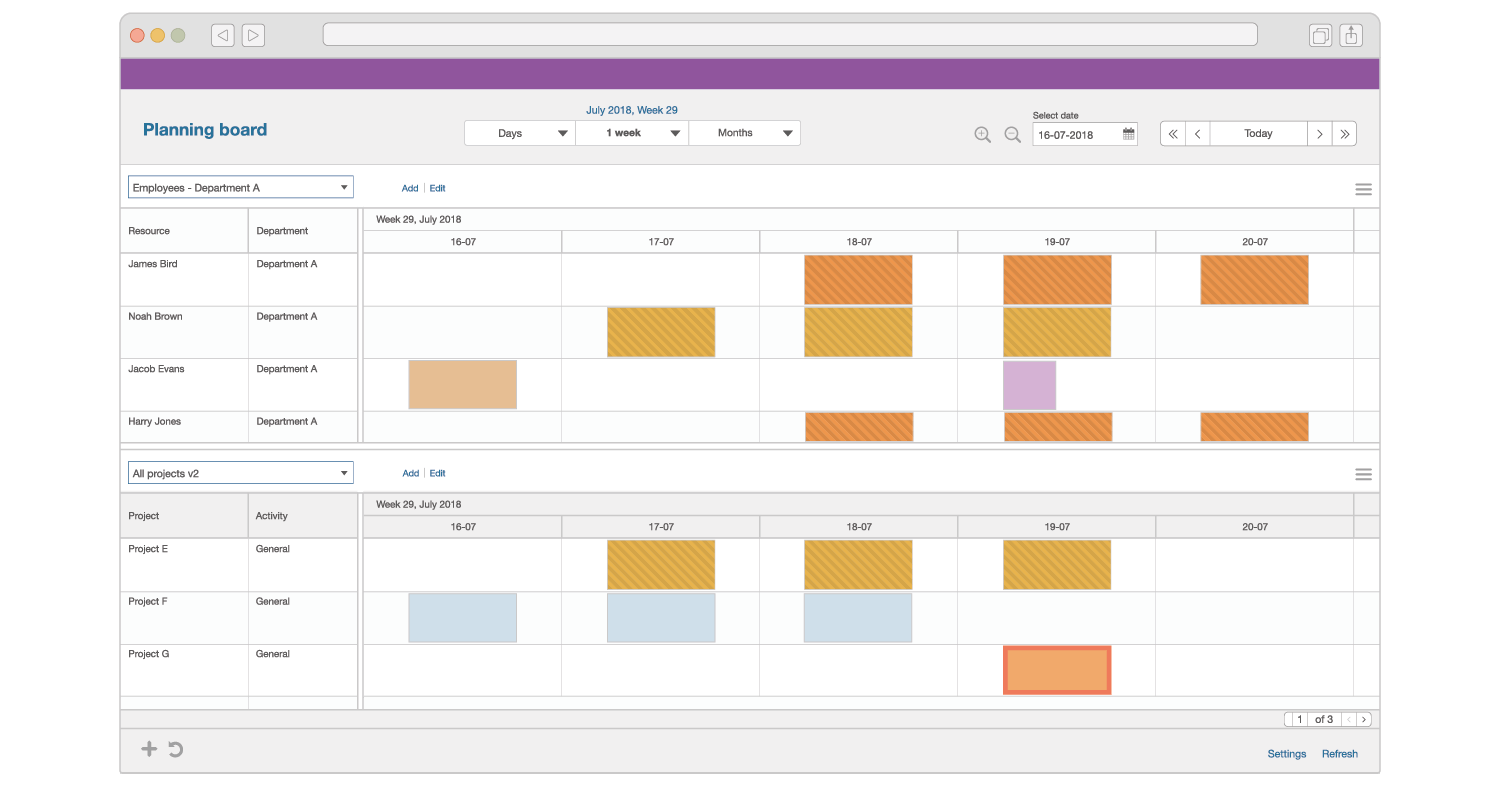 Overview
Your time is money, and Timewax helps you make the most out of your business time. Timewax understands that resource planning is not a one-man show.
What does it do?
You can define roles like Resource Planners, Project Managers, Employees, Management, Freelancers, and Contract Workers with specific tasks and access levels.
Highlights
Multi-platform - use it across platforms - desktops and mobiles.
Customizable features - Select the features that you need based on the role of each employee.
Mobile App - Available for both iOS and Android.
API Integration - Seamless integration of the software with other apps like Outlook, Salesforce, Slack, Google Calendar and more.
Pros:
Easy integration with multiple platforms.
Also convenient to use on Mobile App.
Fast deployment on multiple platforms.
Affordable software tool with free trial for the first time.
Cons:
Free Trial Available? Yes
Pricing: Choose from three different plans - Board, Plan, Plus. Plans start from €7 per user per month.
16. Extron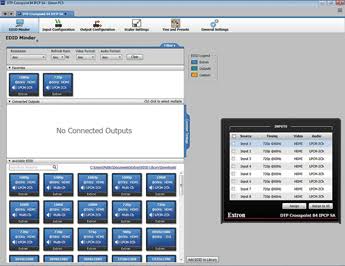 Overview
What makes Extron different from the other resource management tools on this is list is that it helps in managing non-human resources like AV (audio-visual) gadgets and other devices in your office
What does it do?
The Extron Resource Management Software helps in remote monitoring and control of Audio-visual systems and other electronic devices at your office.
Highlights
Remotely monitor and control Audio-Visual systems
Global view offers real-time access to all similar devices
Room view offers real-time access to all devices in a single room
Organize AV devices based on different organizational levels
Automated scheduling of devices - turn devices on or off remotely, using preset times
Pros:
Reliable remote monitoring with Free Globalviewer.
Real-time data is available.
Automated scheduling of remote devices.
Cons:
Pricing: Extron offers Free Globalviewer that is available for free. If you opt for the Enterprise version of the GlobalViewer, then you can request a pricing quote.
17. InLoox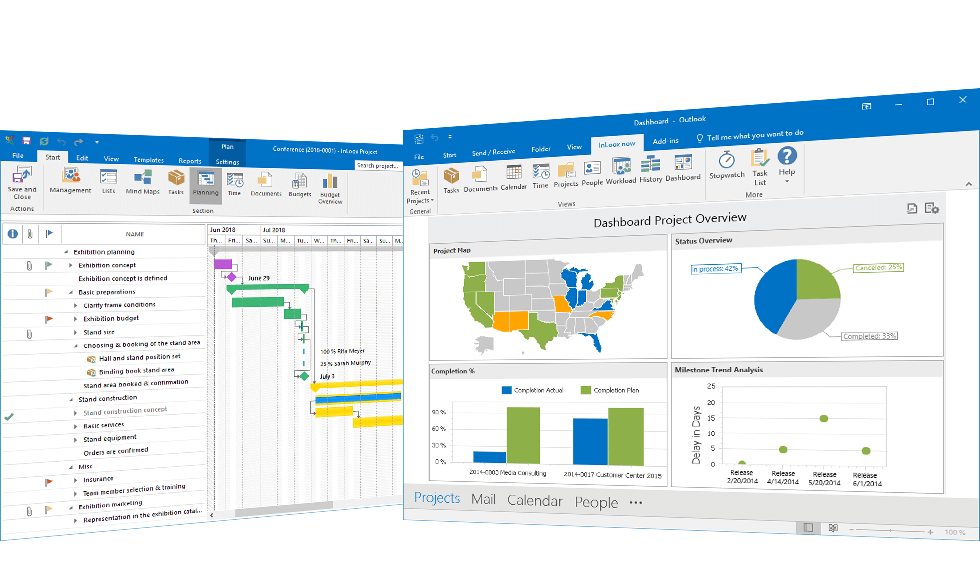 Overview
InLoox is an integrated project management software that operates with Microsoft Outlook. It's available for desktops, handheld devices like tablets and smartphones. It helps in project planning, tracking, scheduling, as well as resource management. It helps in making intra-office communications effective while improving collaboration among teams and team members.
What does it do?
InLoox is a project management software that helps in simplifying workflow notifications, while increasing collaborations between team members - who work from the same office, as well as geographically distributed teams. With several handy features like time tracking, mind mapping and outlook synchronization, InLoox helps businesses complete their projects on time and within budget.
Highlights
Outlook Synchronization - InLoox is synchronized with Outlook for efficient emailing and more
Mind Mapping Tools - To organize ideas visually
InLoox is available for both iOS and Android, making it easy to projects on the go
Centralized Dashboard - To monitor project status, and other key milestones, while gaining insights on overall project schedules
Time Scheduling - Schedule tasks, activities and milestones either using the web app or mobile app
Track resources in real-time - See who has what to do, when to do and more
Documents storage - Store all work-related documents securely at one place for easy access
Pros:
Flexible software solution for combined management of projects, teams, tasks, and resources.
Regular updates.
Excellent web app.
Accessible web tutorials if you are stuck.
Cons:
Not great customer service.
Free Trial Available? Yes, a 30-day free trial is available.
Pricing: One-time payment for the desktop version (InLoox PM) starts from around $490. You can also choose the program as a Software-as-a-Service (SaaS) option that starts at $24.95 per month per user.
18. Deskera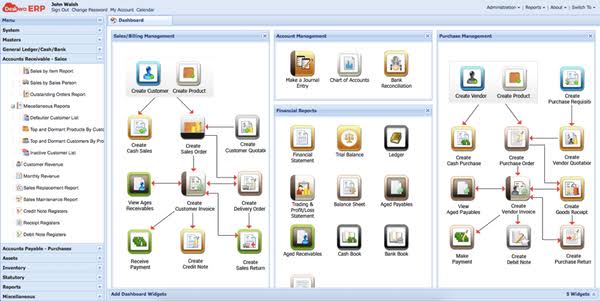 Overview
It's an award-winning, cloud ERP platform that helps businesses enhance productivity, boost operational efficiency, track finances, manage both customers and vendors with ease. Deskera business software applications are used by more than 3000 SMEs and businesses across the world. It is suitable for a wide range of industries like trading, manufacturing, engineering, distribution, construction and more.
What does it do?
It has a comprehensive and integrated platform that makes it easy to monitor and control purchasing, inventory, billing and sales, product management, financial report and more. Simply put, it gives you insight into the day-to-day business operations in real-time from a single easy-to-use platform.
Highlights
Quick deployment - Since it's a cloud-based solution, users don't have to deal with the hassles of downloading the application. All they have to do is sign up and access the software from anywhere.
Fully integrated system - Deskera offers a wide range of resource management applications like:
ERP (Enterprise Resource Planning)
MRP - For optimizing the manufacturing processes
CRM - Customer Relationship Management
HRMS - Human Resources Management System
PM - Project Management
ELEAVE - Automated Leave Application Management System
Pros:
Highly scalable management tool.
Free Trial and affordable software.
Great support system.
Cons:
Not great customer support.
Misses major features.
Free Trial Available? Yes - a 15-day free trial is available.
Pricing: Deskera follows a quote-based pricing system depending on the requirements of the client.
19. Ganticc
Overview
Ganticc was one the first softwares to be dedicated to resource management planning and management. The visual project planner and portfolio tool is ideal for freelancers, small business and large enterprises. The software is often referred to as a blend of Excel spreadsheets and an enterprise resource planning (ERP) solution.
Highlights
Provides a real-time overview of plans and progress.
Simple drag and drop scheduling makes resource planning simple and quick.
Suitable for a variety of industries.
Built in capacity management tracking.
Pros:
Easy API integration with Google, Azure, and Microsoft Outlook.
Automated mobile alerts help address bottlenecks swiftly.
Customisation of reports and templates.
Cons:
Full suite of features like forecasting, projections, time and expense tracking and budgeting come at a higher price point.
Pricing: Plans start at $25 per month
20. Runn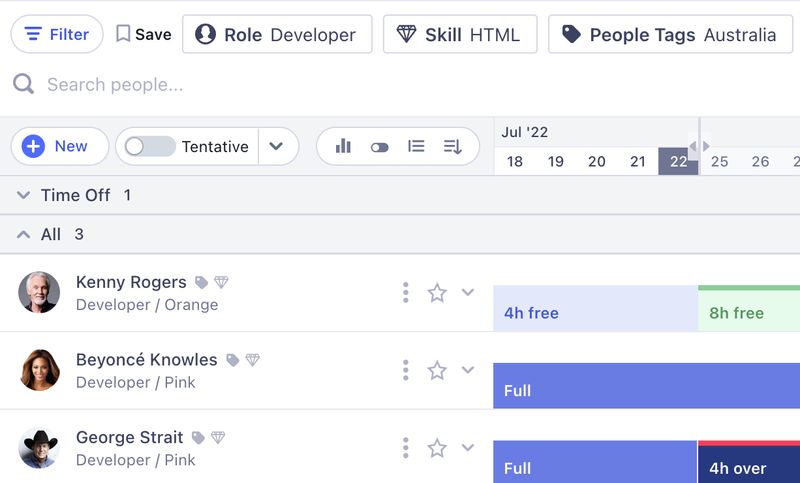 Overview
Runn is modern, visual project tracking software that aims to streamline teams and get everyone on the same page. The platform, developed in 2018, is for project managers, operation leads and other people involved in project delivery and execution, regardless of their industry.
Highlights
Smart project tracking that shows how projects are performing against budgets. Can see forecasted revenue, costs and profits.
Manager can also see how actual time spent on a task is compared to allocated time.
Wide suite of financial reports that allow one to keep a tab on project profitability.
Pros:
Intuitive resource management software that learns from previous data.
Provides instant and visual feedback on utilization and remaining project budget as you continue to add and assign tasks.
Cons:
Can only be accessed via the web. No mobile platform.
No ability to track leaves and time-off requests or access calendars.
Difficult to see task progress.
Pricing: Free for up to 5 users, then increases to $10 per resource managed, per month.
Ideal For: Rapidly growing remote businesses and project based start-ups.
21. GanttPro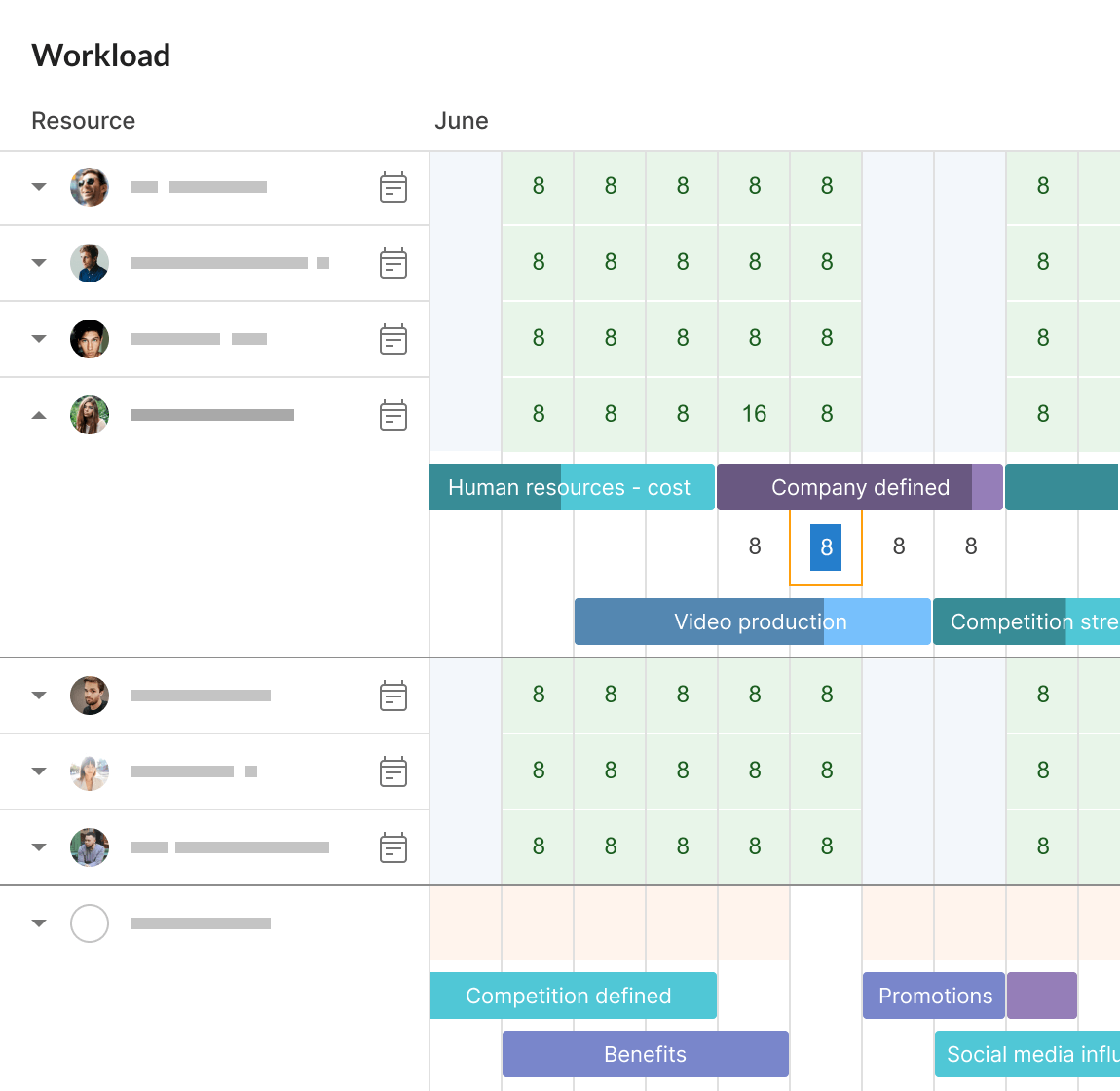 Overview
GanttPRO is online project management software that facilitates project implementation by the use of GANTT charts. The tool is known for its simplicity — it only helps you manage projects and doesn't aim to be a content management portal or communication system. GanttPRO offers task, deadline, cost, resource, and portfolio management. It also has team collaboration, time logging, baseline reports and advanced export and sharing features.
Highlights
Has neat features like auto scheduling and task hierarchy which help with prioritization.
Can set-up the system in just 7 minutes; even beginners or those with no technical knowledge can use this.
Pros:
Ready made project templates can get your project up and running in no-time.
Managers can make a bulk change and save time as they don't have to repeat commands.
Easy to customize and integrate with other programs like Slack, API, Google Drive and Jira.
Cons:
A lot of must-have features come in at a higher package.
Integration for Microsoft Teams/ Microsoft Project could be improved.
No desktop version, only accessible via web/app.
Versions : Free for up to 5 users, then increases to $10 per resource managed, per month.
Pricing: Basic is $7.99 per user/per month, Pro is $12.99 per user/per month, Enterprise is $19.99 per user/per month. Contact them directly for Enterprise pricing.
Ideal For: Small Teams or Single users (freelancers, solopreneurs).
22. Airtable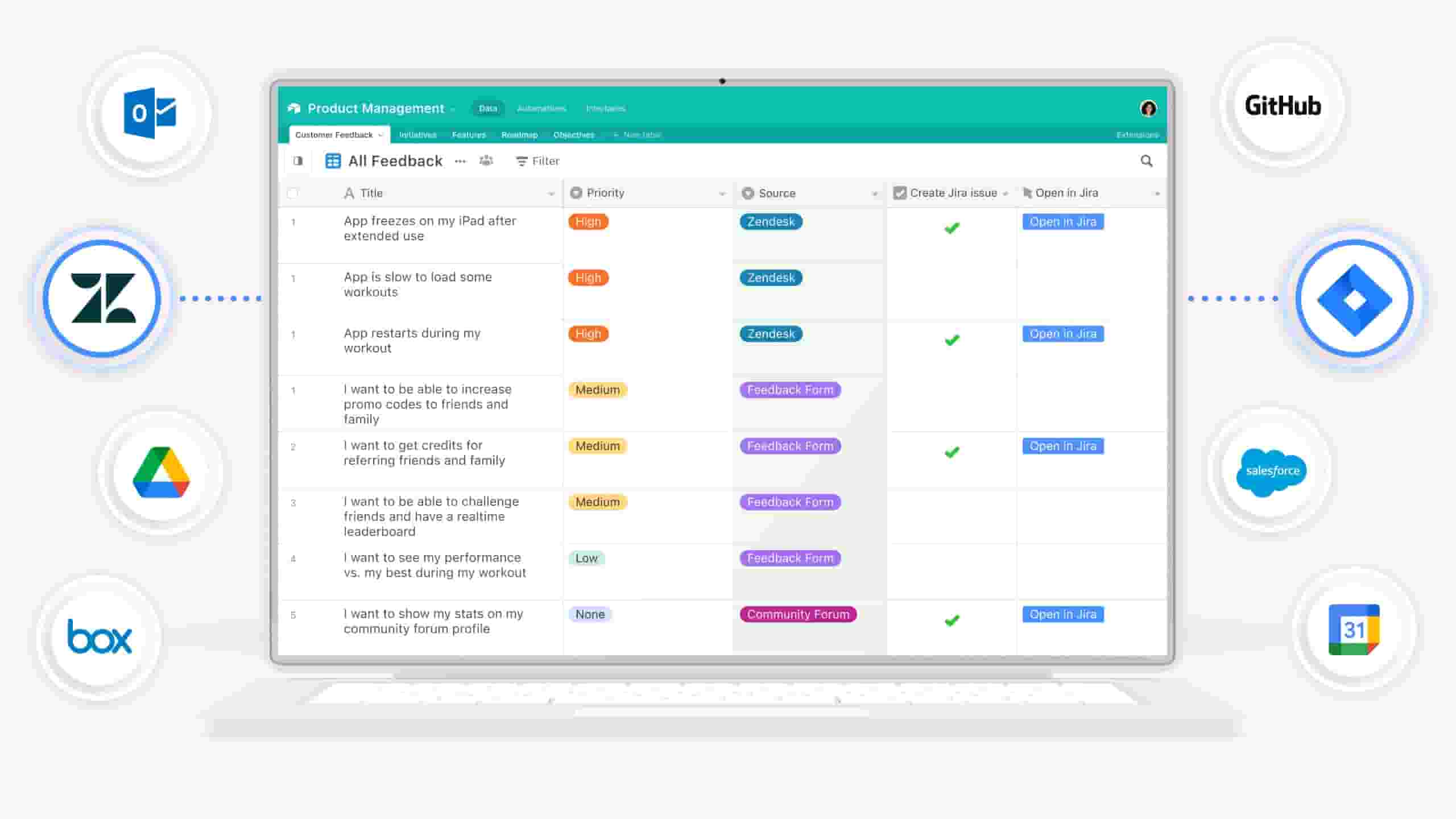 Overview
Want to track a marketing campaign or the ROI (return-on-investment) on a project, check out Airtable? Airtable is a cloud-based, spreadsheet style management tool that will help you streamline and analyze databases that are complex and constantly evolving. You can use it to manage work, track and organize inventories, plan an event, or create a content marketing strategy.
Highlights
Choose from over 200 project templates that can get your project running in seconds.
Light and user-friendly interface.
Highly customizable and versatile.
Pros:
Seamless to integrate with external apps.
Accelerate project workflow by streamlining a number of dependent tasks with Airtable Automation.
Software also allows you to prioritize tasks and automate recurring ones.
Simplifies tasks with collaboration and project management features.
Data administrators or project managers can set user permission levels to restrict database access and retain data confidentiality.
Cons:
Timeline and GANTT chart views are only available in the Pro package.
Versions : Free, Plus, Pro and Enterprise
Pricing: Free can be used for up to 5 creators/members. Plus is $10 per user/per month, Pro is $20 per user/per month. Contact them directly for Enterprise pricing.
Ideal For: Small Teams or Single users (freelancers, solopreneurs).
23. Wrike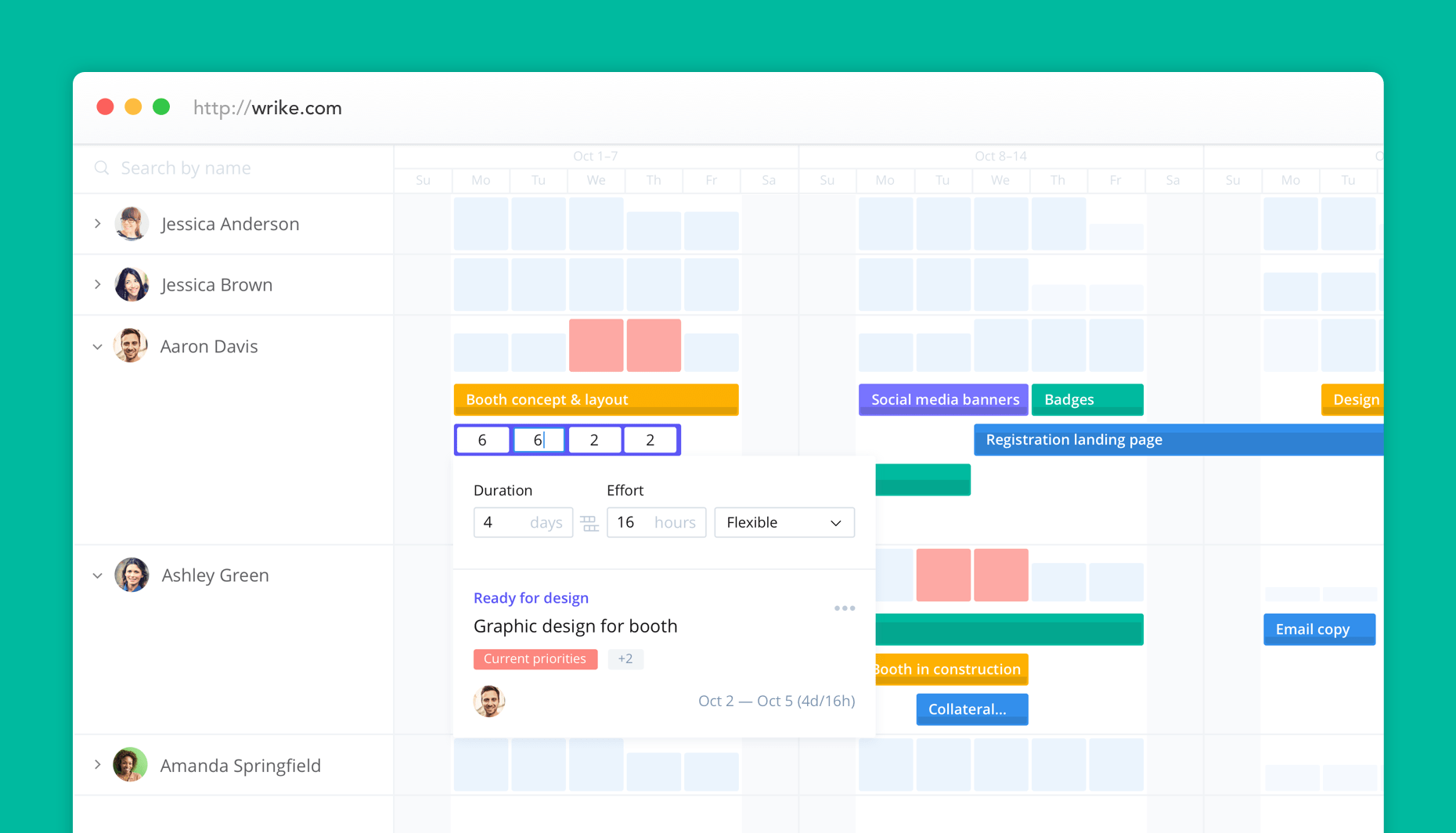 Overview
Founded in 2006, Wrike is a project management platform used by almost 20,000 customers worldwide. The platform is easy to use and will streamline projects between members who might be separated by oceans. The software is perfect for enterprise level firms, and seamlessly integrates with over 400 third-party tools, including MS Project and Outlook.
Highlights
Enterprise level security keeps all your IP (intellectual property) safe.
Offers real-time overview of project statuses, team performance, task statuses, workload, approvals, and tasks.
Pros:
Uncluttered and easy to use dashboard. All projects, tasks, files, emails, coworkers and collaborators are in one place.
Has a time tracking feature which lets one log billable hours, add comments, create time reports, and then export or print the reports.
Wrike automatically updates charts, reports, infographics, and analytic dashboards every 15 minutes so you're never looking at outdated data.
Cons:
Pricing is on the higher end of resource management softwares.
Poor customer support as emails and live chat take a while to get responded to.
Small to medium sized companies can find it expensive and difficult to deploy.
Versions : Free, Professional, Business and Enterprise
Pricing: Professional is $9.80 per user/per month, Business is $24.80 per user/per month. Contact them directly for Enterprise pricing.
Ideal For: Businesses in marketing or professional services.
24. Kantata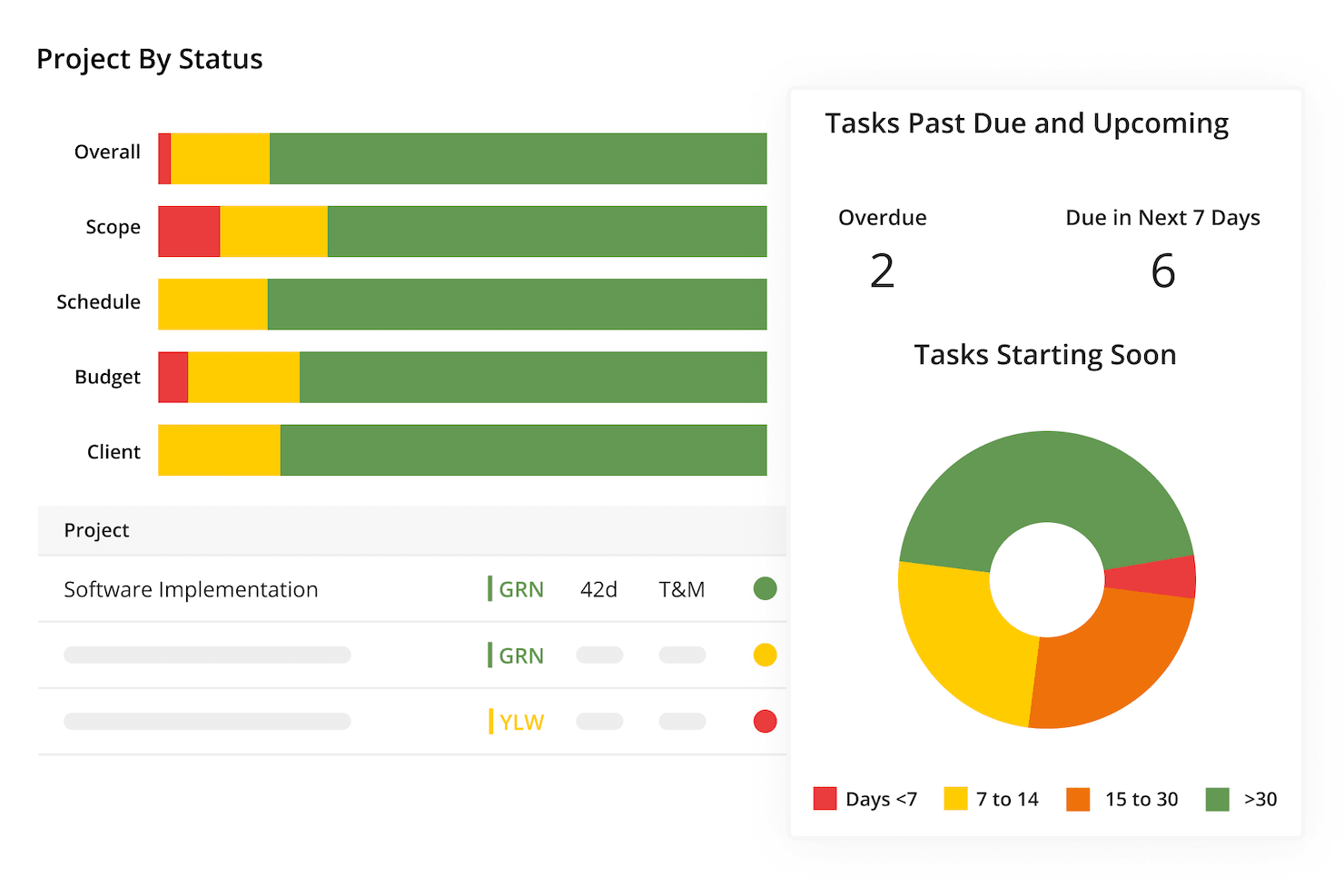 Overview
Kantala Cloud, formerly known as Mavenlink, is a cloud based resource allocation solution. The platform allows project managers to create forecasts for projects, revenue, margins, and resource capacity.
Highlights
Software has built-in business intelligence that users can take advantage of through ready-to-use services-centric reporting and customizable dashboards.
Users can create forecasts for revenue, margins, and resource capacity.
The software also provides data-driven recommendations on resource allocations to help in decision-making.
Pros:
Ready made project templates that can get your project up and running in no-time.
Allows you to see project burn rate (how much money is being spent on the project).
Cons:
Software looks and feels dated. Also has loading issues.
Managers can only view time resources spent on individual tasks and have to calculate time spent on projects manually.
Poor mobile interface.
Versions : NA
Pricing: Pricing is customized
Ideal For: Mid-sized Companies (51-1,000 employees) and marketing/advertising companies
25. Clickup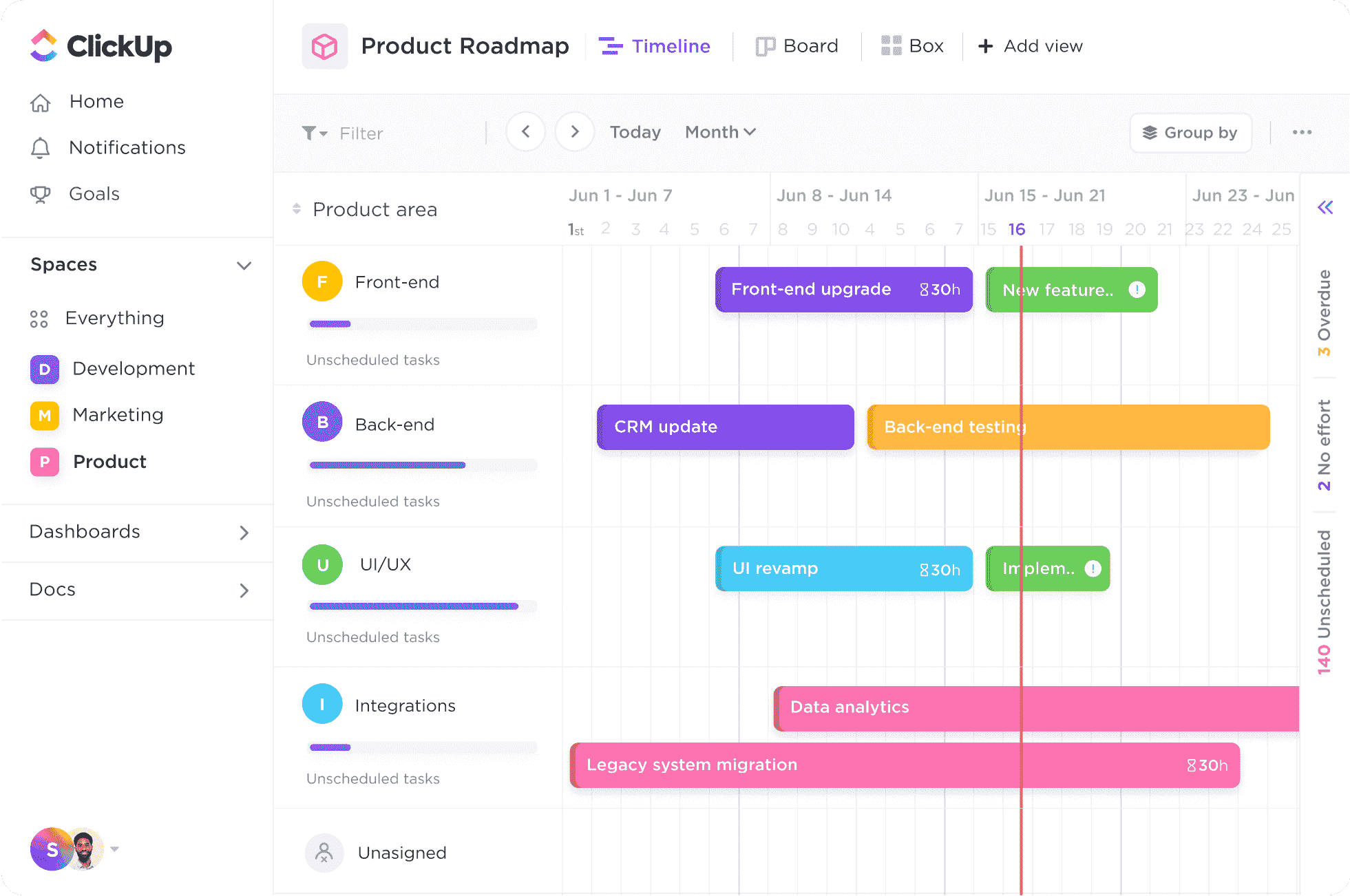 Overview
Over 200,000 teams use ClickUp to manage resources, and get their projects streamlined and completed on scheduled and within budget. The tool offers real-time metrics on billings, how time is being spent and what is pending. You can customize the software in 5 different views and easily access what's most critical to you.
Highlights
Most customisable software. You can tailor it for the simplest to the most complex task. Adaptable for all industries.
Offers more than just task management - you can share notes, calendars, documents and goals
Pros:
Tremendous value for money.
Variety of project templates to choose from.
Easy to allocate resources from a single screen dashboard.
Cons:
Free version has limited capabilities and doesn't offer access to GANTT charts.
Sometimes it can be feature heavy, which can distract from what's important.
Versions : Free, Unlimited, Business, BusinessPlus, Enterprise
Pricing: Unlimited is $5 per user/per month, Business is $12 per user/per month, BusinessPlus is $19 per user/per month. Contact them for Enterprise rates.
Ideal For: Information Technology, Computer or Professional Services Companies
26. Silverbucket
Overview
Seeking a resource allocation tool that will help you maximize your profits? Silverbucket, developed by a software company from Finland, can help you do that. The firm prides itself on delivering customized project management solutions for their customers.
Highlights
Very supportive customer service
30 day free trial
Easy and quick to load reports.
Pros:
Access allocation levels from the perspective of individuals, teams or the company as a whole.
Identify and track which tasks/workload are related to internal operations versus those that are billable.
Detailed finance reporting, including utilization rate by allocation.
Cons:
Few integrations can be problematic.
Doesn't have a single dashboard view.
Inability to do task planning at granular level, only happens at overall project level.
Versions : Free, Unlimited, Business, BusinessPlus, Enterprise
Pricing: Based on users, starts at $9 per user/per month (including time tracking feature)
Ideal For: Business to Business (B2B) companies in Gaming, Media & Broadcasting, Technology and Retail markets.
27. Hive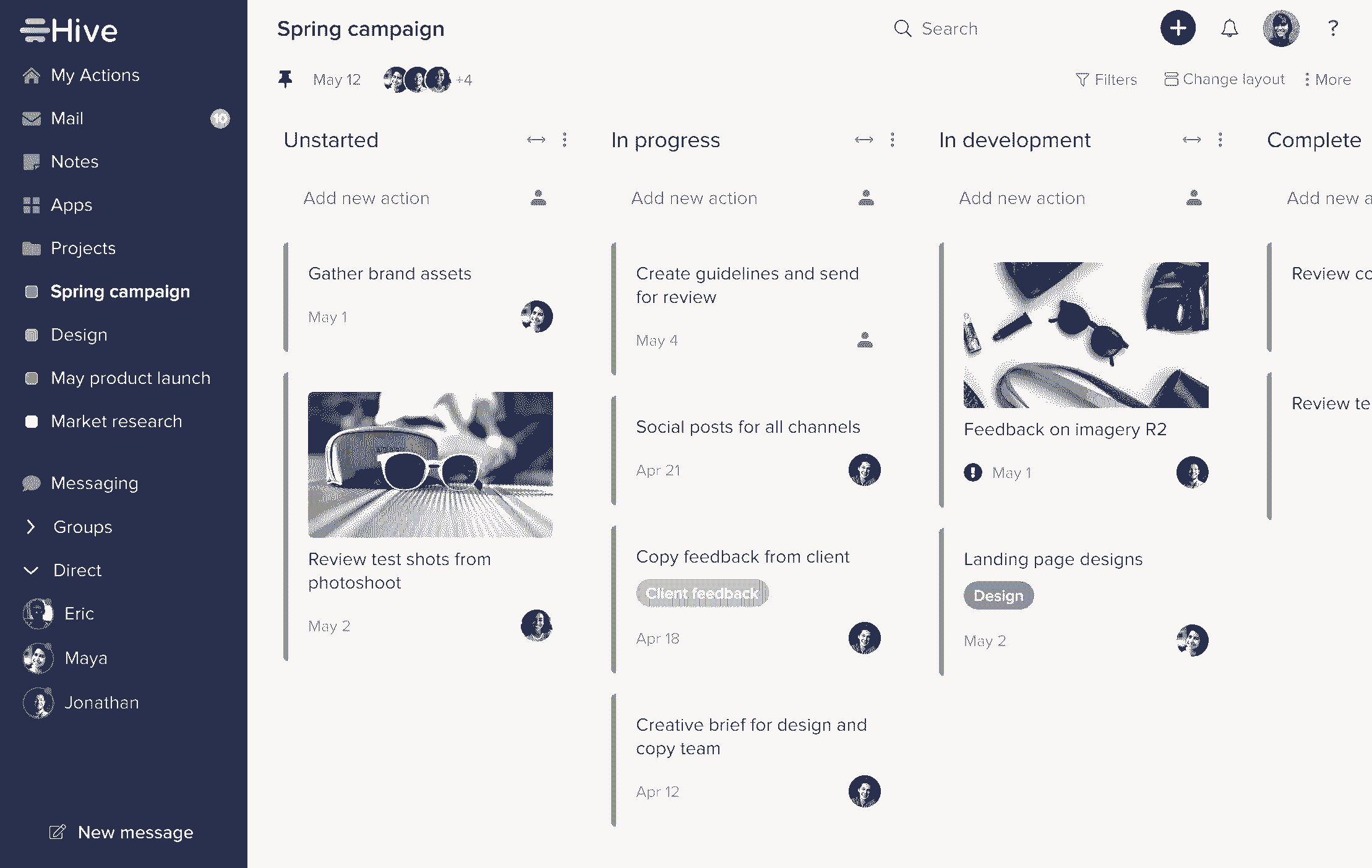 Overview
If your organization is looking to streamline project workflows onto a single screen, Hive is worth your consideration. Hive is an all-in-one project management platform and resource management tool that enables you to set-up and track all activities real-time. It also captures changes to project and past data (so you can go back and see changes and also who authorized them). The software's library of project templates make it a breeze to put a project into motion.
Highlights
Centralized dashboard with customisable project views.
Built-in chat feature that allows one to communicate with teams in real-time.
14 day free trial
Accessible via every laptop, phone or computer.
Pros:
Intuitive and user friendly interface. Easy to view resources and schedule them.
Time clock feature tracks hours worked which can be used to budget for labor and manage overall efficiency.
Increases collaboration between hybrid teams.
Allows one to save time by automating repetitive tasks.
Cons:
Some external apps are difficult to integrate.
Hive Analytics comes at an additional cost.
Versions : Solo, Teams Enterprise
Pricing: Solo is free for single user, Teams is $12 per user, per month. Contact directly for enterprise pricing.
Ideal For: IT software provider, financial services, higher education, nonprofits and healthcare.
28. Paymo App
Overview
PayMO is a combination of project management and customer relationship management tools. Founded in 2008, PayMo was created with the mission to deliver a start-to-finish work management solution that people could integrate into everyday life. The platform's resource management features include timesheet reporting, project accounting, holiday management, leave scheduling, and unscheduled work monitoring.
Highlights
Easy to set-up retainer projects.
15 day free trial
Accepts online payments via credit cards.
Pros:
Visualize workflows with statuses and kanban cards that will help one easily identify and fix bottlenecks.
Software's integrated time clock allows manual and automatic time tracking.
Easily accessible via laptop, mobile version or app.
Competitively priced with superior customer support.
It has resource calendar views for resource allocation, adjustments for resource exception, real-time workload view, and automatic bookings.
Cons:
Software can be difficult to install and deploy. It's not as intuitive as other competitors.
Only has US payment options which limits its usage globally.
Versions : Free, Starter, Small Office, Business
Pricing: Solo is free for single user, Starter is $4.95 per user, per month (maximum 1 user/freelancer). Small Office is $9.95 per user/per month, Business is 20.79 per user, per month.
Ideal For: Small to medium sized businesses in IT professional services, social media consulting, creative agencies , nonprofits and healthcare.
29. Scoro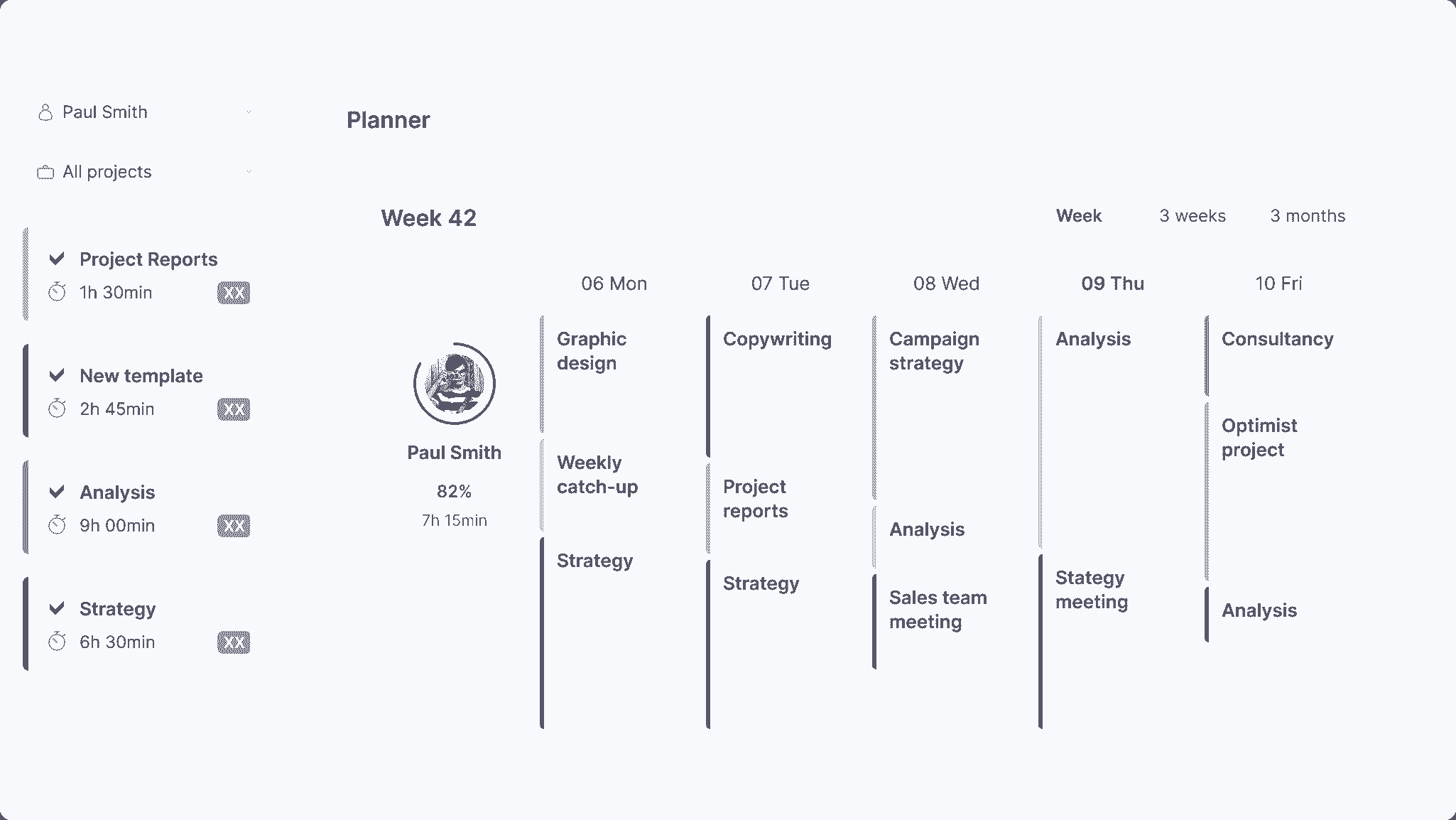 Overview
Scoro is a holistic project management solution that can be used by all teams — right from sales to billing departments. The project management component will allow you to create projects, assign tasks and track their progress. The system also has customer relationship management (CRM) capabilities where you can access all customer information, including quotations and invoices. The finance features track billings in actual hours, across multiple currencies.
Highlights
Real-time dashboard can be customized to suit any existing business framework.
Tremendous customer service.
GANTT chart provides a 360 view of your plans.
Pros:
Ability to visualize workflows with statuses and kanban cards that will help one easily identify and fix bottlenecks.
Setup reports according to metrics one deems are most important.
Team members can access calendars of each other to understand workload and availability.
Cons:
Top end pricing
Client display can get easily cluttered, making it difficult to find client/project specific information.
Take a while to understand all of its capabilities and configurations.
No ability to share platforms with freelancers or clients.
Versions : Essential, Standard, Pro, Ultimate
Pricing: Essential is $26, Standard is $37 per user, Pro is $63 per user/per month. Contact directly for Ultimate pricing.
Ideal For: Creative Agencies
30. TeamGantt
Overview
Want to get your projects quickly moving? Try out TeamGantt. TeamGantt is one of the few holistic project management tools that includes a wide range of features like time tracking, planned vs. actual timeline view, project plan templates, real-time progress tracking and data import feasibility.
Highlights
Easy to use and interactive UX design.
Schedule by simple drag and drop.
Pros:
Straightforward implementation as the site provides helpful video tutorials and general guidance as you dive into and deploy the software.
Gantt chart shows how many tasks are assigned to your various team members and resources each day. Also, it helps project managers and team leads keep an eye out for potential bottlenecks and burnout before they occur.
Easy to access availability tab prevents overloading of resources.
Cons:
Free account has limitations as one can only manage a project with 3 members and assign up to 60 tasks.
Time tracking tools are only provided in Pro and Enterprise versions.
No invoice and billing tools.
Versions : Lite (up to 5 project per manager), Pro, and Enterprise
Pricing: Lite is $19 per manager/per month, Pro is $49 per manager/per month, Enterprise is $99 per manager/per month.
Ideal For: Small to Medium Sized Teams
What are the benefits of Resource Management Software?
These are the benefits of Resource Management Software:
Reduced Admin Cost
When you back the system with the automated tools, it considerably reduces the admin costs. The number of errors reduces because the employees can better concentrate on work. They do not have to bother with the cumbersome book keep-up. Resource tracking software allows project managers to maximize their earning potential and deliver work on time. It further strengthens the relationships with the clients.
Automated System
Needless to say that resource utilization software can make everything or every action automated for your company. Information from all the ends is stored in the central database. This readily available data can be used to fetch information and take decisions. You can track the availability of resources automatically and get insights on demand and supply.
Increased Accountability
With the automated resource tracking software system, you have a view of the activities of each employee. The software tools make it possible for the managers to have all labour and time information recorded. The software makes it possible to view the cost accounted for a particular job.
Conflict Resolution.
The chances of conflict resolution increase because with resource management software, you know the occupancy status of the resources. It prevents the resources to be double booked. When a resource is over-occupied, the project performance can derail. It can impact the output of the company. The resource management software provides you with real-time information about the resources allowing you to handle tasks.
Growth in Revenue
When every action falls in place in the entire system, the chances of the revenue to increase gets higher. You can monitor the performance of the employees and check for their workloads. The software generated reports can allow you to make decisions like whether you should take another project or not? More projects and a higher level of performance indicates growth in revenue and profit. When there are benefits associated with resource management software, you must buy the best IT resource management tool for your company.
Not sure, how will you choose the software for your organization? Let us discuss it.
How to select the best Resource Management Software?
Here are the ways that can help you choose the best resource management software:
Identify the need for the software tool in your company.
Research the software that offers the best collaboration features with the existing system.
To compare the price and features with the alternative options.
Take feedback. It is important.
Make a plan about how you will implement it. Check for the User Interface and User Experience Navigation.
Check and confirm expandability and configurability.
Check the functionality to maximize the returns and optimize the costs.
There are many competitors and players in the market. Get a hand on the software tools that simplify the process and drive you close to the targets.
Which Resource Management Tool should you choose?
As always, no one tool is the best choice for all. Start by listing out your requirements - what you're looking for, the features that are a must for you, and optional features that are good to have. Then, visit the website of each tool on this list to see if it offers the features that you require.
Most tools on this list come with a free trial version. Give it a try for a few days, to gain first-hand experience of the software. Finally, compare pricing and shortlist the right tool that works best for your organization.
Also Read,