Timesheets - Why are they so crucial for Professional Service Organizations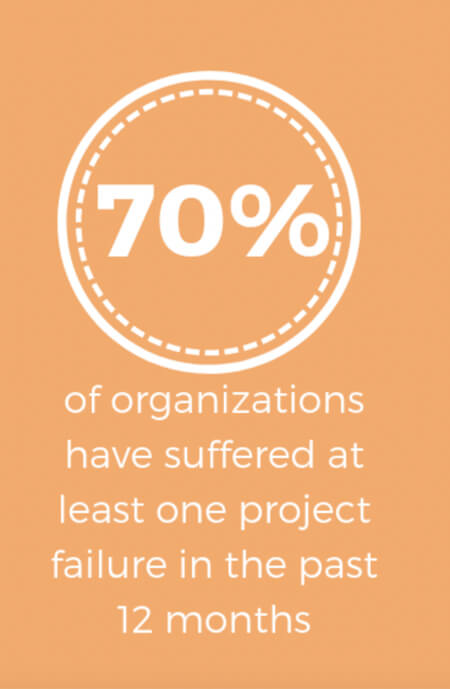 Hey! Project Manager,
Here are some statistics for you to consider. Did you know that 70% of organizations have at least one failed project in the last 12 months? That's high, isn't it?
What can you, as a project manager, do to increase the success rate of a project? We all know there are multiple moving parts in a project and the complexity of projects today is increasing. Using timesheets is one way to efficiently track progress and ensure that your projects are poised for successful completion. Timesheets facilitate accomplishing projects within the required time frame and budgets.
Timesheets? Yes, we'll help you understand the timesheet feature and why they might just be the secret sauce to successful project management, especially in professional service organizations.
Let's start at the basics.
What is a Timesheet?
What is a timesheet? A timesheet is basically a chart that allows a project or resource manager to see the workload of each team member in terms of hours assigned and hours remaining for each project activity. Back in the day, timesheets used to be logged manually, but today's timesheets are captured digitally.
How Do Timesheets Help in Project Management?
Timesheets are helpful in keeping track of the pace of the project, identifying bottlenecks, if a task is taking longer than the assigned time, then maybe it's time to divert your attention there and see what's the issue, and of course, billing clients.
Increases Accuracy
The visibility provided by timesheets helps managers and organizations assess the accuracy of work/time estimates and employee effectiveness. For instance, a manager might have allocated three hours to a resource for analyzing material costs for a project but the actual amount of time taken was only two hrs. A timesheet will do two things: first, it'll highlight that the task took a shorter amount of time; this input is something that can be used for future planning. Secondly, it will allow the manager to assign another task to the resource for the available one hour; thereby efficiently utilizing resource capacity.
Monitors Progress and Decreases Chances of Delay on Deliverables
Wouldn't it be a dream if all projects went as planned. Well, we know that isn't the reality, no matter how much we plan. A key resource suddenly falls sick or goes on an unplanned leave or a seemingly straightforward task takes longer than expected to finish - in projects, these instances are common. In such scenarios, the timesheet records valuable information regarding any delays, therefore making it easier to redistribute the workload to compensate for any gaps.
Help Control Costs
Timesheet management software also help in determining project costs and budgets. Each task is given a certain time and depending on the billing structure of the resource assigned (hourly rate), one can calculate the overall cost associated with a task or project.
Role of Timesheets in a Professional Services Organizations
Now that we agree on why timesheet management is essential to project management, let's delve deeper into the utilization of timesheets in a professional services organization.
According to a study by PMI, 47% of projects fail because of inadequate management of resources. In a service led organization, the prime resource is their people. With the help of timesheets, you can maintain high productivity while consistently meeting deadlines. Timesheets allow you to see if you are under or overutilizing a resource, reduce chances of employees facing burnout (often a result of faulty planning because a resource is overloaded or stretched between multiple projects) and speed up critical decision making related to any loopholes.
With timesheets, a service organization can also reduce the time resources spend on bench, and therefore be able to maximize their billing. Billings are even more critical in today's volatile and uncertain business scenario as the pandemic isn't completely behind us. Projects are more complex and in such instances, timesheets can be used to make sure the right resources are being assigned for billable or strategic activities and not mundane tasks.
Timesheets also facilitate invoicing and payroll processing for professional service organizations. Managers can easily track and review data regarding billable hours, approve them, and forward them for invoicing. This minimizes any chances of billable hours getting lost in an endless chain of email. Also, as the software tracks hours worked and leaves, it streamlines and standardizes the payroll processing.
Lastly, in professional services firms, the resource pool is often scattered across multiple locations. A timesheet management software helps a manager keep track of all resources and billings from a centralized dashboard with almost no human intervention. Through timesheets, employees are focused on the core tasks and not on administrative tasks like sending timesheet reports and coordinating calls.
Time Tracking Management in eResource Scheduler
The eResource Scheduler's inbuilt time tracking capabilities are designed to resolve practical problems faced by project teams. The tool allows you to get hold of the actual information related to project cost, progress, and billings without having to sort through numerous excel pages or emails. eResource Scheduler's time tracking module boosts of the following highlights:
1. Visibility of Actual Time Spent on Projects
The timesheets capture the details of time spent by resources on projects and non-project works. A manager can also get a complete overview of work completed and pending. The software also tracks who performed the work and when.
2. Identify Gaps Between Planning & Delivered Activities
In projects, it's not uncommon to run into instances where there is a discrepancy between what was planned and how long it actually took to get completed. The timesheet identifies the gap between the desired and delivered activities. With this comparative analysis, you can put resources and finances in line.
3. Easy Analysis & Decision Making
The intuitive timesheets allow the administration to have an overview of the exact project status. They can further make decisions on whether they are in a position to accept any new projects. If a project is accepted, then the timesheet can be used to quickly select and schedule resources.
4. View Multi-Level Data
Depending on the need, the timesheets can be set to derive information at the resource, global and project level as needed. One can also configure the timesheet to view reports on how each individual resource performed during holidays or non-scheduled days.
5. Ease of Third Party Integration
If your company already is using a third-party time-sheet tool, eResource Scheduler can easily integrate with it and pull the required data to ensure overall data consistency.
Timesheets Help Companies Manage Their Greatest Resource - People
At the end of the day, the success of a business or project, whether it's a product or service-based one, comes down to two things - reducing costs and maximizing profitability. A timesheet module in your resource management software helps achieve both these targets. A timesheet management software leads to accurate performance monitoring, cost control and decreases the chances of a project derailing. As the significance of resource monitoring in project management continues to grow, the need of implementing a resource management software that features timesheet tracking becomes even more vital.
If your company is eager to take its project performance to the next level, do consider taking a free and fully supported trial of eResource Scheduler. You'll gain first hand experience on how intuitive, user-friendly and performance driven our module is