Employee Scheduling App - Top 5 Things That An App Can Fix For You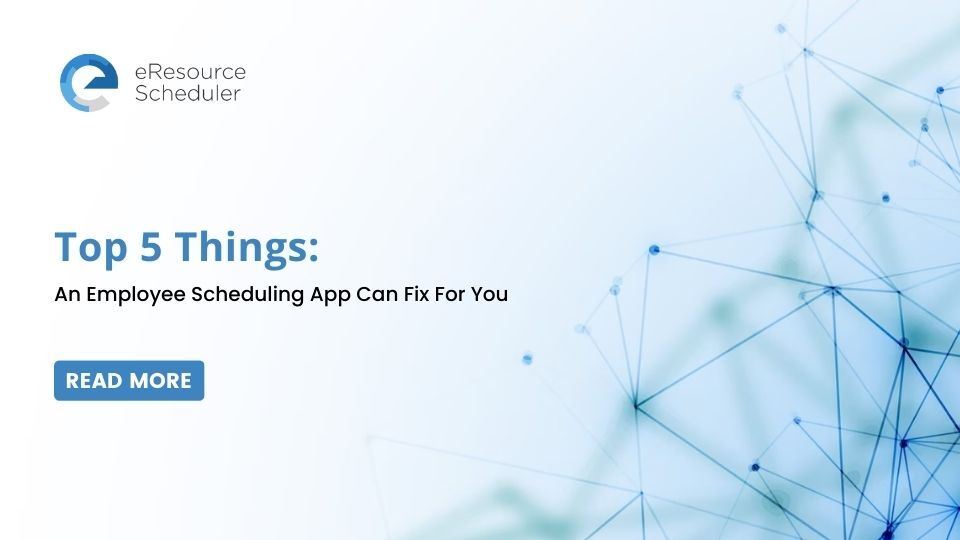 A doctor resolves your health issues. A plumber fixes your bathroom issues. An electrician addresses your wiring issues and helps you load your meter evenly. Similarly, one needs a fixer for employee scheduling challenges. Fortunately, there's one — a resource scheduling software. You heard us correctly, the right employee scheduling app can resolve and smoothen your project planning and execution.
Wondering how an employee scheduling software can make projects and your work-life easier? That's exactly what we'll be discussing further.
First, let's take a deeper look into the costs of poor scheduling.
Cost of Poor Scheduling
Scheduling employees the old way, via spreadsheets and email chains or even legacy software, eats away a significant portion of time. Research proves that managers spend 3.5 hours or approximately 20% of their time creating work schedules. Those 3.5 hours can never be turned back — time that the manager could be focusing on more strategic work. And, let's not forget the mental burden schedule brings with it. Tracking, scheduling, making changes, and then updating everyone is stressful and cumbersome.
Poor scheduling processes can also lead to other inefficiencies such as:
Resources being spread too thin (overloaded)
Increased likelihood of human error because of skill mismatch
Inflating costs due to last minute hires. A study shows last minute hires and purchases, and significant overtime billings can make a budget go overboard by 50%.
Projects delayed as a result of unavailable workforce
The occurrence of one or two of these issues might seem like no big deal. However, overtime, these minor issues can snowball and impact the stability, efficiency, and long-term success of a business.
5 Things an Employee Scheduling App Can Fix
The right resource management software can save time and help you achieve an error free schedule. It will automate a lot of tasks, and give you the valuable gift of time. Time to monitor progress, plan for future projects, or perhaps even develop a new skill.
1. Automates Scheduling & Saves Time
The most obvious issue an employee scheduling app resolves is that it automates scheduling. The employee scheduling app not only provides a centralised directory of resources, it tracks their availability, skill set, billing rates, and work preferences in the short and long-run. Enter in your requirements, and the software will display who is suited and available. It's really as simple as that.
Alongside automating the scheduling process, the software can also help prioritise tasks. If there is a sudden change in the project schedule, such as a client removing a requirement, the associated teams can stop work and start on the next prioritised task. This entire process is managed and communicated through the software, eliminating the need for calls and meetings. Automation also minimises errors frequently encountered when one uses spreadsheet data that is static and often dated.
Reduces Costs
Investing in resource scheduling software can save you up to $2.6 million in expenses. Poor planning and execution of projects can blow the labour costs. If resources aren't scheduled properly, it's harder for a project or company to stay within budget. Here's a common scenario, you are managing a healthcare facility and improperly plan the hiring for the new outpatient building. This lapse in planning will cause you to shell out more overtime payments, hire new employees at costlier price-point, and may even incur expenses for re-training and upskilling the workforce.
The software can also fix cost and budget issues as it provides real-time insight into each resource's billing rates. A manager can track the price point of each employee and control the budget by making sure that employee is not over utilised (by putting a maximum limit on the hours each resource can work).
3. Increases Visibility of Resources
An employee scheduling app also increases the visibility of resources, including contractors and other temporary hires. All the information is stored in a centralised database and is accessible to all. It provides an integrated view of resources and demand so one can accurately understand the capacity and assign work without straining employees, both now and even 20 months in the future.
Engages Employees and Fosters Communication
Scheduling resources also minimises any issues that result from employees feeling they are assigned projects or tasks that aren't of interest to them. How does this happen? As the employee scheduling app captures details regarding their work preferences, managers are more inclined to assign them to appropriate teams. This keeps employees happy, and happier employees are more likely to stay with your firm for the long term. The software also empowers employees to take accountability for their work as they can see what role they play in the larger picture.
Communication between departments and groups is also encouraged as members can see who could possibly assist them in a project or perhaps even take over a shift. Most resource management softwares allow managers to set customised controls for their team members so they have control and flexibility to make changes to the schedule. This is a double-win scenario, because it also results in time saving as managers don't have to make each and every minute change.
5. Improves Resource Tracking and Forecasting
Keeping a track of what an employee is doing, when they are clocking in or out, or how a project is progressing is time-consuming. It is even more challenging in today's remote work scenario where global projects are a norm. You don't have the ability to walk over to a colleague and ask "How long will this job take?" or "What's the issue you are facing?' The resource allocation software systematically records what task an employee is working on, updates current status, and enables managers to analyse the data.
Summary
An enterprise employee scheduling app can provide an organisation with the tools necessary to organise manpower, assess risk, and run projects. And managing resources efficiently is not something that's "nice to do," it's a "must do" to beat the competition.
eRS, also known as eResource Scheduler, will make sure your company's resources are available, engaged, and optimised. It's the fixer for resources as it can help you overcome common scheduling and workforce management challenges.
Want to have this resource essential by your side? eRS offers a no-commitment (we don't ask for any credit card info) trial. The 14-day free trial includes all of our features, so you can immediately understand the tool's benefits.