Scenario Planning - How to do it right using global workforce management tool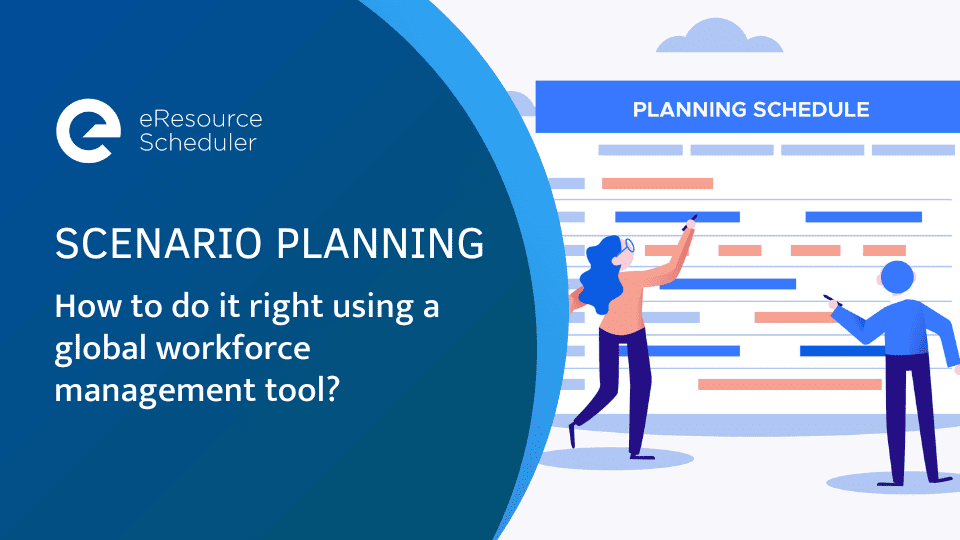 If the last few years have taught business executives anything, your organization must be prepared for the unknown. And, while "future-proof" may be a trendy buzzword right now, the concept is important. There is a need for organizations to take preemptive action that allows them to remain adaptable and nimble in the face of uncertainty.
Scenario-based planning is one of the most effective methods for this.
Effective scenario-based resource planning is considered on the basis of the organization's workforce's abilities and adaptability — and then solves any skills lacking that emerge during the process. Preparing and upskilling your employees for a variety of scenarios will increase adaptability and resilience throughout the business. When circumstances change, we'll have skilled talent ready to step up to the plate.
Let's talk about how to use scenario-based planning to prepare for internal and external conditions that may require changes to business strategy and ensure you're ready to proactively address your most difficult talent concerns.
What is Scenario Planning?
Scenario planning is a risk-mitigation and opportunity-capitalization method that prepares for the future by examining many situations and their potential outcomes.
This method assists executives in understanding the probable consequences of a variety of distinct yet conceivable scenarios. Based on this understanding, finance, human resources, operations, and other important departments can plan early responses that may be required. If these stakeholders are unable to be reached during a real-life extreme incident, the organization will have access to recorded plans to properly manage the scenario.
Many businesses take a restricted approach to future planning, creating goals based on desired and anticipated outcomes. While this may prepare individuals for foreseeable scenarios, it may be ineffectual if unexpected events occur.
Scenario-based planning, on the other hand, enables a corporation to prepare for a variety of reasonable possibilities by contemplating, planning for, and rehearsing probable actions under uncertain or unpredictable scenarios.
How is Scenario Planning Benefiting the Leaders?
Every strategy adjustment, whether due to unanticipated circumstances or a shift in corporate direction, necessitates a robust, adaptable staff to implement the new strategy. Scenario planning offers leaders a framework for making educated decisions, such as assigning workers to give extra coverage in underprepared areas.
Scenario planning is a valuable resource allocation software for leaders in a variety of ways. For starters, it enables them to thoroughly understand their organization's strengths, weaknesses, opportunities, and threats (SWOT analysis). Leaders can identify potential future obstacles and opportunities by doing this study.
Second, scenario planning assists leaders in anticipating and preparing for many circumstances. They can create and implement contingency plans to mitigate risks and capitalize on opportunities.
Thirdly, scenario planning allows leaders to make well-informed judgments. Leaders can choose the best course of action by evaluating many scenarios and weighing the benefits and cons of various solutions.
Finally, scenario planning improves strategic thinking and develops an innovative culture. It inspires leaders to look beyond the present and imagine multiple possibilities. This allows them to predict changes in the market, business, or technology and modify their plans accordingly.
The Challenges with Scenario Planning
Scenario planning can be challenging for professional services firms due to the interdependence of projects and people.
For instance, project manager 1 may change the deliverables of their project, which may have ramifications for project managers 2, 3, and 4. Perhaps a key team member becomes ill or departs the company. These highly regular curveballs can interrupt project delivery across several projects, leaving business leaders scrambling to chart alternate project paths.
Then there are the projects that you are hoping to win. Furthermore, you may bid on six projects but only wish to win two. However, you actually win five. On paper, that's fantastic news, but how will you deliver it all? Who are you looking for? When will you be able to onboard them realistically?
This is why scenario planning is sometimes referred to as 'what if' planning. It's about wondering, 'What if this happens?' How do various scenarios affect variables such as:
Revenue
Business ability
The availability and usage of resources
What does this entail for customer outcomes, employee workload, and general reputation?
The goal of a global workforce management tool is to assist in developing knowledge to plan for both unanticipated and predictable situations. Aids leadership in making informed decisions about how to spend resources, train employees, and prepare for the future. Scenarios help leaders plan for the future by providing choices for what might happen.
Global workforce management tool is intended to simplify various workforce planning activities. A work scheduling app simplifies tasks, including identifying gaps between present skills and future demands, investigating corporate performance and potential, and anticipating future scenarios. Workforce management tool improves organizational performance by automating many repetitive and non-repetitive processes. Furthermore, resource scheduling software will streamline everyday operations while offering real-time insights into the current workforce.
Here's an illustration of managing your staff using global workforce management tool like eRS.
This software is intended to assist managers in carrying out workforce management activities in a quick and easy manner, all while tracking the time spent on tasks and projects.
Project managers can assign work and develop linked projects, which both the manager and the team can track through the data stored in the system.
Managers can then use this data to anticipate future workloads, calculate staff requirements, make staff scheduling decisions, and evaluate everyone's daily performance.
eResource Scheduler also works great if decision-makers want to improve the workflows and scheduling by tracking attendance.
Steps for successful workforce management
Step 1: Plan the Successful Workforce
Know the organizational objectives

Begin by clearly identifying the organization's aims and goals. Understand the strategic direction and intended goals to properly coordinate with the workforce planning activities.

Access the current workforce.

Analyze the current workforce for skills, competencies, and performance. Determine any gaps or areas for improvement that must be addressed to fulfill future requirements.

Identify the need for the future workforce.

Forecast future workforce requirements based on corporate goals. To assess the skills and abilities needed in the future, consider aspects such as business growth, industry trends, technological improvements, and changes in client needs.

Gap analysis

To identify any skill gaps or shortages, compare current workforce capabilities with anticipated workforce needs. This study assists in determining which areas require further hiring, training, or development efforts.

Develop workforce strategies

Create solutions to bridge the identified gaps based on the gap analysis. Determine whether to hire new staff, train current employees, outsource specific jobs, or utilize technology solutions to improve workforce performance.

Performance management

Use a robust performance based resource management software to track and assess employees' performance against predefined goals and objectives. To improve overall employee productivity, provide regular feedback, celebrate accomplishments, and resolve performance gaps.

Monitoring

Continuously assess the efficacy of workforce planning strategies. Assess the outputs on a regular basis, monitor key performance indicators (KPIs), and make adjustments as needed to guarantee alignment with evolving business needs.

Embrace the robust workforce solution.

Use a global workforce management software tool and other technical solutions to streamline and automate personnel planning operations. These technologies can assist with data analysis, forecasting, scheduling, and resource allocation optimization.
Step 2: Successfully forecast
The primary goal of forecasting is to achieve predetermined service levels. Forecasting also keeps staffing costs under control and within budget constraints. Here are the measures to take.
Analyze the current data

Determine the business data. Determine how many personnel will be needed for future projects in addition to the current one.

Find the balance between projects and the workforce.

Ensure that, being a project manager, you can meet the right number of workforce for every single project. Over and under-allocation of resources can lead to project failure.

Aim for forecast accuracy.

To be able to make precise estimations, ensure that the forecast accuracy is measured in accordance with the requirements.

Consider all the unexpected factors

If the unprecedented events of the global pandemic have taught us anything, it is that we must all be prepared to adjust when the surrounding conditions change quickly. We realize this is an extreme analogy, but the idea is that anything can happen, so be prepared.
Step 3: Successful Scheduling
An effective schedule allows the team to do the most with the least effort. An appropriate schedule is critical now that we've built a successful workflow and can estimate future demand.
The procedures below are critical for developing a schedule that will sustain and, if feasible, improve the business's operational success.
Be smart in scheduling.

Ensure that the team is available during peak hours.

Make schedules worth employees' efforts.

Be ready to pay incentives to the employees who always work during peak hours.

Consider non-productive hours

Set aside time for lunches, breaks, meetings, and phone calls according to one another.

Schedule the extra time

When staff are not working on the specified project, give them alternative tasks to do.

Be flexible

Create a flexible schedule, considering the leaves, non-productive hours, and holidays of the team.

Create a backup

Always be ready with backups for the unexpected situation.

Have the right number of employees assigned to the project.

Increase manpower as necessitated by demand. However, remember that overworking can significantly harm an employee's physical and mental health. As a result, try to determine whether they are being overworked to avoid further negative effects.
Strategic Scenario Planning: Leveraging Global Workforce Management Tool to Improve Decision-Making
Organizations employ the effective strategy of foreseeing and getting ready for various future scenarios. Businesses can use a global workforce management tool to make their scenario planning procedure more efficient. Here are some tips for effectively using workforce management software:
Enables reliable but flexible forecasting, increasing the company's response to opportunities.
It helps us to schedule confidently for various scenarios.
Improves project pipeline to enhance business objectives without resource burnout.
Rightsizes the team to achieve excellent results without overspending on manpower.
Managers can analyze the efficiency of their planning by monitoring key performance indicators (KPIs) and metrics associated with each scenario. This enables continuous scenario review and adjustment based on real-time data, ensuring agility and flexibility.