Role Of eResource Scheduler - The Best Workflow Management Software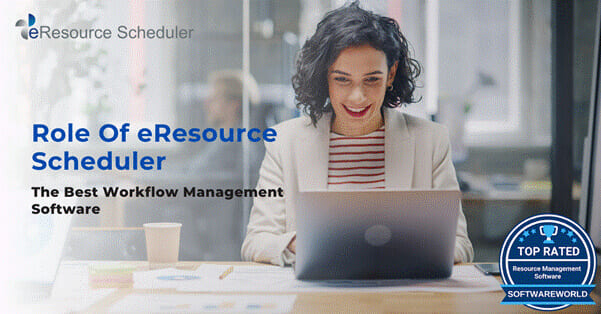 Handling multiple projects is a skill that can quickly become cumbersome and stressful. Why? Juggling people, tasks, budgets, goals, and follow-ups to ensure a project is successful - there are many pieces to the puzzle and constant shuffling amongst them all. Workflow and resource management in today's globalized workplace can easily become redundant, chaotic and prone to errors.
One way to eliminate errors and minimize some mundane tasks is to invest in resource management software. What is resource management software? How can it help my business? What role does it play? Let's address these topics in further detail together.
What is Resource Management? How does it Help?
Businesses, large and small, unquestionably juggle numerous projects, plans, tasks and people. It might be via the traditional pen and paper methodology, email chains, or excel sheets.
However, technology has evolved, and today the right resource management tool can help you manage your projects, allocate resources, and track progress across multiple time zones with simple clicks of buttons.
A resource management software is a tool that will help you streamline routine business processes and allocate the appropriate resources (could be machinery, human, capital) for optimal efficiency in any project. Imagine you are working on a project with members from Australia, the UK, India, and Japan. Coordinating calls and resources between each member in such varied time zones can be a nightmare and can negatively impact overall productivity. A resource management tool like eResource Scheduler can eliminate a lot of back and forth coordination and allow you to focus on what matters - successful completion of projects and a profitable bottom line. Even with the most sophisticated paper or excel systems, there is a high probability of human error, repetitive tasks, and communication gaps.
Benefits of eResource Scheduler
You might be questioning, "Our projects are doing just fine. Why do we need workflow management software?" We delve deeper in 5 ways eResource Scheduler can make a significant impact on your business.
Automates Tasks and Saves Times

Did you know that an average worker spends 69 days doing repetitive tasks? Really, they do. But it doesn't have to be this way. McKinsey estimates that over 40% of tasks can be automated. eResource Scheduler is designed to automatically calculate resource capacity and schedule projects based on predetermined metrics and algorithms. Additionally, the system allows you to automatically import data of resources via their import function or API integration, eliminating the manual labour of entering each resource and their corresponding details.

Visual & Centralised Dashboard That Speeds Decision Making

Accurate information is the key to informed decision making. eResource Scheduler's centralized and visual dashboard makes it easy to track your overall project progress and metrics. Let's understand how.

Within a single organization, there might be multiple projects and each one might be at a different stage. The up-to-date information on the status of each might be with the respective project manager. eResource Scheduler's centralized and visual dashboard maintains a complete list of all your projects in one place, including available resources, project profiles, and project status. The user-friendly dashboard allows you to seamlessly switch between Gantt chart and calendar scheduling.

Lastly, the visual dashboard is easily accessible by all members and eliminates the need for repetitive status update meetings and conference calls. The user-friendly colour-coded bars, drag and drop features, split booking function and familiar icons make scheduling a breeze.

Enhances Collaboration & Transparency

Collaboration, transparency and open communication are pillars of a successful project. Research shows that online collaboration tools can increase productivity by up to 30%. With eResource Scheduler, you or a project manager can also benefit from increased productivity without the headache of scheduling calls and or troubleshooting bottlenecks via emails. You can set up eResource Scheduler to be accessible by "x" number of people. All those with access have a clear snapshot on all important metrics and information via the platform's single screen dashboard. You have the option to view the schedule by project name, project type, resources, primary role, city or any configuration you deem important. Lastly, the application is cloud-based, so anyone can access the dashboard via their web browser, thereby eliminating any additional IT overheads.

Real Time Reporting That Increases Productivity

Ready to say goodbye to weekly status report meetings and save time? eResource Scheduler can help you do just that. The software is designed to provide a number of real-time reports on project progress, utilisation rate, realization rate, capacity and availability based on projects, resources, departments, managers or any other predetermined field. The software also includes a timesheet feature that offers cost and billing analysis and in-depth forecasting reporting. Under the financial tab, the software also provides a profitability report which includes breakdown as per project and time spent on the bench. Lastly, the data can also be easily transferred into charts and bars for easy interpretation.

Why does data accuracy matter? Well, for starters, these reports can help you accurately understand your team's performance, be prepared to make tweaks and adjustments as per needs, and maximize productivity. Accurate and reliable data reporting also reduces any ambiguities and improves the success rate of any project, which will improve your business's overall credibility.

Lastly, as eResource Scheduler is a multi-user application, you can restrict access to what reports a person can see to your advantage and security. For instance, a senior manager might be able to see all reports, but a resource manager might only be able to use the scheduler for their resources and project.

Ability to Customize Project Requirements & Identify Right Resource

Who is an expert at what and when are they available is one of the hardest things to track, especially when you are trying to manage multiple projects across different time zones and timelines. Identifying the right resource at the right time can be hard, but resource management software can make this task much simpler.

eResource scheduler allows you to create and customize fields and forms pertaining to any new project and available resources. For example, one can capture the following information about resources: roles, skills, certificates, qualifications, availability and preferences. The benefit of this feature is that the system automatically identifies the "Right Resource for Right Job" as per your requirement, saving you a lot of time and coordination.
The Right Resource Management Software - Key to Your Success
The right resource management software can be what separates an unsuccessful project from a successful one. Let go of holding projects together via sticky notes, endless email chains and spreadsheets. Step away from the chaos and confusion that often stems from one missed step or note by streamlining and automating your project workflow and resource allocation. Regardless of what your business does and its size, an investment in workflow management software will ensure more efficient use of resources, improved communication, increased productivity and a higher chance of successful project completion.
Ready to take the leap of faith and invest in workflow management software? eResource Scheduler can help you identify and implement a resource management system that suits your business needs. Our team has helped over 400 businesses across the globe manage and execute projects with minimal errors and disruptions.