Scheduling for Success: How Work Schedule Software Can Help You Achieve Your Goals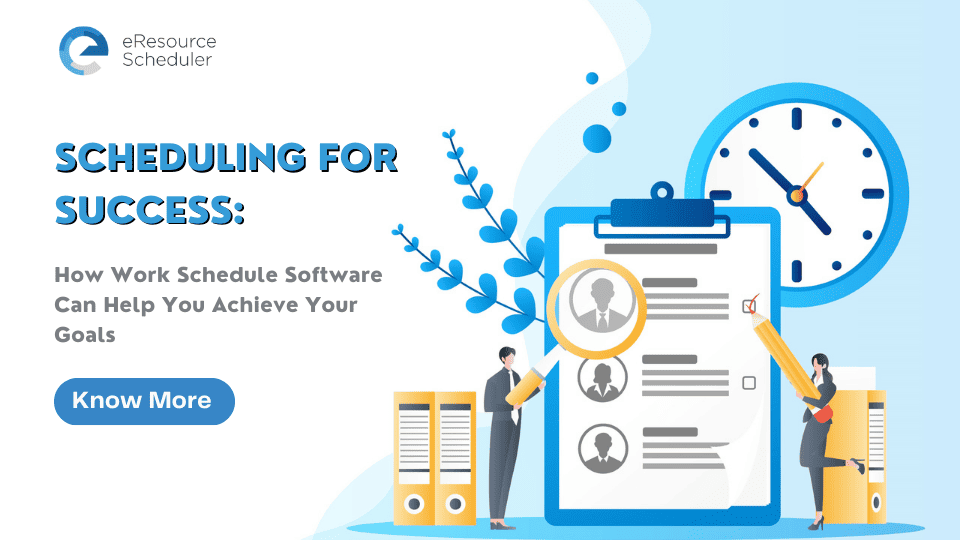 Streamline your staff scheduling process and watch your organization soar to new heights.
It's the end of another busy working day, and even though you came into the office early and left late, you feel like you need to accomplish something significant.
This can occur far too quickly. You may easily spend the entire day working on low-priority tasks and goals if confronted with constant meetings, interruptions, and last-minute urgent assignments. Understanding how to schedule your time is crucial because of this effectively.
Workflows and systems will inevitably shift. Yet, being a manager, monitoring personnel schedules, and managing remote and in-office schedules are among your most urgent responsibilities. Happily, this is made simpler by employee scheduling.
Include activities in the calendar that enable you to lead a more fulfilling and effective life. Any additional tasks may be assigned or eliminated. These are the only obstacles keeping you from achieving your goals.
In this blog, we'll examine the actions you can accomplish by freeing up time for your self-improvement, family, and friends while still making time for the work that matters most.
Staff scheduling helps you to identify the crunch times.
Think about it. You have been given a project as a new employee of a firm. There needs to be a defined deadline for you to finish it. Hence, there are two possible outcomes for completing a project.
Either you rush through the project, or you need to think about the hours. Alternatively, you could work on the assignment for a few days at your own pace, but the deadline might have passed by the time you eventually turned in your work.
In the first scenario, you risk working too much and getting burned out. That being said, your self-imposed time limit might prevent you from doing quality work.
In contrast, in the latter case, failing to deliver critical projects on schedule may risk the company's goals. Planning is essential.
Staff scheduling can be defined as the process of arranging, improving, and controlling employee schedules to ensure projects and business goals are accomplished on time. Yet the scheduling field is only partially covered by this term. Following are some aspects of staff scheduling in modern workplaces
How can we define staff scheduling software?
Staff schedule software helps with creating:
Schedules for employees
monitoring employee hours and overseeing shift changes,
limiting the expense of labor.
Why do we need staff scheduling software?
Staff scheduling software can, therefore:
Enhance employee productivity
Redirect resources to productive projects.
Given everything, it is unsurprising that organizations are increasingly searching for the best staff scheduling software.
Most commonly, staff scheduling tools are used to raise the level of work performed by the business generally and effectively carry out the following duties:
Retaining good employees
Looking for workers to fill in for missing shifts
Managing labor costs
Planning shift schedules
Employers used paper records in the past to keep track of the hours and schedules of their workers.
Manual timekeeping has often presented challenges for companies, such as lost or missing timesheets and insufficient use of work time that results in bad decisions.
Due to employee scheduling software, employers can now carry out various tasks remotely. In particular, they can:
Approve time off requests
Reduce unproductive time
Utilize the software's interface for payroll and management accounting.
Identify unassigned shifts
Create reports for invoicing and payroll
Work scheduling software- A way to achieve your goals
Staff scheduling software is a valuable tool for maintaining tasks and personnel organization. They can assist you in managing tasks and keeping track of your deadlines.
You can accomplish your goals by using a scheduling tool in a few different ways:
Keeps you organized

Keeping you organized is the most apparent way that scheduling tools can assist you in reaching your objectives.

Remembering something is more challenging when everything is recorded in one location. And while some individuals may claim they can keep track of things already, studies have shown that 80 to 90% of people react positively to a simple reminder. You're less likely to delay when you have reminders set for future deadlines.

Assisting you in time management and planning

By assisting you in time planning and budgeting, scheduling software can also help you achieve your objectives.

You can better manage your time and prevent last-minute scurries if you schedule your assignments and due dates in advance. Many scheduling tools also let you set timers for individual tasks to keep on task and adhere to your given time.

Enabling delegation and cooperation

Scheduling software can be a terrific way to delegate and cooperate if you work on a team project. Others can assist in holding you accountable and keeping the project ahead by knowing your deadlines and tasks.
How does goal-setting software help to improve productivity?
By goal-setting software, we mean staff scheduling app. Staff scheduling app was developed to give you a clear action plan and increase your productivity. They provide certain advantages like
Better time management
No more multitasking: It improves employees' productivity at work and gives them more time to handle essential duties. Because despite the widespread misconception that multitasking improves performance, it causes mental overload and lowers productivity.
Transparent communication: One more of the main advantages of scheduling software connected to better time management and, consequently, higher productivity is transparent scheduling communication.
Last-minute changes: Last-minute changes can cause scheduling conflicts, and it's easy for your staff to need clarification about when they should report to work, resulting in late arrivals or even missing a shift. Software for scheduling can automatically resolve potential schedule conflicts and notify staff members of schedule changes.
Improved planning: An accurate schedule will enhance your staff's capacity for planning on both a professional and personal level.
Better use of resources
In addition to time management, one of the significant advantages of scheduling software is improved utilization of your other essential resources, like your workforce and your budget.
Reduce overtime hours: Employee engagement and productivity decline when they grow weary and lose focus. Their morale eventually declines as well, which raises the turnover rate.

Using efficient scheduling software, you can tell which staff are overworked and which aren't. You can distribute the workload in this manner for optimum effectiveness and little expense.

Reducing unproductive hours: Paying for time lost at work due to unproductive jobs is one of the biggest problems that many businesses deal with.

Staff scheduling software will enable you to recognize and address these issues immediately.
Improve employee accountability
Timing and presence No matter what sector your company operates in, accountability is essential to productivity.
While tracking an employee's time and attendance, businesses with mobile workers or workers operating in several locations may need help. With robust staff scheduling software, you can raise employee accountability for attendance and lower workplace time theft, significantly boosting productivity.
Reduce absenteeism: With employee scheduling software, managers can efficiently monitor their staff and record all absences. You can then take steps to prevent these behaviors from happening again.
A Strategy to Reduce Employee Tardiness: Staff scheduling software makes keeping track of late arrivals simple and implements disciplinary measures to ensure this pattern of conduct doesn't recur. As a result, your personnel will work harder to get to the location on time.
Improved Reporting
You can improve your company's productivity and streamline the payroll process using scheduling software with time-tracking features. By automating your payroll, your business can avoid spending money and effort on the most frequent payroll issues.
Scheduling reports can aid businesses in better understanding business issues and planning their resolution. With these reports, managers can learn more about how their staff members behave and take the necessary measures.
Final words
More firms are now embracing technological solutions, such as workforce scheduling software, to manage and plan their workflow and accomplish their objectives. You should seek staff scheduling software that can help you manage your workload and the burden on your employees much more effectively, whether you are looking for software for a small business or a huge organization. Even better, choose eRS, which enables you to schedule tasks and keep track of their progress.
Moreover, eRS provides workforce analytic functions that let you monitor employee productivity. You may use it to plan and schedule your projects and keep an eye on the work engagement in real-time to see how things are going.
We sincerely hope you liked reading this blog post. Join us if you want to read more blogs like this. Contact us at https://www.eresourcescheduler.com/ if you have any questions.