How to Manage the Needs of Small & Large Customers While Growing Your Business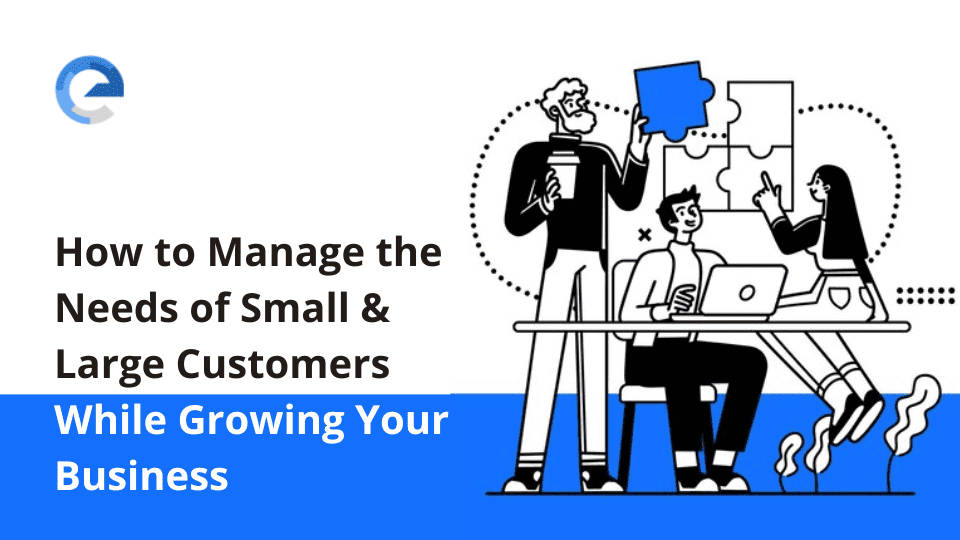 Every company has two types of customers — a set of large enterprise accounts that generate the majority of revenue and have the biggest demands, and then a flurry of smaller companies that might not do big business at once, but keep the wheels churning. Without a resource allocation system, it is a challenge to manage both types of customers in order to generate maximum revenue and profit for growing businesses.
Focusing just on large enterprises can create a lot of backlogs and this set of customers can significantly dictate what you do next. That's not an ideal situation for a growing business.
In this blog, we focus on companies growing by targeting numerous, smaller customers as their main strategy. Also, letting them build on each other's momentum to create robust growth with the help of a resource allocation system. We also address how to maintain a balance between each type of client.
Feeling it's all too much? Relax. We got it all covered and broken down into bit-sized concepts.
What's the Flywheel Concept?
The Flywheel is a concept taken from Jim Collins' Good to Great book. In the flywheel strategy, the focus is on putting the customer at the centre of all strategic decisions. This will lead to rapid and self-sustained growth. How? When you deliver a good customer experience, the customer automatically becomes your sales representative. They will tell their friends about their experience, and this impact will multiply as you are able to consistently service the customers. In the flywheel model, you have to capitalise on the momentum of your happy clientele and further propel them to drive your business - similar to the momentum built by a flywheel on a rowing machine. The flywheel model works best for volume-based businesses.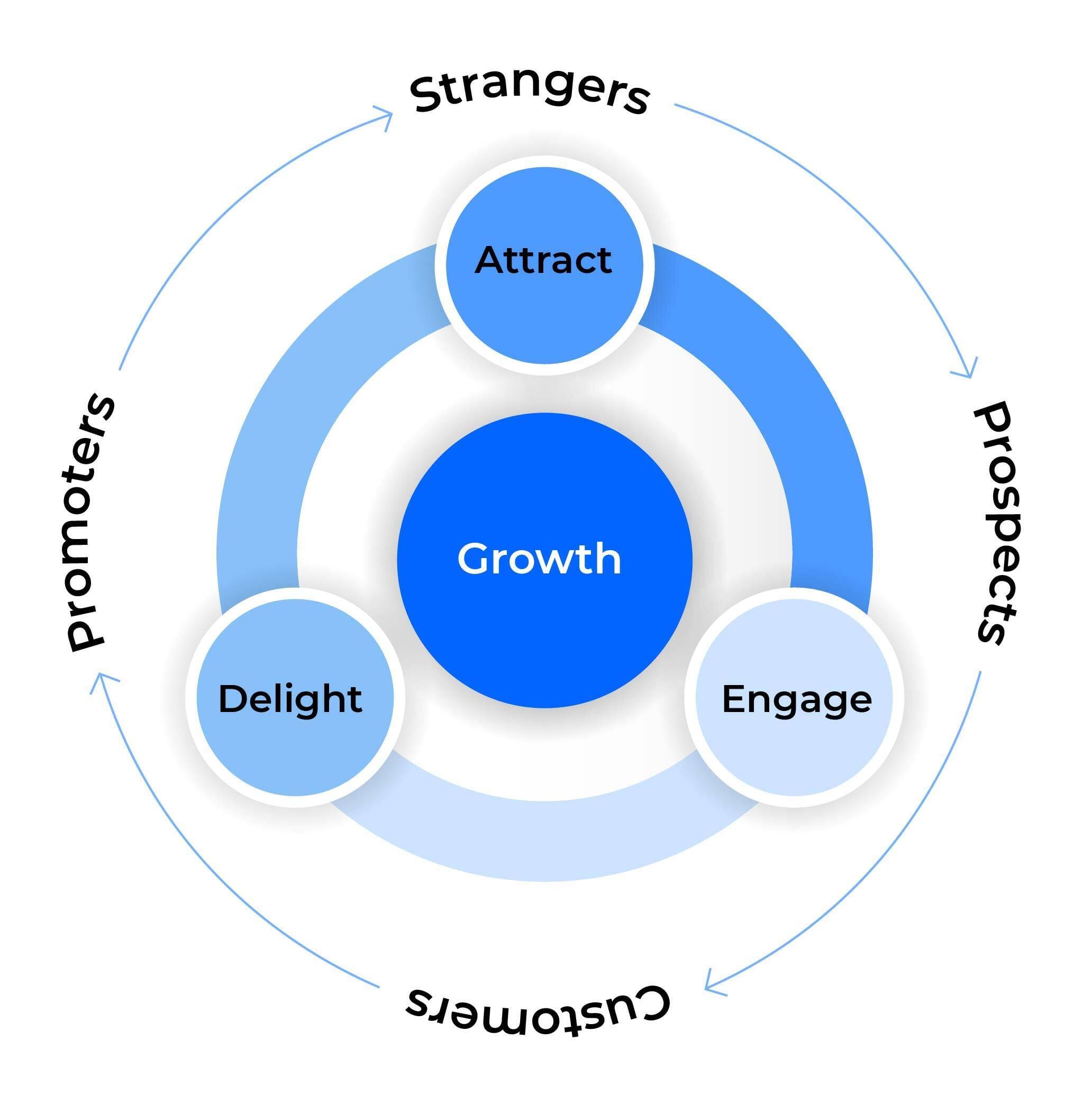 What Happens When You Prioritise Just Enterprise Customers?
As a start-up you might feel that landing the top "large" customers is the best way to grow. Enterprise customers are tempting and exciting. But, focusing just on this growth methodology has more risks than rewards. When a startup focuses on just enterprise customers, there is a potential drag on the flywheel which can impact long-term growth. How? Let us explain.
When you lay all your eggs in one basket, which in this case would be the large-ticket customers, the following happens:
More Stress on Resources - When you prioritise enterprise customers, there is more stress and demand on all resources of your company. In an IT services scenario, a large enterprise customer brings with them greater R&D specifications and technical requirements, more stringent security and compliance obligations, and increased customisation. This places strain on all chains of the projects —from the sales team that is juggling multiple touchpoints and changing requirements, the software team that delivers the resource allocation system and solution, to the finance team that is constantly tracking budget specs and quotes.
Increased Variability in Price - With a greater focus on the requirements of large enterprise customers, there's a higher probability of customised demands that will change the pricing of your company's product or service. With each enterprise customer pricing model, there will be various rigorous rounds of bargaining and negotiations for pricing. Let's not discount the burden that comes on the product and finance team to put together these complex quotations and close the deal with careful human touch.
Furthermore, the more complex the enterprise customer requirements are, remember that you are losing out on a chance to have the same leverage next time around with the customer.
Unpredictable Sales -Large enterprise deals take months if not years of relationship building. There is no guarantee or predictability of when the next large project will surface and what the exact requirements it will have, no matter how often we try to forecast projects. There is a lot of haggling for "one more request" that creates unpredictability in sales forecasts.
Also, if we look at a historical pattern, most of these deals will get cracked towards the end of the quarter or month, when sales teams are under immense pressure to "show numbers." Such instances tend to favour the clients more than it does the company.
How To Juggle Needs Of Large & Small Customers?
All companies need to develop an understanding of how to deal with large and smaller customers and create a balance between both. It will give you an edge and help you power through tough times.
Here are a few things you can do to navigate the needs of both customer groups.
1) Treat Large & Small Customers Equally
A good growth strategy is to check in and treat both the top-dollar enterprise client and small, volume-building clients equally. Why? Because these small clients could become big clients down the lane and they deserve the same attention and customer service as the top customers. This could be done with a help of a resource allocation software where you can assign client check up calls on a fixed schedule. Be consistent in these follow ups because it builds authenticity and trust.
2) Have Standardised Pricing and Packages
Having standardised pricing and packages on the website for the largest target market of customers (majority of which will be the flywheel category) will allow your company to quickly close deals as customers will know exactly what services they will receive for each price point. It also creates transparency. You can go a step further and disclose the pricing strategy — it will lead to fewer "can we also include this" scenarios.
Another thing standardised pricing does, without any discount deals or special offers, is that it doesn't delay the purchase. When your website is loaded with "special pricing bundles" or "contact us for quote" clients will wait to see if a better offer comes or then get into a mindset of negotiating which again takes away resources from billing related tasks.
Other ways to optimise pricing points include:
Make the purchase process as simple as it is on Amazon or any other eCommerce website.
Offer lots of ebooks or product guides that will allow people to educate themselves about your product/service.
Get rid of any barriers to information — these could be forms or surveys to fill before one can access product details.
3) Get R&D to Focus on Optimising Product For the Largest Customer Cross-Section
Instead of spending time making the product or service perfect and tailored for the needs of just the "enterprise" customer, have the company's R&D focus on building a product that appeals to the larger customer cross-section. This approach does two things — first, it allows you to build a solid product that probably doesn't require much customisation, and second, you are now in a position to deliver a resource allocation system that provides greater value to the largest number of customers. This positive experience will further intensify the cannonball effect of the flywheel.
Once a product that caters to the largest customer base is built, you can divert R&D efforts for enterprise projects. Again, an enterprise resource allocation system can aid a company in prioritising and balancing their workload to deliver the best results for both customer groups.
4) Master the Balance between Time, Scope and Cost
Pondering, "What does this even mean?" We aren't just talking about fancy philosophy here. What we mean by striking a balance between time, cost, and scope is to ensure that small customers are allocated the right number of resources (not too many, not too little). In addition to optimising resource allocation, with small customers you can increase the customer-touch frequency as they are more likely to stack up deals on the balance sheet and possibly be more inclined to share feedback. This again can be achieved by assigning tasks on a fixed schedule via a resource management software .
5) Set up an Automated Sales Process
Today, two factors have changed the way sales are done:
Customers like to do their own thorough research before reaching out to a company, and
They prefer an automated sales process that provides vital information at crucial touchpoints as opposed to being "sold" to. As a growth oriented company, tailor your sales process to provide the customers with as much information as they would through the sales funnel.
A resource allocation system can help you build an automated sales workflow. It can also help you streamline resources away from being in an aggressive sales mode and focus more on assisting customers right where their needs are. For instance, instead of allocating more resources to continuously call customers, provide as much upfront information via the website, and have a smaller team of salespeople who will come in touch when the customer has reached a decision making point. You can identify talent with the right sales expertise via your resource scheduling software. This model will also allow you to shift resources to make further strides in R&D and build a smarter product that will again delight customers, and therefore multiply the flywheel effect.
Expanding Small & Large Customers Will Help You Stand the Test of Time
All businesses need customers to grow and expand. But don't fall into the trap of just going after the large fish or enterprise customers. In today's uncertain business climate, every business needs to manage the demands of the large and small clients. Focusing on meeting the requirements of smaller clients unleashes the flywheel effect which is ideal for achieving sustained growth.
How to cater to the needs of both clients without overworking your employees or blowing out your budget? We recommend investing in a resource allocation system that will allow you to not only invest the right resources in R&D to deliver customised products for the enterprises, but also enable you to build an efficient sales team that will have multiple touchpoints to serve the voluminous small businesses.
Try eResourceScheduler. We have helped over 800 clients, globally, perfect their resource management and allocation process, and can do the same for you. Simply let us know when you would want to start your free trial.