Creating a Happier Workforce: How Construction Employee Scheduling Software Can Improve Employee Satisfaction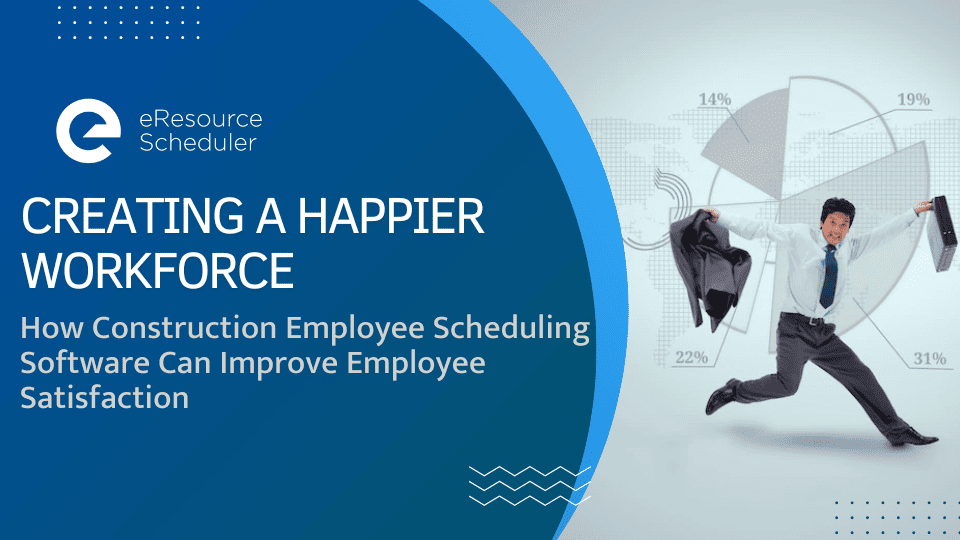 Over the course of its development, construction employee scheduling software has been used in various ways. Previously, it was primarily used to track how frequently an employee arrived late, was absent, left early, or put in unapproved overtime. Generally, it was utilized for taking note of the unfavorable parts of an employee's performance.
Today's scheduling software has undergone significant changes. Construction employee scheduling software monitors more than simply unfavorable aspects of attendance. It can monitor employee availability and help reduce the time-consuming procedure of laboriously scheduling an employee's workday.
No matter the firm or industry, scheduling staff takes a huge effort. If done incorrectly, it can also foster animosity in the workplace. It's essential to be able to make the appropriate employees available at the right times to keep a firm functioning properly. Consequently, demand for construction employee scheduling software has increased. This is a significant component of how scheduling software enhances employee dedication since it enables you to make schedules that benefit everyone, especially the employees.
Workforce Scheduling software is becoming increasingly important in today's fast-paced business. It not only helps with shift scheduling, but it can also increase corporate efficiency, effectiveness, and profitability.
How is Construction Employee Scheduling Software Creating an Impact on The Organization?
While attempting to establish an engaging, compliant, and safe workplace where people want to work, leadership is concerned about whether operational systems are scalable to meet expansion predictions.
Operations managers must ensure compliance while balancing labor expenses with business goals.
A scheduler aims to produce a schedule that anticipates future requirements while accommodating existing ones.
Employees anticipate being able to juggle work with personal, family, and leisure obligations.
Employee scheduling can no longer be viewed as a tactical, compartmentalized task by organizations. Employee scheduling has a strategic impact that spreads throughout the entire organization. It affects the corporate image, financial performance, competitiveness, and talent pipeline.
Construction Employee Scheduling Software- a New Technology
Employees are involved in generating their schedules in the new wave of employing Construction employee scheduling software. Scheduling software is a new technology that can efficiently use a company's resources across the board while allowing employees to choose when to work.
There are numerous benefits to using this new technology, as well as some compelling reasons to abandon pen-and-paper scheduling.
When you make a new schedule, the construction employee scheduling software immediately saves it. Future schedules can be modelled after previous ones, and appropriate adjustments, like time-off requests, can be made before a new schedule is distributed.
Managers are not required to find out whether their staff members have received their revised schedules. Straightaway sending it out electronically allows quick and simple planning and provides a new, updated schedule after modifications are made.
The consumption of paper in businesses is drastically reduced by using construction employee scheduling software. Both the total cost and the amount of paper trash produced may decrease as a result.
Construction employee scheduling software automates tasks efficiently, effectively, and profitably to support businesses. The primary line is that staff scheduling software is the secret to obtaining happier workers in the future. Because they don't have to deal with the trouble of wrangling with management for a shift off, employees who have greater control over their schedules, the freedom to switch shifts if a coworker permits, and the ability to occasionally schedule their shifts are more productive. Because employees can choose their availability, which is considered when creating timetables, lessens the strain on them.The opportunity to collaborate with employees to create a schedule that works for everyone is one of the numerous advantages of the available scheduling tools.
How Does Construction Employee Scheduling Software Work?
Managers that use employee time tracking software evaluate essential data. They enable managers and employees to make more informed scheduling decisions and provide better visibility on both sides of the aisle. When using scheduling software, managers consider numerous aspects of data, such as:
Preferences for the schedule.
The employee's abilities.
The seniority of the employee.
Employee accessibility.
Employees can also access the information they have about:
Tasks and work schedules.
Filling up paperwork for availability.
Time off accrued and to be used.
Opportunities for employee training are made available.
Employee commitment is boosted by systems that are simple to use for them. Employees are happier to report to work because they control their schedules. Employee information in one location makes it easier for managers to use the correct talent and personnel for the proper jobs and can improve overall business efficiency with little additional work.
Construction Employee Scheduling Software Comes With Many Advantages.
The concept of collaborative scheduling simplifies the workweek for executives and workers alike. With little assistance from managers, workers may manage their shift swaps and schedule their availability. Then, managers and others in similar positions can easily and swiftly approve employee requests while ensuring that all shifts are covered.
Managers can redirect up to 80% of their time to other fruitful activities by employing scheduling software to share the workload. Because of this, using scheduling software to solve scheduling issues and boost employee morale is simple.
According to research, happier people produce more at organizations with higher morale. Employee engagement in their professions rises when they can be more active in their work-life balance, which raises overall satisfaction. Because they have a say in when they work and how their time is spent, they are more committed and have a better attitude about their jobs. Employees are happy as a result of their increased sense of control.
More engaged workers feel better about themselves and use fewer days off. Additionally, they tone down their critical remarks, which raises staff commitment and morale. With construction employee scheduling software, employees are happier, more interested in their scheduling, and produce better customer service for the firm, or generally, better work they are adequately engaged in. Long-term employee discontent will decrease loyalty and commitment.
Automated scheduling enables employers to be more flexible with their workforce, which can increase employee motivation and engagement. construction employee scheduling software enables this integration, leading to more devoted workers because staff will always get the appropriate rest to recharge before another shift.
The accessibility of construction employee scheduling software is among its most important advantages. Employees can access their schedules anytime, allowing them to modify their personal lives as necessary.
Employee Scheduling Software- Accessibility Encourages Commitment
Accessing schedules from any location at any time is one of the many advantages of automated scheduling in construction employee scheduling software. Employees always have remote access to their schedules. They can also receive reminders for their shifts, which encourages greater dedication due to the organization that is already present. It enables people to integrate their job into their daily life rather than the other way around and think about their work more structured and concentratedly.
They can be more dedicated to their profession when they are there and more dedicated to their home lives outside of work if they can keep their personal lives under control.
Predictable scheduling is an essential benefit of having construction employee scheduling software for employees. This is primarily for hourly workers who frequently succumb to just-in-time scheduling, in which they are unsure of when or how long they will work.
Employees may have a more positive attitude about their schedule and job if they feel more heard and in charge of their time, thanks to the predictability of automated scheduling that considers all of the data it requires. This results in more committed employees and happier environments.
The concept of automatic scheduling is gaining popularity, and many firms are embracing this new technology. resource scheduling software is the next best thing because of its accessibility, predictability, and employee benefits.