eResource Scheduler– An Advanced and Configurable Resource Planning Software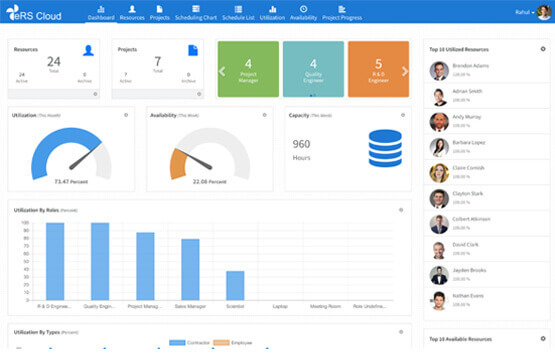 Planning resources for multiple projects that are running simultaneously is not an easy task. If you want toincorporate all the relevant factors while planning, you will have to switch between different projects. But you will still not have a360-degree view. So, how can you manage planning in a realistic way? How can you plan and schedule resources in a way that is simpleand yet not prone to errors?A leading resource planning tool named eResource Scheduler comes to your rescue. This resource management tool is designed to plan, allocate, and schedule resources in an effective and efficient manner. It also helps in optimizing your resource utilization, resources, and processes,improve organizational efficiency, and enhance profitability. Read on to know more about this award-winning resource planning software
Why is eResource Scheduler the Best Resource Planning Software?
eResource Scheduler (eRS) is an intuitive resource planning software that connects resource planning, execution, and project delivery stages. This multi-user resource managementtoolis the preferred choice of many multinational organizations, start-up's, and small and mid-sized businesses globally. Imagine if you could easily provide visibility to your project managers, team members, and clients byjust using one tool. With Resource Scheduler software, you can assign the best resources to suitable projects, manage their schedules, and deliver projects on time and within budget. What's more? Design and execute feasible schedules, have seamless coordination, and fully optimize your resource productivity. That's not all. The client-server architecture of thisresource planning software enables multiple users to collaborate or share relevant data in real-time.
Here are some other benefits and differentiators of Resource Scheduler software.
Highly Configurable
One of the key features of the Resource Scheduler software is that it has highlyconfigurable filters, fields, forms, and views. It helps you manage the resources available in just a few clicks. Besides, you can do complicated tasks like scheduling tasks, resource allocation, planning the project, and profitability analysis. eResource Scheduleroffers custom-defined fields and forms that you can alter as per yourspecific requirements. Manage multiple working calendars and different time zones and rest assured ofaccurate resource utilization in all scenarios.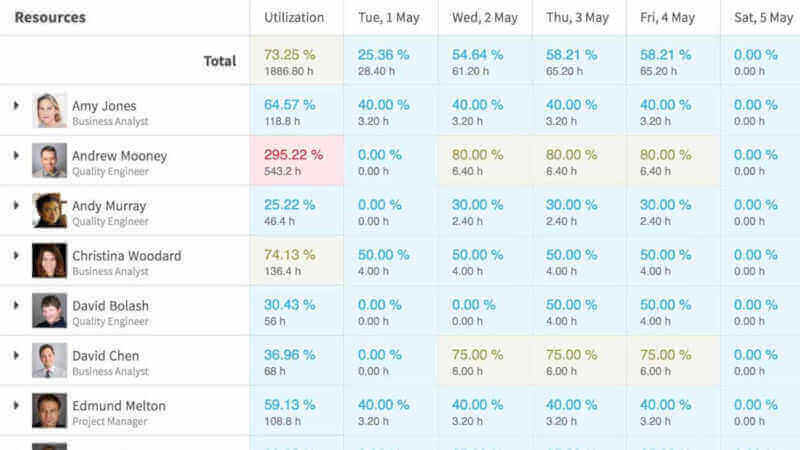 Enterprise-wide Visibility
If you are looking for anything about your resources or the work allocated, you can easily find it with the help of eResource Scheduler. Or if you need to find what is the experience or skill set of a particular resource, don't worry. With thisresource planning software, you can easily find out everything about any of your resources across the business. Be it their specialization, utilization, experience, cost rate, current project, capacity, charge out rate, resumes, etc. That's not all. You can also get a complete 360-degree view of all projects and allocated work. This powerful resource planning software helps you define and track each activity that a resource undertakes, like projects, admin, training, vacations, etc.
Manage all Your Resources Efficiently
With eResource Scheduler, resource planning, allocating suitable projects to them, and scheduling becomes an easy task. Imagine doing all this in just a few clicks. Simply select a particular project and then find the right people who havethe required experience, skillset, and availability. Once you've identified the right resources, you simply assign them to the project. This resource planning tool also offers brilliant features that balance your resource allocation process and make it more effective. With eResource Scheduler, forget under- or over-utilization of your resources.
Forecasting The Future Pipeline
As a project manager, you need to handle several projects at one time. Isn't it like juggling multiple balls with a fear of dropping them?But the fact is that by managing numerous initiatives and leading multiple projects simultaneously, organizations becomeprofitable and competitive. However, the biggest challenge is having a clear visibility of your resource pool, allocation, and status of all current projects. A leading resource management tool such aseResource Schedulerprovides a clear insight into the current, completed, and future projects. This enables you to side-step any obstacles in future and identify any hiccupsmuch in advance.
Real-time Reports on Resource Utilization
Is it challenging for you to check the utilization of your resources? Do you have team members who are over- or under-utilized?Try an award-winning resource planning software–  eResource Scheduler. This tool ensures that all the work is distributed fairly and equally to everyone. This resource management toolalso tracks your resource utilization across various teams, multiple projects, and geographies. Besides that, you can pull-out easy-to-read yet in-depth reports to show to your top management. This toolenables updation of information in real-time; so, whenever any of your resource is idle or is assigned some task, you would get a notification.
Drag n Drop Planning and Insightful Dashboards
It's almost impossible for a project manager to find time tomake billability charts. Imagine if you had a tool which would create Gantt charts and billability chartsin a breeze. That wouldhelp you drill-down your projects, all tasksand sub-tasks, and resource availability to the tiniest detail. eResource Scheduleris a leading resource planning software that saves both your time and money while you handle multiple projects. The informative widgets of this resource management tool help in designingcomprehensive dashboards of an absolutely new level. Configure the dashboard widgets in multiple units or date ranges, make a project's summary view, or track utilization or capacity. Or find thetotal resource count, oravailability of a specific resource – yes, it's all possible with this top resource planning tool.
Controlling Project Complications and Deviations
Project and resource management isn't a piece of cake. Tracking your resources, availability, overall utilization, and enhancing productivity isn't that simple. But what if it does become easy for you? Resource Scheduler software offers comprehensive reports and visual representation in form of dashboards in just a few clicks. It manages your calendar integration so that you can plan your future projects easily. This resource management tool is designed to control all complications that might crop up in a project's lifecycle. Manage unplanned leaves andorganizeasuitable substitute immediatelyso that your timelines are not impacted.
Privacy and Compliance of User Access Rights
eResourceSchheduler Cloudprovides a lot of flexibility in user access rights in terms of multiple screens, several groupings, or custom-defined fields. This enables businesses to determine which level of access they should give to different users as per their need. The advance access rules help organizations to segregate data as per their structure while safeguarding privacy and complying with precise requirements.
Open REST API – Efficient Integration
Do you want to integrate eResource Scheduler with any other business tools you are using? It could be an HR system,an ERP, or a project management tool that your business might be using. It's simple. You can do this by using the Open REST API. Take advantage from relaxed imports and exports. Besides, the well-documented and up-to-date API documentation helps your resources to follow the end points and grasp the pull and push data that this tool provides. It is simple to use the REST API by yourself. However, ifyou face any issues, Enbraun offers you integration services.
Timesheet and Financial Module
Adding to the finishing touches is this tool's timesheet feature. You also getabrilliant financial module that offers cost and billing rates and an in-depth forecasting report. This makes the Resource Scheduler software an end-to-end and top resource planning tool. A cost-effective resource management tool, eResource Scheduler also offers annual billing discounts with a 14-day free trial.
Take a Free Trial and Get Personalized Support
You can opt for the plan that best suits your organization. If you have any queries and want to check-out this tool, just ask for a free trial. You also get personalized support for configuring this software according to your company's requirements.
So, are you still thinking? Try this intuitive resource planning software by booking a free demo. Check out how this tool will strengthen your resource planning, scheduling, capacity management, and project management efficiency, while ensuring impeccable deliverables every time.