eResource Scheduler- A Perfect Tool for Project Coordinators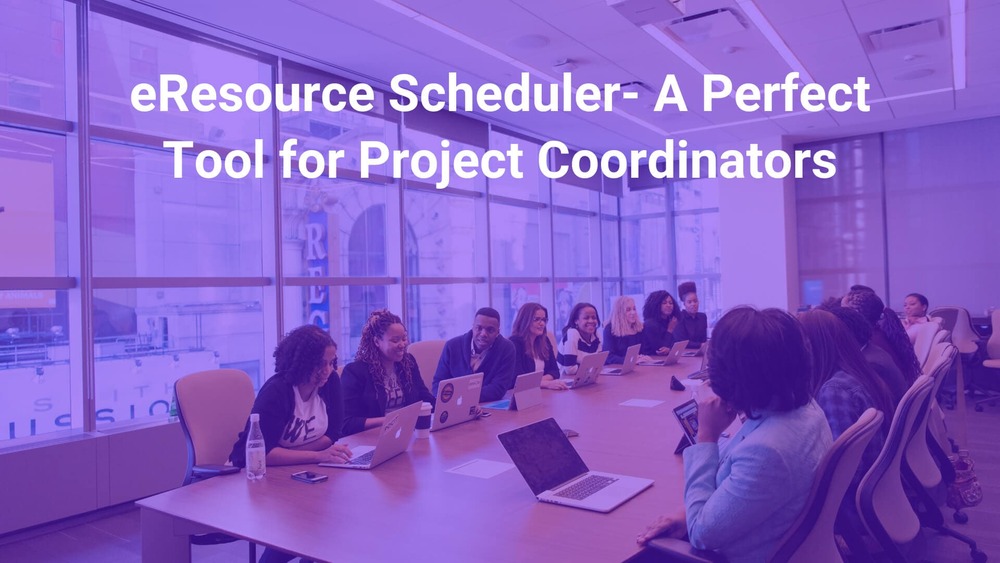 All enterprises, large and small, are able to deliver projects successfully, provided its employees deliver high-quality work on-time. Timely delivery of a project is a possibility if there is constant involvement of all stakeholders, working towards predetermined budget, timeline and scope.
Lack of effective communication and unavailability of resources, deployed on a project, can often lead to project delays. In order to manage resources effectively and efficiently, a resource coordinator is onboarded to allocate appropriate resources for the smooth functioning of the projects.
Deploying a project management software can assist project managers in resource allocation, time management and reporting. When it comes to project planning and scheduling, automation is a fundamental feature of modern project management tools.Let us deep-dive into how the resource management tools help project coordinators.
Table of Contents
Importance of project coordination for project execution.
eResource Scheduler-A Perfect Tool for Project Coordinators.
Role of the resource coordinator in project management.
Conclusion
Importance of project coordination for project coordinators
Each project, irrespective of its scale, brings in different set of challenges and throws unexpected risks which are difficult to mitigate.
Project coordination is an extremely significant prerequisite. Let us explore the scope of project coordination further.
Project coordination allows you to monitor the progress of the project at every stage. Monitoring the project is crucial for driving and executing it on predefined timelines.
A project coordinator oversees the project's timeline, budge, foresee risks, and issues that might need immediate resolution. It is their responsibility to ensure smooth functioning of the project. This may entail coordinating with different departments within the company to ensure that everyone is aligned. Project coordinators must be able to work in a fast-paced workplace.
On the nose, as a project coordinator you would understand that it is quite pertinent that the entire staff collaborates to work on all the issues encountered. The intent is to manage any problem as soon as possible. For example, a company is working on a government project to prepare a website that stores the database of all the young citizens of the nation who are working and file income tax. This will be quite an integrated program that requires the skills of excellent programmers.
Now the organization will employ a highly qualified and experienced IT person who can resolve the issue. But that resource alone may not be capable of designing the program unless he is given some fundamental information.
This flow or exchange of vitals well in time is necessary to complete the project on Time. In simple words, as a project coordinator you would require coordination between resources and work for efficient results. For this, you can try using a tool like that from eResource Scheduler.
It is one of the best tools to try for improved project coordination. Here is how the software from eRS can prove worthy of every penny spent on the project.
eResource Scheduler-A Perfect Tool for Project Coordinators
When an organization is working on multiple large-scale projects, it is bound to lose track of resource allocation, stakeholder collaboration and budget.
eResource Scheduler helps project coordinators mitigate risks by avoiding unforeseeable bottlenecks due to lack of an effective project management software. It provides real-time insights into allocation of its resources and project timelines.
Here is how eResource Scheduler emerges to be the perfect tool for a project coordinator:
Real-time resource visibility: With eResource Scheduler, you receive real-time updates on allocation of all your resources in order to help faster decision making. The excel template, an inbuilt feature, allows capturing of information in different fields.
Hassle-free resource allocation: For the success of a project, project managers can design a consistent management plan and prioritise work with eResource Scheduler. Resource allocation, dependency identification, setting deadlines and finalizing project deliverables can be accomplished quickly and easily with project management software.
Sharing of resources made possible: eResource Scheduler has made sharing of resources seamless and faster. The resource management and scheduling software helps you create a centralized pool of resources with details of skills. A project management solution facilitates cross-functional cooperation and makes teamwork easier.
Increased productivity: Single-view dashboard helps in making informed and faster decisions leading to maximising productivity. You can consolidate your duties on a project management platform to observe how productive your team is in real time.
Push results faster with Timesheets: eResource Schedule comes with fullfleged inbuilt timesheet module that allows capturing actual time spent by resources on projects and generates timesheet reports.
eResource Scheduler facilitates in identifying and resolving project discrepancies which might lead to project delays. Coming up next – 'How a project resource coordinator helps in project management?' Please do give it a read.
What is the role of the project resource coordinator in project management?
eResource Scheduler is a dynamic and easy to use software. It provides a robust dashboard that provides all the information in a single-view with powerful customizable widget. eRS project management software will assist you in collaborating efficiently and ensuring the success of your initiatives. Take a look at eResource Scheduler software if you're seeking for a simple and intuitive project management application. The software provides information to the resource coordinator to help allocate resources based on their skills, previous experience, availability, or project budget.
A project management software must benefit the resource coordinators in following ways:
Easy and Quick Planning: Project planning is a vital phase before you start the execution of the project. Planning is essentially establishing the basics: what problem has to be solved, who will be involved, and what will be done. eResource scheduler aids in defining the scope, tasks and developing time and cost estimates.
Monitors budget: eResource Scheduler allows the project resource coordinators to identify the resources being utilized. They can then make decisions on resource allocation after prioritizing the projects basis on time and cost incurred.
Strong Team Coordination: The project coordinators use eResource Scheduler to improve team collaboration resulting into effective team coordination. The resource scheduler facilitates collaboration by providing insights on assignments, schedules, dependencies, overdue work, and so on.  Better collaboration between different resources can result into enhanced productivity.
Enhanced Reporting : Real-time updates providing access to custom and predefined reports helps in monitoring the progress of the project at every stage. eResource scheduler reporting module helps identify the gaps and leakages that might be present in the project execution.
Conclusion
Project coordinators work in tandem with the project managers to complete the project within the stipulated time period. They can use the project management software like eResource Scheduler after considering its advantages and features. The tool enables resource coordinators to enhance productivity, timely delivery of the project, and enhanced customer experience resulting into higher profits. For more information on the eResource Scheduler Software, you can visit here.