Time is Money: How Resource Scheduling Software Can Save You Both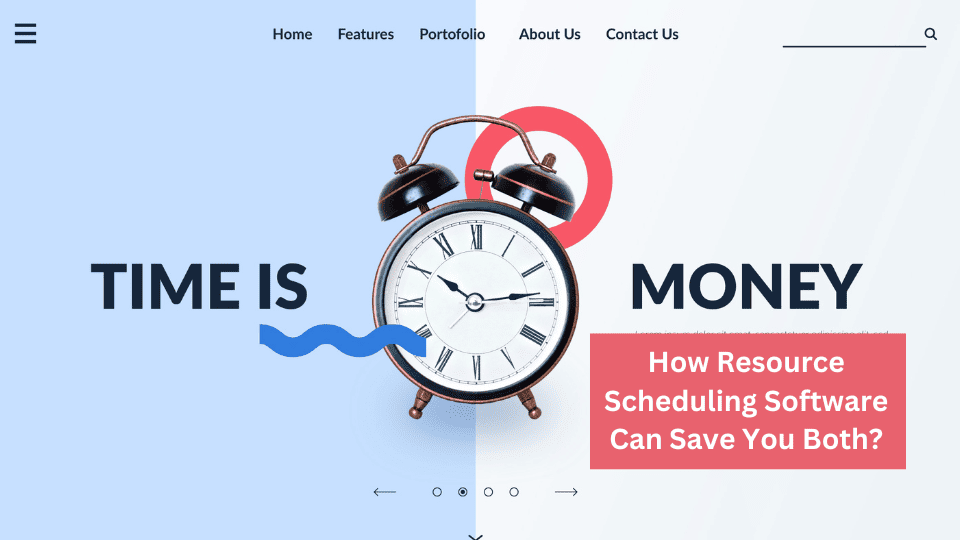 Any successful company strikes a careful balance between fostering employee satisfaction and productivity by focusing on the bottom line. That's not always an easy assignment, given the long list of demands placed on owners and management.
According to an FSN study, over 70% of organizations use enterprise tools like spreadsheets for resource planning, allocation, and tracking. This can be time-consuming, inefficient, inaccurate, out-of-date, difficult to share, and challenging to track.
Yet, this may be accomplished much more easily with the appropriate approach and resources. Software that can assist with resource scheduling and several other tasks is one of the best investments a business owner can make to maximize productivity while increasing employee happiness.
What is Resource management?
All resources are sometimes necessary, and managing their right allocation is challenging. Every step of the project will require a new array of assets, and the only way to guarantee their availability is through effective project resource planning. The company needs a robust mechanism and a competent tool to track and monitor the many resources the company can access.
Resource management aims to anticipate, plan, allocate, schedule, and monitor the company's resources for effective usage. Selecting the right resource scheduling software is crucial. Costs are reduced, projects meet deadlines, and a collaborative work atmosphere is fostered.
So this definition clearly states the process and objective of resource scheduling:
The primary goal of resource scheduling is to make the best possible use of the limited resources that are currently available. The processes of forecasting, planning, organizing, monitoring, and managing various resources, such as people, capital, technology, machines & equipment, and facilities, in the most effective manner, are known as resource management and resource planning. This ensures that all projects within the organization are completed on schedule, within allotted budgets, and with the most significant amount of efficiency possible.
The over- or under-allocation of resources is the most frequent problem businesses experience while arranging their resources. Both have a negative effect on the costs, profitability, even the viability of the project, and employee morale. Adverse effects may also be experienced in relationships with clients and independent vendors.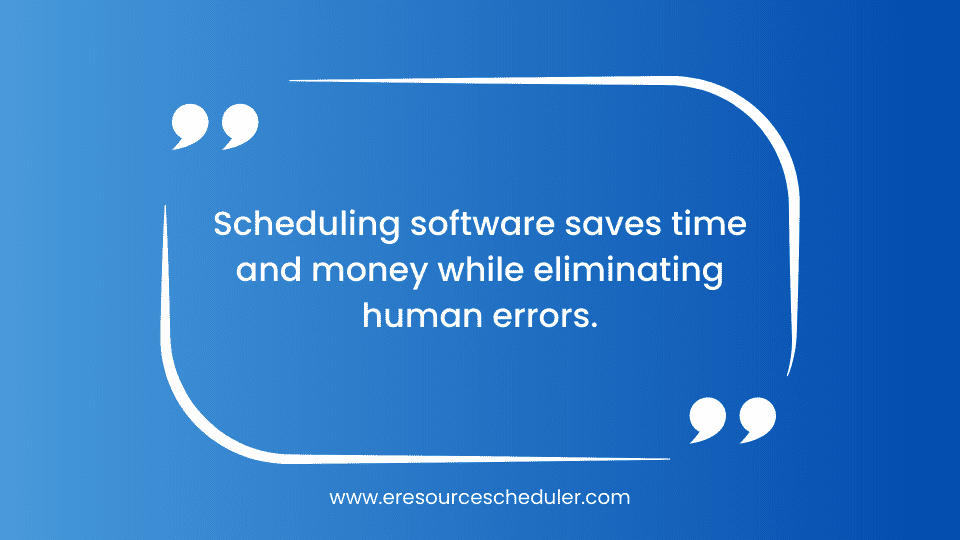 Resource Scheduling Software Can Save You Time And Money
Check out these resource scheduling software advantages that can help you save time and money this year.
Make sure the right personnel are performing the right job.

The right number of employees must always be available, a challenge that managers in call centres, restaurants, and retail stores are all too familiar with. But what if you have to handle particular niche jobs or field service assignments?

Resource management software can be helpful whether you're trying to staff up correctly for call volumes, keep remote work schedules straight, or make sure a backup plan is available the day you schedule a complex installation task. Ensuring the right people are working at the right time can get easier and easier with automation supported by data gathered over time. This can boost productivity and lower expenses associated with bottlenecks, rework, waiting times, and customer experience problems.

No data Silos

According to a Marketwatch survey, some things could be improved in around nine of ten resource scheduling spreadsheets. This is because spreadsheet software does need to query skills to combine data from multiple files, different formats for capturing data, additional fields, and diverse user abilities. Compilation and analysis have become time-consuming, complex, and even error-prone due to the development of data silos.

With software, developing plans and observing how they affect all the resources and projects is possible. Consistent data views, similar fields, and real-time querying capabilities get easier thanks to centralized information.

Minimize attrition

Higher employee morale is a big benefit of planning and scheduling to make the best use of your workers without wearing them out.

Time and money savings are a result of high staff morale in a variety of ways. Here are a few examples:
Happier employees prove to be highly productive.
Employees with high confidence are more likely to be highly effective.
Reduce attrition.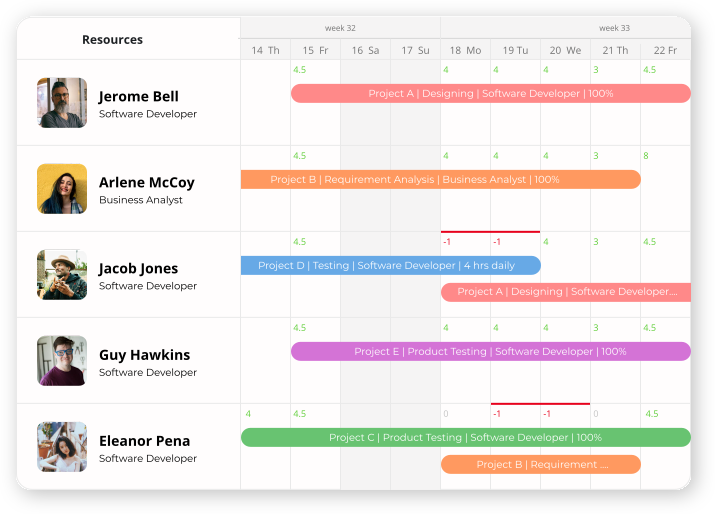 Smart task allocation
The capacity to automatically match resource requirements with skills and availability is a feature of good resource planning software. To assist you in finding the best resource for the task at hand, it will offer smart filters, including qualifications, availability, talents, pricing, location, experience, and limitations. Managers may wisely allocate these jobs among resources if they comprehensively understand all the activities in a project and the competencies required to perform them. Smart allocation considers the resource that can complete a task the best rather than being fair or even.
Minimize overtime hours
It's challenging and leaves you vulnerable to additional costs, such as overtime, when you manually create timetables. It can be simple to ignore that you've booked workers unevenly when trying to fill all shifts and meet customer needs. Because employee scheduling software makes it clear that when someone has worked their weekly allotment of hours, you know their hours may be moved to someone else. In some circumstances, you can even set up rulesets in automated scheduling programs to restrict the amount of overtime permitted to stay within your weekly, monthly, or seasonal payroll budget.
Mitigate Opportunities for errors.
Planning carefully lowers the possibility of errors in the company. First, it assists in making sure the proper individuals (and quantity of individuals) are working. It also lets you incorporate crucial transition and communication tasks into your workflows.
You may space out shift changes or other transitions using the scheduling software for a smoother handoff. This saves both time and money. Also, when staff is freed from having to spend time correcting earlier mistakes, they may focus on new duties that will increase income. That unquestionably helps your financial situation.
Right estimates
Many projects fall short of their deadlines because the project managers miscalculated the likelihood that a crucial resource would be available or the time frame for which it would be required. Additionally, this could lead to cost overruns that, in most situations, the client would not be responsible for, forcing you to pay the difference.
A robust resource scheduling software can eliminate guesswork from the estimation process, allowing for better planning. The calculations are derived from past projects. Managers can accurately determine the project length and resource requirements regarding time and competence by conducting a thorough review.
Enhance profits
Gap evaluation can help quickly acquire resources to prevent last-minute hiccups and shortages that could interfere with project delivery. Also, it can assist in addressing the issue of excessive procurement, which results in extra costs.
The issues of cost overruns and project delays might be easily avoided with better estimations. This is particularly true for long-term projects, where the distinction between billable and non-billable resources can be challenging to discern. Project managers can boost profitability per dollar invested and improve operational efficiency by allocating and using more billable resources.
Real-time data analysis
Monitoring resource allocation and consumption in ongoing projects with shared resources can be time-consuming and difficult. To charge the customer solely for the resources allotted to their task, tracking the resource usage in every project is crucial.
Meeting deadlines and being cost-effective are benefits of real-time shared resource tracking. Centralized resource tracking and analysis are even more critical when a team is dispersed across various time zones. When an issue emerges, business owners may determine whether a project has over or under-allocated a certain resource and make the appropriate adjustments in real-time.
Address Changing Business Requirements
Due to the dynamic nature of the environment in which many businesses operate, projects frequently need to be modified to meet new requirements. Even the most variable projects can be completed on schedule and within their scope with the help of dynamic resource adjustments and allocations.
By detecting shortages, over-allocations, delays, and competency mismatches, real-time resource scheduling software can assist you in meeting dynamic business needs. Global resources can be pooled to accommodate the unexpected change in demand, or other providers can be hired.
Seamless Integration
A robust resource scheduling software not only assists in organizational communication and resource allocation for project management, but it is also simple to interface with other common applications. This enables you to see the whole truth in its singularity.
The system can export and import data in various file formats, send emails and notifications, and update online shared calendars. Moreover, this reduces the possibility of data inaccuracy, data redundancy, and resource overbooking.
Would resource scheduling software resolve every issue facing your business?
Well, most likely not. But the truth is that most of them simply become manageable when you deploy failsafe resource scheduling software. But you know what to do if you need more time or merely want to evaluate project resource management or project planning software.
How did the resource scheduling software from eResource Scheduler become a thing?
You can keep an eye on your bottom line while managing your time and energy more effectively by using , like the powerful software offered by eRS. If you're willing to spend money on something that will increase the profitability of your business while also making your job easier.