How is eRS the Best Work Scheduling App For Project Managers?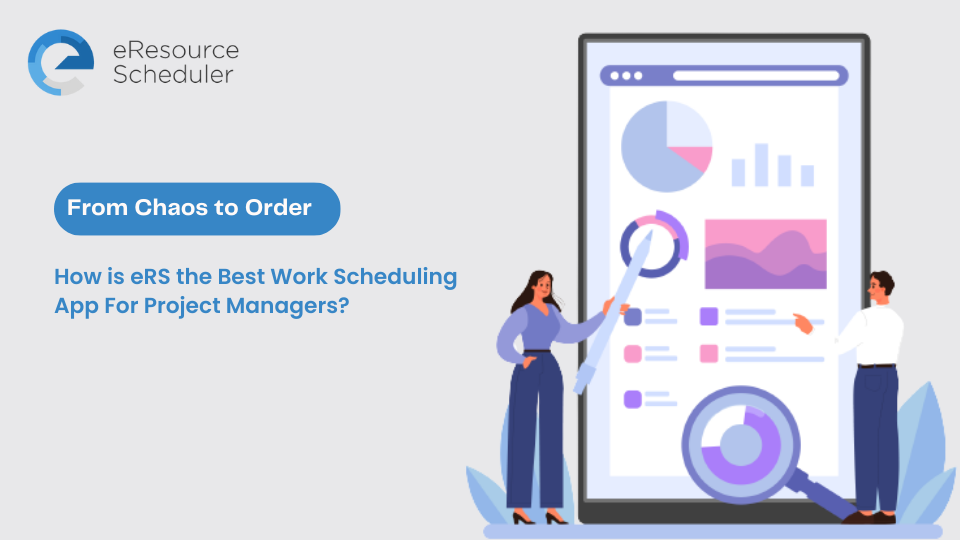 The most valuable resource is time; the best work scheduling app can ensure that your staff is consistently on schedule. Start using one of the top platforms for the best work scheduling apps right away.
How unorganized are you on a scale of one to five? It's quite fine to inform us.
When all of your information is in your email, it is nearly impossible to organize your time and prioritize activities. During team communication, it is pretty easy for something to slide through the cracks or for anything to get lost in translation.
A team of hourly workers might take a lot of work to manage. You might have to replace team members quickly, set up shift swaps, handle leave requests, and do much more. Additionally, you must keep track of timesheets and ensure everyone is paid accurately and on time. What cause for concern is that? But the good news is here. You now have wonderful resources to help you stay composed, organized, and productive.
What is the best work scheduling app?
Work schedule apps are software that assists people to become more productive and effective at work. Schedules can be easily created with them. Using them is easy, quick, and versatile. Some programs even allow users to clock in and out. Furthermore, most scheduling software enables employees to manage time off requests and swap shifts.
Unlocking Efficiency and Productivity: The Best Work Scheduling App Potential in the Workplace.
A robust the best work scheduling app may be the answer to dealing with the complications of large-scale workforce scheduling. These cutting-edge automation technologies provide a full view of a company's personnel operations. The tool enables users to make data-driven decisions that improve scheduling efficiency, operational adaptability, employee satisfaction, and productivity. Some of the benefits of using the best work scheduling app are as follows:
Keep your team updated

The primary advantage of the best work scheduling app is that the team members receive the same information. A robust the best work scheduling app allows companies and employees to manage their schedules. It can support an infinite variety of shift plans, patterns, and rotations to meet all scheduling requirements within an organization.

To track employee absences and exceptions, scheduling systems can be integrated with time and attendance systems.

Delegate Resource

When creating a schedule, it is critical to consider resource requirements. This may appear simple at first, but it becomes rather intricate. Appropriate scheduling may also aid in the control of any unnecessary labor costs.

Reduce conflicts

Even with proper planning and scheduling, there can be a problem if an employee forgets their shift times. This is especially true with manual scheduling. Employees may be too far away to check the schedule in person, or they may believe they can recall their scheduled time. They may skip their shift or arrive at the wrong time, resulting in double shifts and other operational inefficiencies.

Increase productivity

Ensuring the right people are doing the right things is critical to keep any company's operations smooth. Aside from the required number of employees, scheduling frequently caters to scenarios in which specific persons are needed.

When certificates are ready to expire, scheduling apps can alert both the employee and the company. When looking to fill open shifts, innovative scheduling algorithms can take these certificates into account and only contact qualified individuals. When employees know they cannot work a shift, the scheduling app allows them to trade or switch shifts. This is especially advantageous for enterprise-level organizations with large, diverse workforces.

Improve accessibility

The data and advantages of time and attendance tracking with a scheduling app are critical. It provides employers with time-tracking capabilities. Employees can now clock in and out of work using their cell phones with a resource management software. This allows employees to access critical scheduling and salary information even when they are not at work.

Systems for managing the workforce that include timetables may keep track of employee absences, punctuality, and overtime labor. Users of real-time systems instantaneously get access to this information and can make prompt decisions.
eResource Scheduler- A Robust The Best Work Scheduling App
eRS is a versatile tool that enables managers to schedule resources comprehensively. This includes team members, time, and budget. You can designate responsibilities and work shifts for any employee using this tool. Additionally, managers may track changes in working hours, see who is scheduled for which shift at any given moment and accept or reject requests for shift adjustments or overtime hours.
Managers may monitor how much time each employee spends on a task or project with the eSR time-tracking feature. This information can be used to monitor productivity and pinpoint areas requiring development precisely. Employees, on the other hand, have more freedom when managing their tasks because they can access their schedules from any device with a web browser. Finally, eRS allows you to analyze workloads using in-depth reports that provide information on staffing levels or overtime pay rates over a long period of time.
You can see the status of your resource utilization on the dashboard, thanks to eRS. Identifying which tasks are active, which are in progress, and when they will be finished is simple. Additionally, it aids in identifying workflow bottlenecks so you may fix them right away. A Gantt chart, which displays the start and end dates for tasks, activities, and milestones, can also be used with eRS.
Features included:
Gantt Charts

Real-time Resource Availability

Drag-and-drop Scheduling

Resource Overload Indicator

Split Booking

Cut-Copy-Paste

Information at Glance

Time Tracking using Timecards

Color Code for Identifications

Configurable Timesheet

Workflow Approval

Time Tracking Report

Cost and billing rates, as well as cost, revenue, and profit reports.

Flexible Rate Selection

Financial Reports

Highlight Over and Underutilized Resources

Capacity Reporting

Cost, Revenue, and Profit Reports
While numerous apps streamline the scheduling process, only a select few, like eRS, genuinely offer capabilities that assist you in all facets of managing your business.
This is the best work scheduling app and is an ideal option for busy managers, allowing them to set up their own company-based news feed for workers and create assignments that improve productivity for everyone.
Don't accept second-best. Use the best tool available. And use the eRS set of tools to make your team — and your business — work more smoothly and efficiently.
View our unique features for more free resources to help you better manage your business, organize and schedule your workforce, and track and calculate labor expenditures.