9 Reasons Why Banks Need A Resource Scheduling Software
The banking sector has undergone a drastic transformation in the last decade. Online banking has taken off and the adaptation of technology, smartphone, and remote work predicts that this trend will only accelerate further. According to a 2021 survey by J.D. Power, 41% of customers have completely gone digital-only.
However, even with technological intervention, the backbone of a bank's success can be pinpointed to the ability of its resources (employees) to deliver solutions to their customers. And, the constant fluctuations in political and economical conditions doesn't make the job any easier for them, doesn't it?
What can banks do so they are constantly able to have a competitive advantage? We believe it comes down to hiring, managing and allocating their people. Having the right resource or skill-set for the right task, every-time, will help banks capitalise on technological advances, deliver customised solutions and be prepared to tackle the turbulent economic and financial climate.
Let us explain a bit further.
9 Reasons Why Resource Scheduling is a MUST-DO in Banking
We examine the banking structure and identify common resourcing challenges that impact a bank's profitability, stability and competitiveness. We also highlight how a resource scheduling software is the solution for these issues.
Resource management and scheduling is crucial in banks because banking is a service industry and essentially it is a people business. Management of people and management of risk are two key challenges facing banks and how one manages the people and how you manage the risks determines your success. Efficient risk management is not possible without skilled and properly scheduled manpower.

Successful banking is essentially tied to superior customer service and satisfaction. Those who do not meet the customer expectations will find survival challenging. Who can service the customer better — it's the banking's resources. They are ones dealing directly with the customers and delivering solutions. In absence of a clear grasp of which resources are available and what their competencies are, there could be mismatch in terms of who is put in front of the customer.

In banks, there are two types of projects — run the bank (meeting immediate requirements of customers and day-to-day functions that keep the bank operating) or change the bank (which could be a software upgrade or developing new technology/innovation). Both types of projects need planning and the right resources to be able to complete on schedule and within budget. By using resource allocation software, you're planning ahead and setting yourself for the highest rate of success in both project scenarios. With the forecasting metrics and AI (artificial intelligence), managers can decide whether to leverage onsite, offshore, or vendor resources. They can also avoid unnecessary hiring which can cause budget overruns.

Banking also requires usage of multiple specialised skills which can be scarce or spread out across various locations. Using a resource scheduling software will ensure that the specialised talent is identified and then available for tasks that require their expertise. It will also help avoid situations where you end up hiring scarce talent at a much higher rate because the manager wasn't aware that the required skill-set was present within the organisation.

As highlighted earlier, banks, in all its forms (investment, commercial, or community development bank) are typically spread across multiple geographic regions. For example, several multinational banks have offshore delivery centres located in low-cost countries that provide back-end support and services. Other banks use resources from developing countries for software development. Having multiple operations creates time zone issues. With resource scheduling software, it becomes easier for a manager to schedule across varying time zones and ensure that employees aren't at the risk of burnout by working odd or longer hours.

Banking projects are commonly executed with a mix of in-house and external vendors as they have multiple projects running simultaneously. Some of these projects require specialisation that are not typical banking roles like software developers, data scientists and testers. These roles, even though they aren't traditional bank hires, carry out crucial support functions that impact the profitability and project outcome.

A resource scheduling software's capacity planning and forecasting capabilities will allow the banks to plan ahead and ensure that the required and appropriate skill-set vendors are available and can be called in for any urgent "ramping up" scenarios which will prevent project delays.

A unique scenario pertaining to the banking sector is that off-shore and on-site managers might have different key performance indicators (KPI). With a resource allocation tool, the respective managers can access the metrics that he or she deems are most important to them. KPIs tracked are profit percentage (at every level including resource, department or project), planned vs. actual cost and billables.

eRS, one of the leading resource management tools, provides real-time financial reports that managers can access and set custom access levels for. They can decide which team members or higher management can see the utilisation or billing rates.

A recent Crowe survey highlighted a startling statistic. Employee turnover in banking and finance is at 16.2 percent, one of the highest amongst industries. There are several reasons for attrition, but constant stress due to long work hours or being in a role that doesn't challenge them enough are usually the primary culprits.

A resource management tool can help manage this attrition by matching the right talent with the task. The software also captures a team member's work preferences, alongside short and long-term availability, leave schedule, time zone and expertise.

Even though banks have witnessed a significant change with the introduction of online banking, a visit to a local bank will show that the backend process remains bureaucratic and archaic. This could be attributed to two factors — banks typically use legacy softwares and the work culture segregates employees and makes them conditioned to work in individual silos.

This creates more challenges:

Due to limited interaction with other departments, there is no knowledge sharing.

Use of legacy systems impacts skill development and employees can feel there is no career growth opportunity. This can lead them to feeling demotivated and stagnant, both of which can lead them potentially seeking alternate career options outside the bank.
A resource allocation platform will lead to improved collaboration and communication between employees as each can see the role they play and how it impacts the final project delivery. With a project pipeline view, employees can opt for projects that challenge and engage them and therefore make them motivated to put their best foot forward.
Quick Recap – Here is What A Resource Scheduling Software Can Do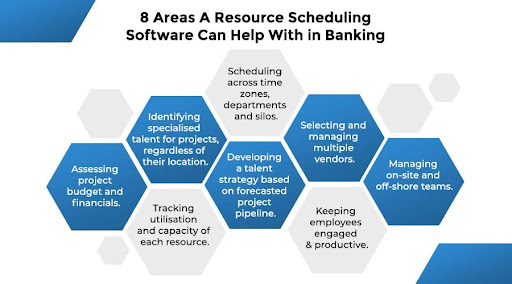 All banks require a diverse set of resources to deliver the best solutions and projects to their customers. The highly regulated market and fluctuating demands make it challenging, but using a resource management software can tip the hand in the bank's favour.
A holistic and enterprise resource software, like eRS, has the following capabilities.
360 degree, real-time, view of each and every resource, regardless of whether they are permanent hires or through a vendor. In addition to an overview and availability, the system captures their skill set, competencies, cost, location, and work preferences.

Forecasting model presents upcoming pipeline projects and its demands which helps identify resource shortages or skill gaps in advance. This enables management to make strategic decisions on hiring or training staff.

Tracking utilisation levels helps avoid under or over utilisation of employees, regardless of location. By managing ideal utilisation of employees, banks can keep their productivity and performance levels high.

In-depth view of financials and billings that helps maintain profitability for each project.
The eRS Solution
Seeking an enterprise level resourcing solution for your bank? Look no further an eRS. We have all the features that are critical to managing resources for all your projects needs. Need more information, request a free, 1 hour demo from us.
Share The Blog