5 Different Types of Resource Management Reports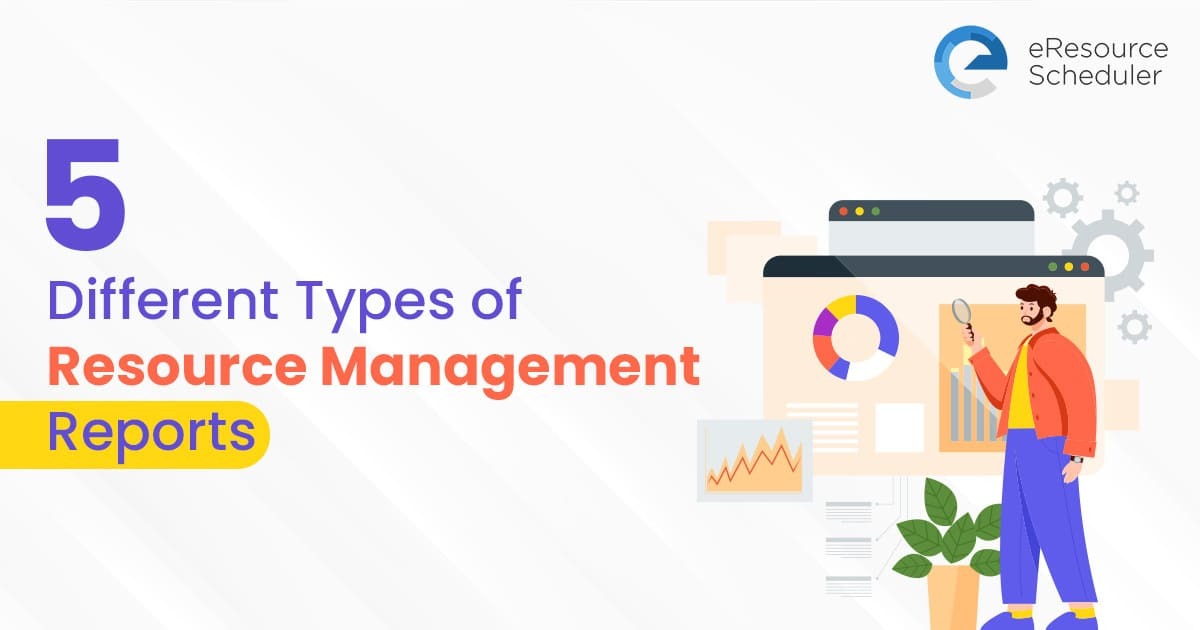 Trying to manage and grow your business by just doing things on the fly might work temporarily. It's not a long-term strategy for success. Every business or team has to reflect back to understand what made a certain project a success or failure. Did the costs align? Was the project done within a specified timeframe? Were there adequate resources?
Only by creating and analyzing reports will they be able to take data-backed decisions on how to further steer operations. However, there's another issue. There are multiple project management reports and which ones do you need to track?
Find out the different resource management reports that are important and understand which ones would be crucial to track for your business and/or project.
What is Project Resource Reporting?
Project resource reporting is the process of collecting, analyzing, and communicating important project and resource metrics such as status, progress, utilization, obstacles, and costs.
The information from these reports can be used to track the progress of the project, identify any potential problems, and make decisions about resource allocation.
Project resource reporting typically includes the following information:
The types of resources used in the project: This includes human resources, equipment, materials, and other resources.
The quantity of resources used: This includes the number of people, time spent on tasks, the amount of equipment, the quantity of materials, and so on.
The cost of resources: This includes the cost of labor, the cost of equipment, the cost of materials, and so on.
The utilization of resources: This refers to how effectively resources are being used.
The availability of resources: This refers to whether or not the resources were available when they are needed.
Uses of Project Resource Reports
Project resource reporting can be used to track the following aspects of a project:
Progress: Project resource reporting can be used to track the progress of the project by comparing the planned resource usage to the actual resource usage or even actual costs vs planned costs. This will help identify any potential delays or cost overruns early on.
Problems: Resource reports can be used to identify any potential problems with the project, such as resource shortages or overages by monitoring utility and capacity rates of employees. This can help to prevent issues such as burnout and overtime payments.
Decision-making: Management reports are vital to making decisions about resource allocation, such as which resources to prioritize and when to bring in additional resources or train existing ones.
Communication: The reports also serve as a communication tool for stakeholders about the progress of the project and the use of resources. This keeps the stakeholders informed and engaged; they can also give their feedback on the project.
5 Types of Resource Management Reports
Now we cover the top five, most commonly used resource management reports.
Utilization Reports
A utilization report tracks how effectively resources are being used. This report identifies if and where resources are being underutilized or overutilized. Utilization reports are generally presented as a percentage. The formula is simply:
Resource Utilization = Number of hours worked / number of available hours.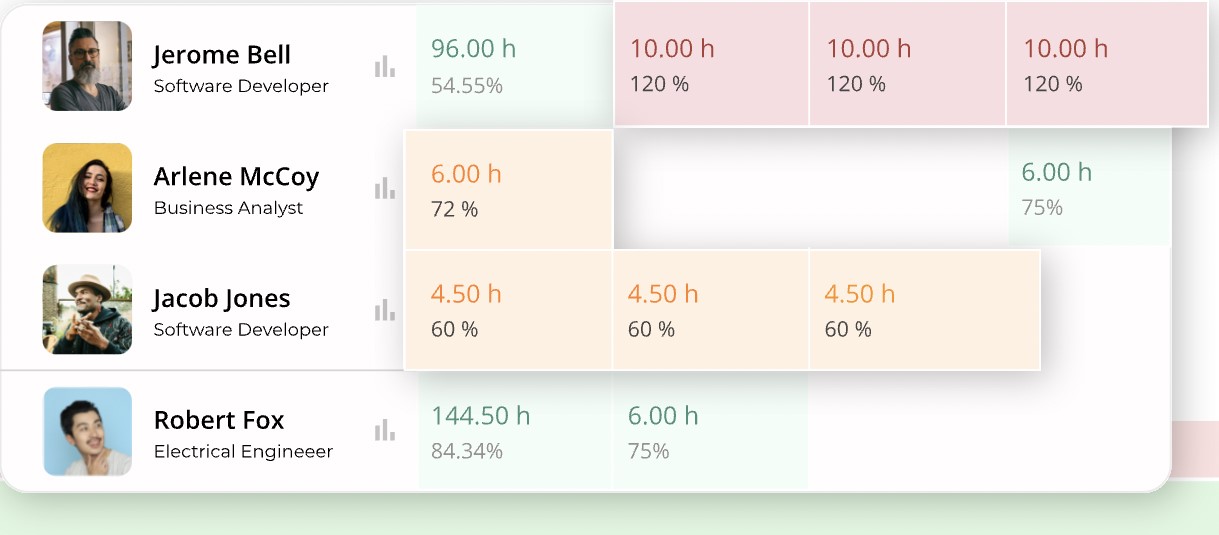 Planned vs. Actual Time Taken (Utilization)
Another important and insight report is that of planned time for a task vs. actual time taken. This metric gives insights into whether the planning was done correctly and also if your resources need any upskilling or training. For instance, if engineer A takes 3 hours to perform a task over the assigned hour and a half, it's an immediate red flag. The manager can see this report and step in to identify the root cause.
Cost Variance Reports
Variance means difference and that's exactly what a cost variance report indicates. It shows the difference between the planned or estimated costs of a project vs. the actual costs. Cost variance reports are the most commonly used financial measurement tools for a project or resource. Variance can be presented as an absolute value or a percentage.
Capacity Reports
Capacity reports tell you how much work is possible to get done within a certain time frame. Capacity reports are typically reported by the "number of hours a resource is available to work."
There are two kinds of capacity reports — historic and predictive. Historic reports will show you at what capacity the resources worked in previous projects. Predictive reports on the other hand are essential to planning for upcoming projects as they will tell you whether you have the right and sufficient resources to take on more work.
Below are a few key questions capacity management reports can help you answer:
Do you need to hire additional employees?
Do you have the ability to complete work within the required timeline?
Are there any resources over or under-utilized?
How many and what kind of future project can we handle?
How do we prevent burnout of resources?
Availability Reports
This is probably one of the first reports to create and start tracking before starting any project. An availability report shows how much work and time each team member has on their hands. In addition to showing what is available, it will detail out what resources are needed.
Most resource management softwares show each resource's availability in a weekly or monthly calendar form, similar to the example we've highlighted below.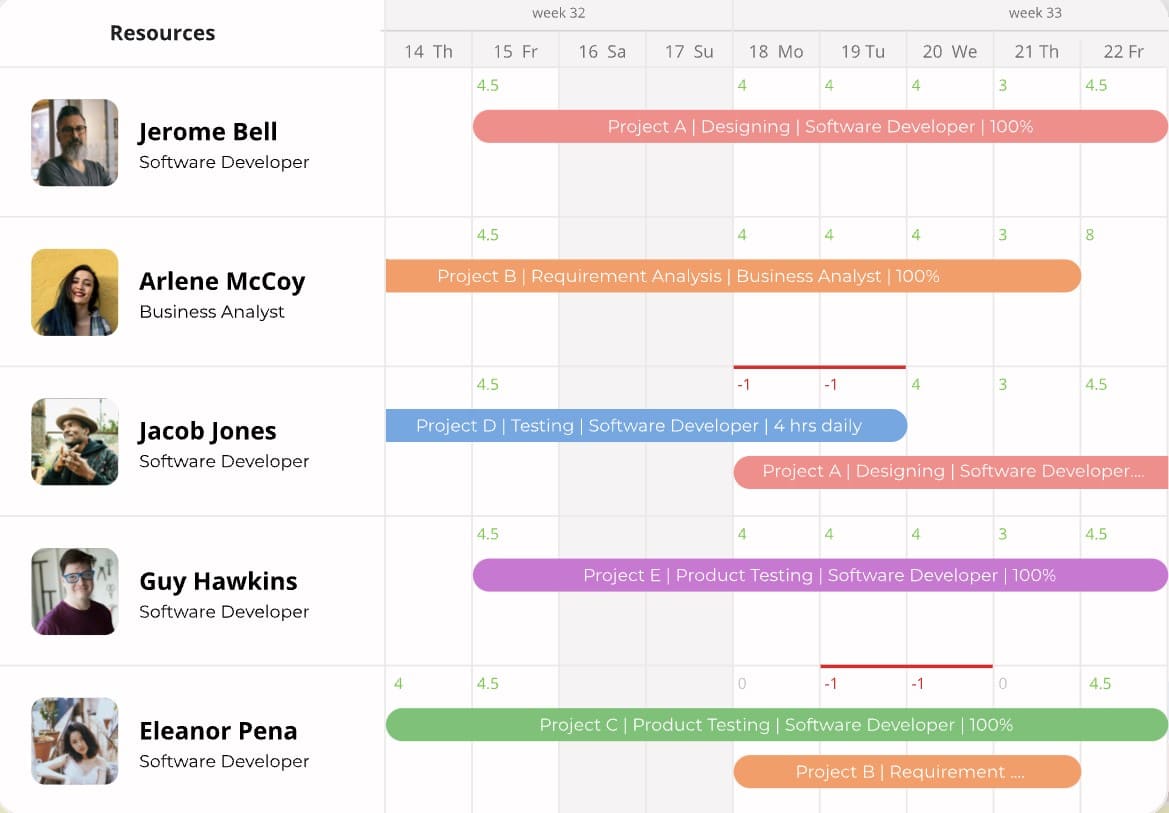 How to Make Best Use Resource Management Reports Properly
Here are some additional tips for creating effective resource management reports:
Tailor the reports to the specific needs of the business

Not all organizations will need the same reports. It is important to customize the reports to the specific needs of the organization so that they are useful and informative.

Use clear and concise language

The reports should be easy to read, understand, and interpret. Avoid using technical jargon or terms that may not be understood by everyone.

Visualize the data

Using charts, graphs, and other visualizations can help to make the data more understandable and to identify trends. Studies have shown that visual reports lead to quicker decision-making.

Regularly update the reports

The reports should be updated on a regular basis to reflect changes in resource availability, utilization, and allocation. This can be easily done if one invests in a resource allocation tool as reports are automatically updated in real-time.

Share the reports with key stakeholders.

The reports should be shared with key stakeholders so that they can make informed decisions about resource allocation. One way to make this a consistent practice is to set a date in the calendar for reviewing reports.
Use these tips and create effective resource management reports that can help you to improve the efficiency and effectiveness of your resource allocation.
Get all Required Reports with eRS
Organizations can improve their resource management process and ensure that resources are being used efficiently and effectively by regularly generating and reviewing the most critical resource reports.
To ensure success in your projects, the right perfect resource reports must be implemented to document and assess real-time project progress.
Looking for a resource management system that has all the key management reports in one, centralized place? Why not try our product, eRS? It's one of the best enterprise management resource allocation solutions in the market that's also pocket-friendly.