5 Best Practices for Client Management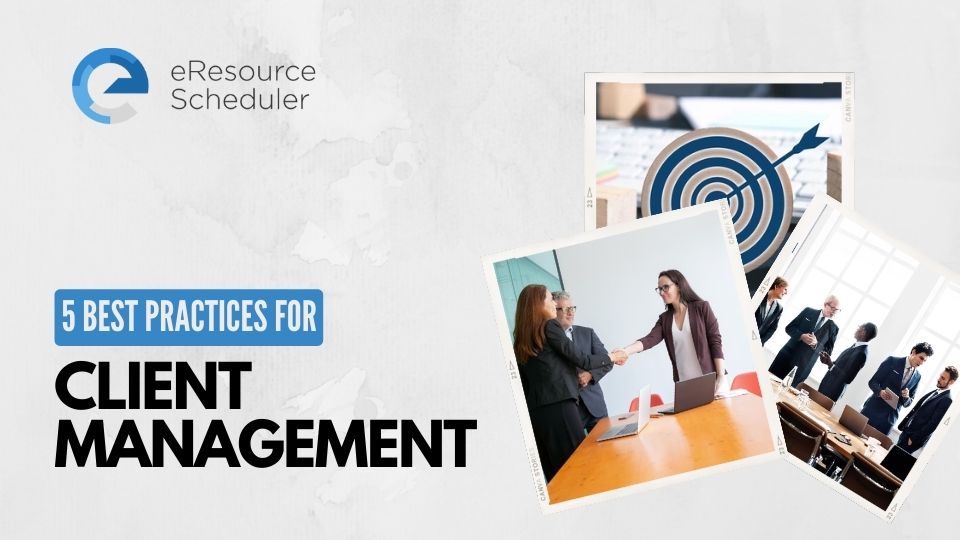 One of the challenging tasks for business owners is to provide solutions to clients' pain points. To do so, they must manage several customer-related practices. Prospects may go unfollowed if not properly managed, resulting in lost sales.
A sound client management system is essential for business success. It promotes company-client relationships, makes client management more effortless, and enhances the overall client experience. Though companies can implement a traditional client management procedure to streamline sales and marketing processes, using the right allocation software is essential.
Scheduling apps enable entrepreneurs to establish and nurture relationships with potential customers. It also allows businesses to automate mundane work, enabling team members to focus on higher-priority tasks.
What is client management?
Client management is the process of monitoring and coordinating an organization's communication with potential customers.
A client may purchase a product from an organization but is more likely to purchase services. By acquiring that service, the buyer frequently develops a more intimate, ongoing relationship with the organization, providing personalized attention.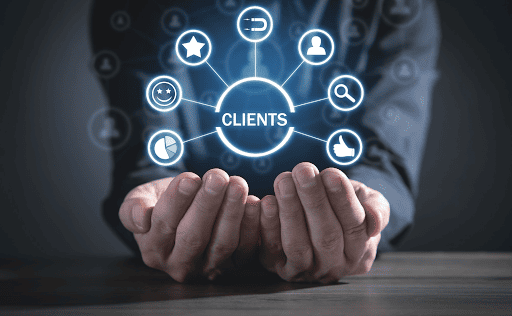 The ultimate goal of client management is to establish and maintain positive customer relations so that a company can retain more clients and ensure long-term success. An onboarding process is the foundation of a successful client relationship.
What is resource allocation?
Resource allocation is the process of identifying all the available resources for the project and then strategically scheduling them to the tasks that will allow them to perform the best.
Resource allocation is key to minimizing chaos for businesses working on numerous projects for different clients. Allocating the right resource to the project makes the client happy, as this drives successful work completion. Employees benefit from resource allocation because they get to work on projects that match their skills, and clients benefit from high-quality deliverables and results.
As projects, progress, and client expectations shift, managers reallocate resources to keep project timelines on track.
Resource allocation encourages managers to use their workforce, finances, and assets to their fullest capacity, increasing the likelihood that clients will receive high-quality work. At the same time, by distributing work evenly, the agency reduces team burnout.
What is a client management system?
A client management system is a company's framework and procedures for working with clients. The system may include project management or allocation software.
A client management system includes.
An integrated client portal and project management tool (mainly cloud-based). Team members can share project resources through the portal. Clients can also be granted access to documents and other project information by business owners. To share sensitive files, the tool must be secure.
Make sure your team and client have real-time access to documents using collaborative work management software. The system should be able to detect real-time updates with ease.
Ability to work with other applications.
Easy to use.
Include reporting feature so that the client can understand the project status.
The system must facilitate communication between the organization and the client while reducing errors and delays.
How to set up an effective client management system?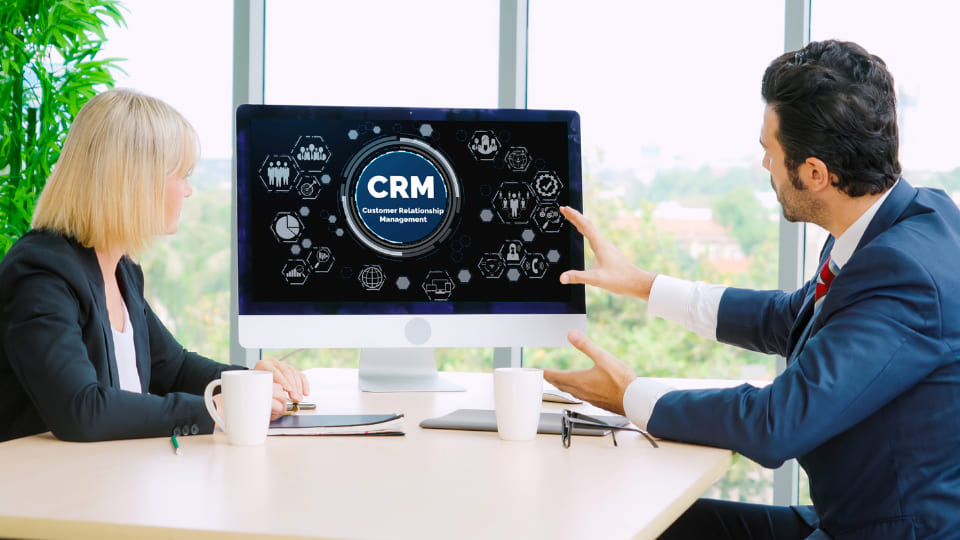 Organizations can set up a system without specific software, but they will need a system that works with emails, sheets, and document sharing.
Here are the steps to proceed with the client management system.
Decide on creating the milestones for the projects. Based on these milestones, allocate an efficient team that will work as per the client's expectations. The process requires smooth communication.
Configure devices that will assist in the process, such as communications, documents, document sharing, and other tools.
Implement the system and monitor how communication occurs and other metrics.
Managing resources and setting expectations with clients.
Because resource allocation evaluates the available resources for a project at a particular time, it is a short-term strategy with long-term implications. It is an essential tool for capacity planning and managing client expectations. With effective resource allocation, a project has the right resources and a realistic timeline for success.
1. Define project scope
The scope of work is the first step in client management. Understanding the scope of work is essential for effective resource allocation decisions!
As a part of the project scope, it is essential to define the following
The scope of work: which tasks are required and which are out of scope.
Constraints like budget and deadlines.
Schedule and timeline
Deliverables.
Project scope helps to understand a new project. Also, managers can use the information to define the scope of a new project.
Plan the resource requirements for the project.
Create milestones.
Allocate the tasks to the team members.
2. Check resource efficiency and availability.
Understanding what each person excels at and what type of work they prefer is essential before picking the best resources for a job.
Managers should understand the capability of their team and the quality of resources available to them during project planning. This allows them to direct resources where they will be most effective.
Recognize that planned or unplanned time offs affect availability, so delegate work with contingency periods in mind.
Allocate only a few resources. Overallocation can result in burnout and decreased productivity.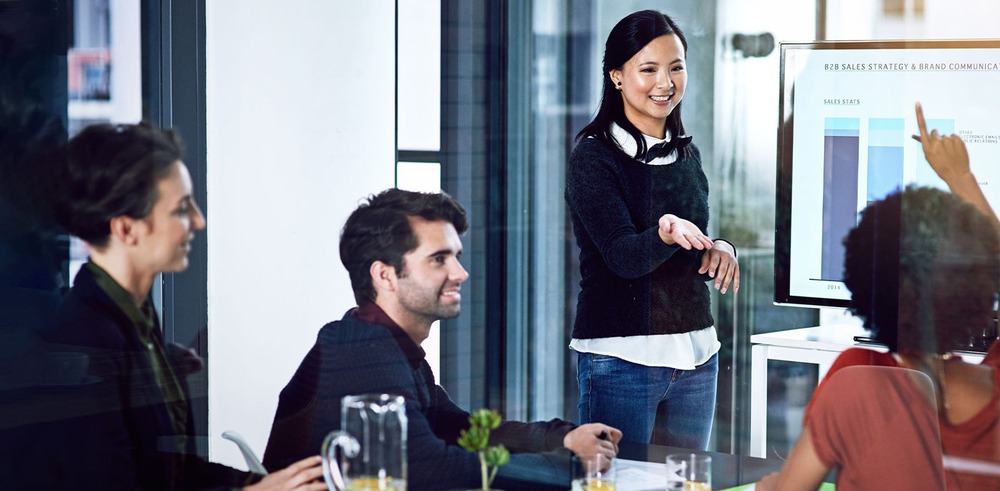 When allocating resources, refer to calendars and schedules, and adjust timelines to accommodate resource availability. Optimize resource utilization to keep your client informed of project progress.
3. Delegate the work to the right person
Once you've determined what your project team is capable of, the next step is to assign adequate tasks to each member based on their skills and availability.
Schedule your team for success! Please share the complete information to ensure everyone comprehends what is expected of them. Clarify all relevant details for each task, including responsibilities, expected outcomes, and deadlines.
In eRS, it is easy to create project milestones and quickly assign tasks to each team member.
4. Plan work dependencies to avoid overallocation
Dependencies are inevitable in projects—relationships between tasks and resources affect the availability of those resources.
Consider resource dependencies, which occur when multiple tasks necessitate allocating work to the same resource.
Managers must adjust the project schedule pragmatically to facilitate the team's limited availability. Alternatively, consider hiring another resource, full-time or freelance, to provide the assistance required to meet timelines and client expectations.
Task dependencies also occur when the progress of one task depends on the progress of another. Scheduling tasks based on these dependencies. Pay attention to potential bottlenecks and make sure no one is left waiting too long. Stay in touch about pending tasks and action items, and adjust expectations accordingly if projects need to catch up.
Monitor progress and reassign resources.
Ideally, decision-makers allocate resources for a project, and everything goes as intended. However, if there are any delays or changes, managers must reallocate resources.
Reallocation is a normal process for on-time project completion and client satisfaction.
First, managers must closely watch team capacity in terms of meeting client requirements.
The very next step is to communicate changes to your client. Keep them informed of project progress as early and frequently as possible, including any possible scope changes or delays. This aids in managing expectations, making it less likely that clients will be caught off guard, disappointed, or surprised by changes or setbacks.
Allocating resources and reallocating tasks as required can involve much work, but it doesn't have to be complicated!
Consider allocating software to keep your team focused by providing centralized visibility. Digging through your spreadsheets, documents, and thread or constantly switching between your team members' calendars is unnecessary.
eRS is an excellent resource allocation tool. It consolidates all that data into a single location, allowing you to monitor the progress of a project and the team's capacity in real-time. Business owners can share the data with clients to foster trust.
Inspire your team to go beyond expectations with a flexible platform tailored to your team's needs — and adapt as those needs change.
The eRS platform makes it simple to plan, capture, manage, and report on work from any location, allowing your team to be more efficient and productive. With reports, dashboards, and automated workflows designed to keep your team connected and clients informed, you can report on key metrics and gain real-time visibility into work as it happens.
eRS is the best allocation software, with a robust set of features that aid in resource management, project management, and getting things done quickly. We assist project managers and key decision-makers allocate resources and oversee the entire project lifecycle like professionals to gain the client's trust.
There's no telling how much more a team can accomplish at the same time when there's clarity about the work being done. Try eRS today for a 14-day free trial.